"Bad Joe" Arrives at Worst Possible Time
Print this article
Sunday's trip to Houston for the Baltimore Ravens did not exactly provide any positives for the team's season and playoff outlook. Controlling their own destiny in the playoff hunt, a simple win against a Case Keenum-led Houston Texans team would have put the team one win away from a playoff berth.
Instead, the Ravens laid an egg (that is putting it lightly) in an extremely lopsided 25-13 loss in which the team never really had a chance. Not capitalizing on an opportunity to beat down on a quarterback who was not even with the team the previous Sunday was far from the problem; the defense played well and held Keenum to just 20 completions on 42 attempts for 185 yards and zero touchdowns.
[RELATED: Ravens Waste Defensive Effort vs. Texans]
As a whole, Baltimore's defense had one of its better games of note given the circumstances, as Houston's offense only managed one offensive touchdown on 16 offensive drives despite seemingly always starting drives with quality field position. The Baltimore defense played with its back against the wall all day and did what it could, neutralizing the Texans to the best of its ability.
Why was the defense playing with its back against the wall all game? A putrid display of football by the offense.
No offensive player played well necessarily, with disinterested run block attempts leading to just 19 yards for running back Justin Forsett on 10 attempts. The Ravens finished with 33 rushing yards on 16 attempts, making it seem like it was 2013 all over again.
The passing game was not any better, and quarterback Joe Flacco was one of the sources of the problem. Turning in arguably his worst performance of his seven-year tenure with the team, Flacco finished with 195 passing yards on 50 attempts, completing 21 passes.
Think about that….50 attempts and less than 200 passing yards!
Talk about a game to forget. Flacco did manage to finish with two touchdowns, one of which happened when the Ravens were already too far behind to come back. But he also tossed three ugly interceptions, giving Houston easy starting field position several times.
To see Flacco struggle as he did was quite a surprise given his performance this season. Sure, Flacco is good for a game like this every season, but this year's performance up until Sunday's game made it seem as if he would go all season without a "Bad Joe" game.
Coming into the game against the Texans, Flacco had not thrown three interceptions in a game this season and had completed 50 percent or more of his passes in every game. His 3.9 yards per attempt against Houston is also well below the numbers he had produced up until Sunday, as his previous worst yards per attempt in a game was 5.57 in Week 1 against the Cincinnati Bengals.
Sure, it is hard to play well when the offensive line can't handle a fierce Houston pass rush, and when receivers are dropping a few easy passes, but Flacco's poor performance goes well beyond his supporting cast. When a quarterback finishes with 29 incompletions and three interceptions, there is a good chance that most of the wrongdoings are on the part of the quarterback, and that was the case on Sunday.
Flacco had a performance that will likely go down as one of his worst showings when his career is over, especially if the Ravens fail to make the playoffs this season.
Poor accuracy, unnecessarily poor mechanics and head-scratching throws doomed Flacco all day long, and he is lucky he only turned the ball over three times.
Let's take a look at how Flacco struggled to make easy throws.
Completing short, rhythmic passes has put Flacco in a routine this season. In games which he can capitalize on easy underneath throws, Flacco typically does not have trouble leading the Ravens offense down the field. Against Houston, he simply could not complete that process.
On an early third down pass to Steve Smith Sr., Flacco delivered a catchable but still inaccurate pass to his wide receiver which resulted in an incompletion.
Before looking at the pass, let's first make note of a perfectly clean and desirable pocket for Flacco.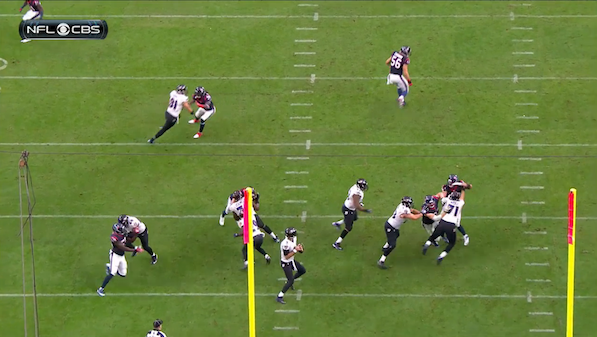 Was Flacco rushed at times on Sunday? Of course. But he had ample operating space in the pocket on many occasions and simply did not capitalize.
As Flacco readies to throw, he still has plenty of space and gets the pass off unscathed.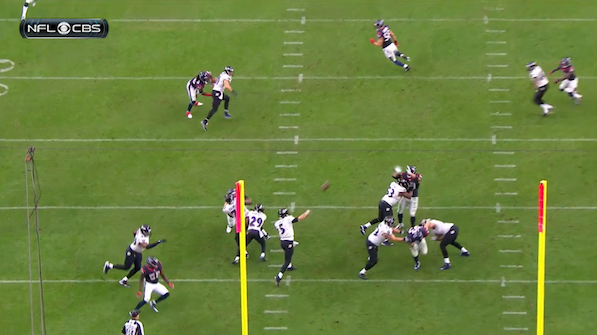 Nothing to complain about here; the offensive line provides perfect pass protection. Flacco also steps into his throw (a rarity on Sunday), which is even more reason to believe this should be an easy completion.
Smith Sr. is the target and gains plenty of separation on a slant.
This should be an easy pitch and catch for a large gain for the Baltimore offense, as Smith Sr. has plenty of open field in the middle.
The problem? A high pass by Flacco forces Smith Sr. to slow down at the end of his route and leap for the pass.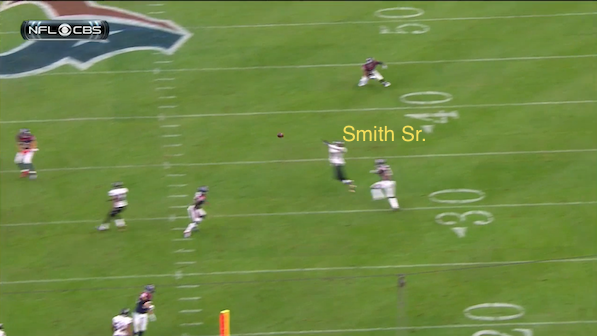 Smith Sr. gets his hands on the ball after full extending and could technically bring the pass down, but he should not have had to even extend his body to this extent in the first place.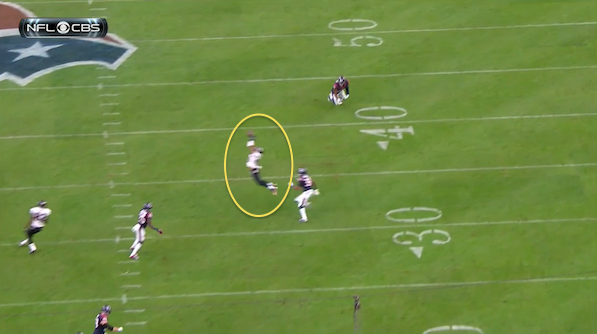 The result is a drop and a missed opportunity by the Baltimore offense to sustain a drive early in the game. Not only would Smith Sr. have picked up the first down, he had plenty of open field space to turn this play into a 20+ yard gain. An easy toss made hard by Flacco led to an inability to capitalize on a gift from the Houston defense.
In the play above, the protection was good, Flacco's mechanics were fine, it was just an inaccurate pass.
That was a problem on Sunday. Flacco's mechanics were often off and he was forced to get rid of the ball early on several plays. But when both his protection and mechanics were quality, he still seemed to ruin simple short completions.
Here, on a short pass to the sideline to Torrey Smith, Flacco has ample pocket space and is not rushed.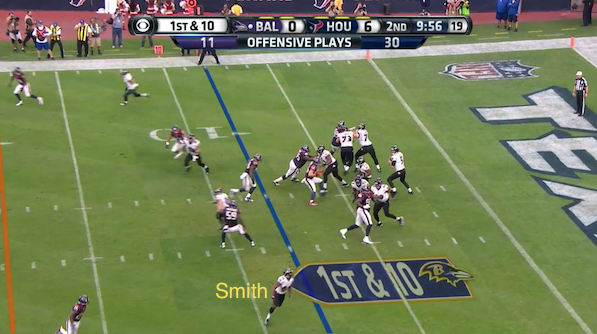 Flacco recognizes the space given to Smith underneath by the Texans defender and zeroes in on #82 to make the easy, short completion. On first down, completing a simple pass and picking up four or five yards would be a good way to get the offense moving.
Smith is still open when Flacco releases the pass, and he gets the ball off unharmed.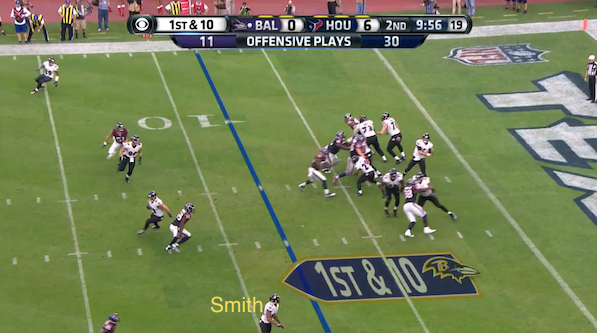 Instead of capitalizing on this easy opportunity, Flacco's pass goes too wide and out of Smith's reach.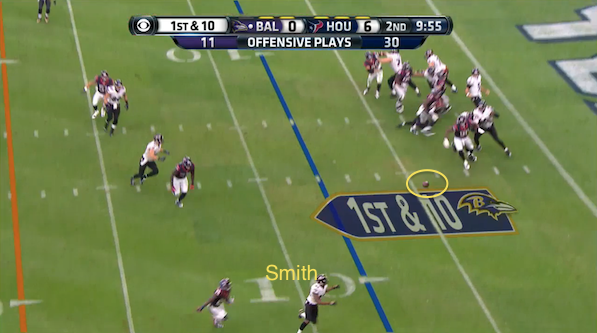 This is a throw Flacco simply has to make. It is a quick drop, quick release, easy completion in most occasions…except this time.
The short passes such as the two above were frustrating to watch.
But what was more frustrating was when Flacco's mechanics and decision making went awry to the point those watching the game could justifiably question what the hell Flacco was thinking.
Take a pass on third down to Marlon Brown as an example. Down 19-7 late in the third quarter, the Ravens would have cut the deficit to just five points with a touchdown drive.
Flacco begins the play with ample protection, but gears to throw early in the play.
With so much pocket space, Flacco has more than enough time to go through his reads and make a throw without getting hit.
In the second image above, there is at least three or four yards between Flacco and any Texans defender. That is plenty of space to make a motion forward in the pocket and step into his throw.
You would think a seven-year veteran would know to do this, right?
Wrong.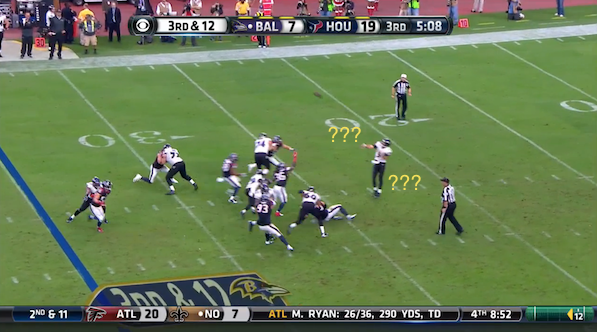 Have fun trying to justify Flacco's mechanics on this one.
The good thing for Flacco is that Brown is open down the middle of the field for a potential long completion.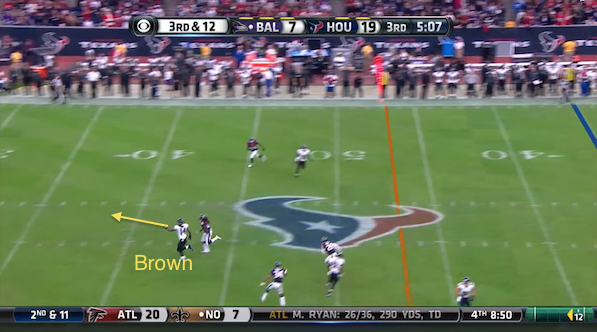 A throw to Brown's hands in stride would lead to the Baltimore offense ending up at the 35-yard line, if not further downfield.
But when the quarterback falls backwards on a deep pass, the end result is not going to be a catch in stride for the receiver.
The end result is going to be a ball which lands short of the receiver and in the vicinity of four Texans defenders to potentially make the interception (luckily for the Ravens the ball fell short of any Texans player).
Had Flacco simply stepped into the throw, this is a fairly facile completion downfield to Brown, who gained separation and is sure-handed. Instead, it is nothing but a wasted chance by the Baltimore offense.
Flacco's three interceptions were not pretty either. On one, Flacco's poor mechanics doom him, and rob him of the chance of making an easy incompletion.
He has Smith Sr. on a quick route underneath, and all Flacco needs to execute is a three-step drop, step forward and fire.
Instead, Flacco leans back as he throws, and instead of his left foot being forward at the time of his release, this is the result:
Leaning back as he throws leads to Flacco producing a weak pass, which results in the ball being tipped at the line of scrimmage and up into the air in a free-for-all.
The Texans pounce on the opportunity and force an easy turnover.
Would the pass still have been deflected at the line had Flacco stepped into his throw? Maybe.
But to think he would have had a much easier chance to complete the pass with better mechanics is justified, and leaning back and throwing flat-footed simply rarely leads to positive results.
It was a collective poor effort by the entire Ravens offense on Sunday, but Flacco stood out like a sore thumb despite forgettable plays from his peers. To see a career year nearly go down the drain because of one bad game which may keep the Ravens out of the playoffs was not a pleasant sight.
Flacco will need to return to his plays from Weeks 1-15 this Sunday against the Cleveland Browns if he wants to help the team keep its last-breath playoff hopes going.
This ugly performance by Flacco should not overshadow the fact that he is having a career year, but if the Ravens miss the playoffs, looking back on his play against Houston and questioning his inability to lift Baltimore over an average Texans team will be justified.