Potential Later-Round Gems For Ravens
Print this article
With the NFL Combine set to begin this week, and the Draft drawing somewhat closer, Ravens fans are eager to see what young talent the organization can bring in for the 2015 campaign.
There is always endless discussion about the Ravens' potential first round pick, and each year the emphasis is justifiably placed on the prospects taken in the top few rounds. But great NFL teams are built from players found in the later rounds. Each year, players selected later in the Draft become difference makers across the NFL.
Unsurprisingly, Ozzie and the Ravens organization have themselves struck gold deeper in past drafts, selecting the likes of Jermaine Lewis, Adalius Thomas, Chester Taylor, Arthur Jones, and Pernell McPhee in the fifth round or later.
Let's take a look at some later round prospects that could interest Baltimore in the 2015 NFL Draft.
Mike Davis
RB, South Carolina – 5'9" 223 lbs. / Average Projected Round: 3
Scouting Report
Extremely well-rounded back: can run inside, outside, pass protect, and catch the football. Compact build with very good bulk. Productive runner, but benefited from one less defender due to option offense, and ran behind very talented linemen. Determined runner with great balance and high motor. Great feel for screen game. Not a home run hitter—top end speed is good but not special. Not overly elusive. Ran in between the tackles plenty at USC. Decisive one-cut runner who could thrive in a zone blocking scheme. Better in 2013 than 2014, where conditioning and effort looked questionable towards the end of the season.
Why He Would Make Sense for the Ravens
We'll know a lot more about the running back position in about a month when the Ravens make a decision on Justin Forsett. If Forsett leaves, Davis could be an option to help offset the loss. A shorter back, Davis almost reminds you of Forsett a bit on tape, and has enough speed to provide a nice contrast from likely backup Lorenzo Taliaferro. Many think this could be Bernard Pierce's last season in purple, so even if Forsett stays, considering his age, the Ravens will want to think about adding another back sooner rather than later. With some exceptional backs in this year's draft, Davis' stock could be deflated and could be a great value pick late Friday night on draft weekend.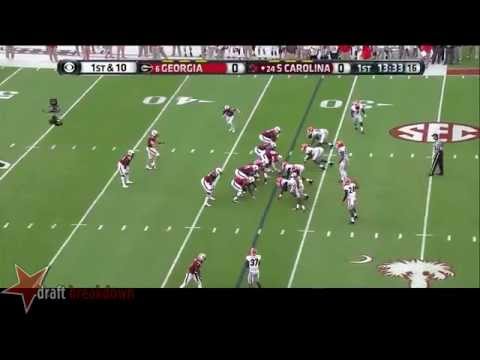 Austin Hill
WR, Arizona – 6'2" 210 lbs. / Average Projected Round: 5-6
Scouting Report
Physical player with outstanding size. Doesn't possess great first-step quickness and inconsistent in gaining separation. His above-average leaping ability results in very large catch radius. Not elusive but can make plays after the catch. Tough, competitive athlete who can makes plays in the middle of the field. Can line up outside or in the slot. Quality run blocker. Tore ACL in left knee in 2013: questions about speed and smoothness remain after injury. Son of an NFL player with great intangibles and work ethic.
Why He Would Make Sense for the Ravens
If Ozzie doesn't select a wide receiver early in the draft, fans will be both disappointed and unsurprised. Again, whether Torrey Smith stays or goes is a big factor here, but Hill would provide a big-bodied target for Joe Flacco. Hill's injury has hurt his stock, and may hamper his Combine performance, but he could be a weapon at the next level when fully healed.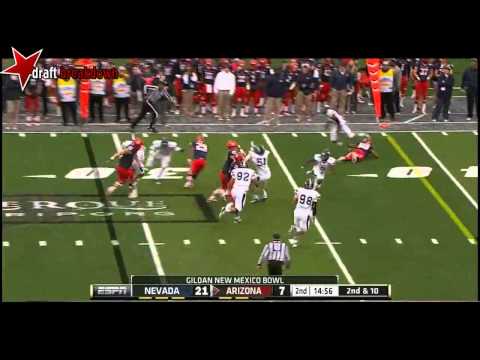 Quandre Diggs
CB, Texas – 5'10" 195 lbs. / Average Projected Round: 4-6
Scouting Report
Size holds him back: good build, but lacks height and arm length to thrive on the outside in the NFL—will likely have to make a living as a slot corner (but has some experience there). Good production with 36 career passes defended and 11 interceptions. Experienced corner with very good awareness and instincts.   Tracks receivers well, but coverage radius is too small to matchup against deeper, longer developing routes, making him a better zone defender than man-to-man. More quick than he is fast. Willing, gritty run defender, but too easily bullied by big receivers. Showed potential on stinger blitzes. Could be quality special teamer and returned kicks and punts in college. Brother of NFL CB Quentin Jammer.
Why He Would Make Sense for the Ravens
Even if the Ravens address the cornerback position in free agency or earlier in the draft, they could look to add depth by taking another corner later in the draft. After Jimmy Smith and Lardarius Webb, the Ravens are unsure of what other quality players they have at the position. Diggs could slowly work his way into the rotation as a nickel corner.
Davis Tull
OLB, Tennessee-Chattanooga – 6'3" 244 lbs. / Average Projected Round: 6-7
Scouting Report
Productive outside linebacker who played with his hand in the dirt. Three-time Conference Defensive Player of the Year with 37 sacks, 60 tackles for loss, and 10 forced fumbles. Shows decent arsenal of pass-rushing techniques, but overruns the pocket too often. Overall quickness will be questioned at the next level. Quality instincts against the run and above-average hand usage. Fires out quickly off the snap and has a great motor. Has some defensive end experience. Bulk is inadequate, especially if a team wanted him to work at end.
The main question here is the level of competition Tull faced in college in the Southern Conference. Extremely productive as a three-time FCS All-American, but will have to develop inside pass rushing moves and add bulk to make an NFL team.
Why He Would Make Sense for the Ravens
The Ravens subscribe to the "you can never have too many pass rushers" philosophy. Pernell McPhee will likely move on in free agency, and while Suggs and Dumervil are still extremely productive, they are both edging towards the end of their careers. Tull projects as an undersized outside linebacker who could provide depth if he can develop. The Ravens have shown willingness to take risks on small-school prospects—recently Brandon Williams out of Missouri Southern comes to mind. Look for the Ravens to add depth at outside linebacker at some point this offseason.
References: DraftBreakdown.com, NFLDraftScout.com