Moving on From Torrey Smith
Print this article
Torrey Smith is moving on from the Ravens and the front offense needs to find a suitable receiver to line up opposite Steve Smith Sr. So for this entry, we will focus only on receivers that were cut by their former teams since they will not impact the compensatory picks that the Ravens covet.
Former Offensive Coordinator Gary Kubiak has been running the same offensive scheme since 1995 when he was the Offensive Coordinator of the Denver Broncos. Using the 2004 Denver Broncos' playbook, let's examine the characteristics of a Wide Receiver in the Ravens offense. We will then apply these principles to the current group of Free Agents to see which one, if any, fits the Ravens Offense.
Ravens West Coast Offense Wide Receiver Routes
In the Ravens offense, the ability to run clean routes and gain separation out of a break is valued higher than top end speed. In Gary Kubiak's offense there are 53 routes run by wide receivers – 26 routes that break outside and 27 routes that break inside. Wide Receivers must study the playbook in order to understand the route combinations. Passing relies on timing and precise route running. Breaking into the route too early may tip off the defender and cause an interception.
Routes in the offense are shorter. Two key skills that a Wide Receiver must have are precise route running and the ability to catch a ball in traffic. Some receivers have great hands and leaping ability to catch balls. Others use their physical frame to shield defenders in order to catch a ball. Both types of receivers can be used in the Ravens offense.
Available Wide Receivers
Below is the list of Wide Receivers that were cut by their former team. We've added additional stats that pertain to the traits that the Ravens are looking for from their Wide Receivers. Statistics are provided by profootballfocus.com. We'll eliminate Percy Harvin due to character issues. Ted Ginn, Harry Douglass, Donnie Avery, Lance Moore are also removed from consideration due to age.

That leaves Greg Little, AJ Jenkins, Brandon Gibson and Brian Hartline.
Greg Little
At times, Little has excellent hands and will go up top to catch a ball. He is not afraid to go into the middle of the field and uses his body to shield the defender from the ball. Unfortunately, Little drops the ball too much. Dropped balls is the main reason why Little isn't an ideal fit for the Ravens offense.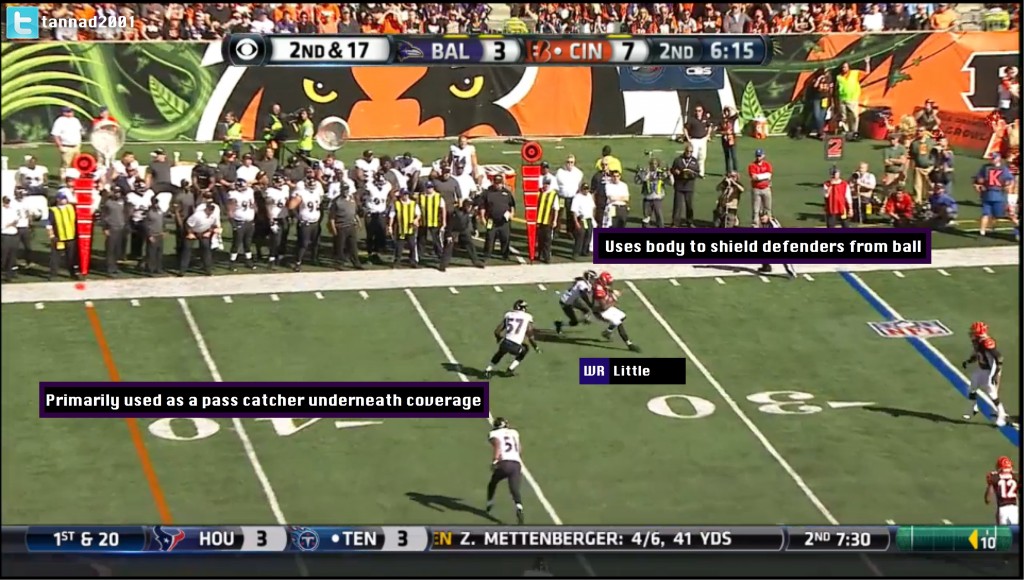 AJ Jenkins
AJ Jenkins is a speedy receiver. He was primarily used by the Chiefs as a vertical threat running Go Routes and deep Crossing Routes. Jenkins isn't a good fit for a West Coast based offense. At 6-0 and 200 pounds, he doesn't have the size to shield defenders from the ball. Jenkins rounds out the breaks in his routes looking to gain separation through straight line speed. This doesn't work in an offense that relies on precise route running.
Brandon Gibson
Gibson is 1 of 2 Dolphins receivers to be released this offseason. Gibson is an effective route runner. Gibson will have difficulty gaining separation from Corners due to his lack of speed. He is ideally suited against zone coverage where he can find a hole in coverage. While in coverage, Gibson consistently catches the ball at its highest point. Gibson has played in the West Coast Offense for the past two seasons. Gibson would be an adequate fit in the Ravens offense.
Brian Hartline
The best Wide Receiver in this group is Brian Hartline. Hartline was the second receiver released by the Dolphins. Currently the Browns, Bears, Texans and the Chiefs are rumored to be going after Hartline. Why is he so coveted by these teams? Simply put, he runs crisp routes and has great hands. Hartline's crisp route running enables him to gain separation from the defender. He displays excellent quickness off the line. This allows him to beat press man defenders.
Hartline doesn't have top end speed. He does possess enough speed to run Go Routes and deep Crossing Routes. The biggest impact on the game by Hartline is his ability to move the chains on third down. He has good reliable hands and generally holds onto the ball after a big hit. He is ideally suited for the Ravens Offense.
Conclusion
Brian Hartline is the only receiver worth going after in this group of Free Agent wide receivers. With four teams attempting to sign Hartline, the Ravens may not get a chance to bring in Hartline for a tryout. If he is able to join the Ravens, expect him to make an immediate impact for the offense.