Print this article
Operation Second Chance: NPLB
I have never served in the Armed Forces. Never been associated with the Army Reserves or ROTC. I've never even been a boy scout.
The turns in the journey of my life have taken me to different places, none of which would have been possible without the freedoms that I so often take for granted.
Here in the United States we live in a land of opportunity and while achievement is a challenge, each of us has a chance to succeed if fueled by passion, talent, determination and perseverance. But the freedom to choose must come first, and to enjoy such freedom our borders must be guarded.
You know it takes a special kind of person to willingly make such huge sacrifices to leave their families behind, travel to places that relatively speaking are the armpits of the world, in order to protect and serve – to enable each of us to do what we do.
Freedom isn't a birthright.
Freedom is a gift and its deliverers are the Armed Forces.
Soldiers travel abroad and put their lives at risks in order to enable ours. They make huge sacrifices. Their families make sacrifices all believing that the selflessness they collectively share will produce rewards for others.
And they do.
But sometimes along the way, the sacrifices are more than the soldiers and their families bargained for. They report to their military posts with strength, fire, brimstone and determination. Yet some return home in pieces.
They left to enable us and preserve our freedoms and return disabled and imprisoned by broken bodies.
We can't undo freedom's collateral damage. But we can help make their lives more comfortable.
Here at Russell Street Report we are supporting Operation Second Chance/NPLB by promoting a golf tournament spearheaded by my dear friend Skip Tolley who has invested a massive amount of time to make it work. I hope you can help.
This will be a day to remember. It will be a day when we can create a new tradition – one filled with fun and laughter while paying homage to those who help make such fun and laughter possible. It's a win, win. And in the grand scheme of things, it's a very small token of appreciation.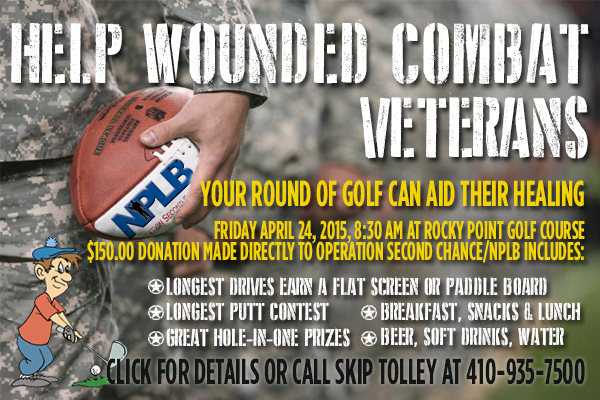 The details of the tournament can be found at the link below or on Facebook at Operation Second Chance NPLB Annual Charity Golf Tournament. If you can't attend even a small donation could go a long way towards bringing a smile to the face of someone who stood in harm's way for you without ever having the honor of your presence.
Please help us honor them.
I so hope you can make it and if you do, please say hello so that I might have THAT privilege.
My heartfelt thanks to the Armed Forces.
God bless you all!
LINKS
Facebook: Please like Operation Second Chance/NPLB