The Role of Sports in Society
Print this article
John Harbaugh penned a piece about a week ago entitled "Why Football Matters." Never before in my life have some of his words rang truer to me.
A little about myself…
I'm a Baltimorean. I was born and raised here and it sickens me to see what has happened over the past few days. I've heard all of the stereotypes thrown out about Baltimore and I've always shot them down. Unfortunately, the group of rioters has now proven most of them to be true.
I'm a coach. I coached soccer to young children locally until a little over a year ago. Although very young, I'd like to think I had some sort of miniscule impact on their lives in the long run.
Most importantly, I'm a new father. My daughter was born a little less than a year ago and it has been the most amazing experience of my life as I'm sure those of you who have children would agree. My highest priority now is to mold and shape this little life and teach her right from wrong.
The people rioting in the city obviously never had that. They never had role models, whether that be parents or coaches, to instill any sort of reasonable morals.
That's a shame.
It's a shame that these people think causing damage and looting is the answer to all of their problems. It's a shame they had no one to tell them differently. I'm sure they know what they're doing is "wrong," but they simply don't care.
Why is that? What is lacking in their lives that make them act that way?
I can't answer that for certain, but I'd be confident in saying that a majority of them have grown up on the streets that they're now destroying and they have had no structure to their lives.
That's where sports can come in.
In his article, Harbaugh says, "[former players] know the value of football is the values in football." I'll expand that to all organized sports. Being a part of a team teaches values that can be carried on to all aspects of life. Two of those being: discipline and accountability.
Personally, I think those are two of the more important values to live a successful life that can be carried on well beyond the football field, soccer field, or basketball court. You have to be disciplined enough to be able to make sound decisions and then be able to hold yourself accountable for those decisions no matter how they turn out.
The people rioting in the city lack those two very important values.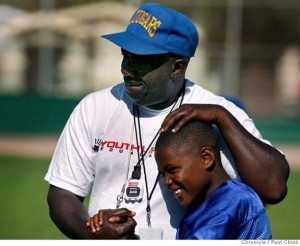 Harbaugh also wrote, "Our football coaches are on the front lines of the battle for the hearts and minds of the young men in our society. The culture war is on and we see it every day. These young men are more vulnerable than ever."
"How many youth and high school coaches serve as a father figure to their players? How many mothers look to the coaches of their son's football team as the last best hope to show their son what it means to become a man – a real man? More than we'll ever know."
He's 100% correct.
Many coaches are entered into the lives of these children at a crucial part of their development as men and women and the vast majority of those coaches do a phenomenal job. They are able to mold these kids, who have had no role models in their lives, into outstanding citizens.
For the coaches out there, you might not see the fruits of your labor immediately, but know that you're making a difference in the lives of these children.
The real issue here is getting these kids into sports at a young age to establish a structure in their lives. In that way, important values can be built from the ground up so that when they get to high school and beyond, they already have a foundation to build upon.
The question then becomes, how do we get these kids into sports early on in their lives?
Unfortunately, I don't know the answer.
Should we have government funded sports programs for kids?
Should we treat sports as we do schooling and require that kids get involved in some sort of organized activity so they do something other than roam the streets?
I'm not in politics, nor would I ever want to be, but there's no simple solution to the problem. We have to take it upon ourselves to make this situation better.
Volunteer to coach, mentor young kids, but more importantly, lead by example. By instilling our morals in our children, we can only hope that there's a trickle-down effect to the other children who may not be fortunate enough to have someone there to teach them these things.
Like a wildfire, the riots will die out and life will return to normal. Let's not allow the actions of a few animals define us as a city.
Instead, let's allow them to make us better parents, coaches, and at the end of the day, people.