Print this article
Miss Mar was a staple at our Ravens Rap shows broadcasted from The Original Greene Turtle and later on in The Ravens Room at The Blue Ox, both in Ocean City, Maryland.
She was a devout member of Ravens Roost 44 and a regular participant at the Ravens Convention and its accompanying parade.
Her loyalty to both, and her unconditional love for the Baltimore Ravens are unparalleled. Whenever Roost 44 hit the road to support the Ravens, there she was adorned in all of her purple regalia from head to toe – even topping off her snow-white hair with shades of purple.
And when her favorite team faced seemingly insurmountable odds she never, ever thought they would lose a game. If there was ever a fan who "played" like a Raven, it was Miss Mar.
Today she no longer plays – at least not on a nearby field.
On Friday May 1, 2015, Marlyn Pietruszka was called by her Maker.
Miss Mar was like a second Mom, opening her home to me whenever she could.
On so many occasions, too often to even remember, I would wait to the very last minute and call her on my way to Ocean City to do the show with Mike Popovec, Bruce Laird and John Gehrig. I can hear those conversations, so beautifully redundant, playing out again in my head as I write.
TL: Miss Mar?
MM: Yes!
TL: It's Tony, how are you?
MM: I'm fine how are you?
TL: I'm good. I was wondering if the Marlyn Motel had any vacancies tonight.
MM: You know as long as there is you are always welcome. Have a safe trip down and I'll see you at the show.
I wish that I could make that call one more time.
Sometimes it's the simple things.
And simple is how Miss Mar loved to live her life.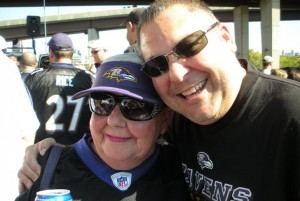 This tiny lady, for so long, drove a beaten up light blue Crown Vic because in that aircraft carrier of a sedan, she felt safe. I was never convinced that she could actually see over the steering wheel.
She loved her Coors Light and never strayed. She could keep up with the best 12-ounce curlers.
Her simple home in Montego Bay soaked in the sun and the shining diamonds upon the water danced off her sliding doors to a deck that was a frequent playground to family gatherings. And boy did she love her family.
I was introduced to her many years ago by her son Larry – a great friend of mine. Larry is that kind of friend that you don't have to see often but when you do, it's as though you saw him the day before.
Larry's children, his brother Danny and sister Mary Jo and their families adored her – a wonderfully sweet, kind, generous and selfless soul.
The last time I saw Miss Mar was back in December, my final Ravens Rap of the season.
I met her back at her home a couple hours after the show and we sat and talked as we often did while watching some sporting event on TV.
I wish there was one more late night chat.
She told me that she was going to put her home up for sale and move to Vegas with her daughter.
The move never happened.
She and Mary Jo were robbed of that opportunity.
And really that's what death is – a robber. An unexpected thief that can leave you broken and breathless.
We can fret what will never be again or celebrate what was.
The choice is clear.
I will really miss her.
She left an indelible mark upon my heart, like she did for so many others. That in part is her legacy as is her contribution to Ravens Nation – a community that just won't be quite the same without her.
This week we will celebrate Miss Mar, celebrate her life and not get lost in what will never be again. She would have it no other way.
Here's to you Miss Mar!
One more Coors Light.
Shine on…