What Vaughn Brings to the Ravens
Print this article
At this point in the offseason, any additions by NFL teams are typically low-risk, cheap signings that hopefully improve the bottom end of the roster (although there are rare exceptions like Justin Forsett).
On Thursday, the Baltimore Ravens made one of these signings. They added veteran cornerback Cassius Vaughn, a sixth-year player formerly of the Denver Broncos, Indianapolis Colts and most recently the Detroit Lions.
Vaughn probably will not be a Forsett-type addition, but for a late May signing, the move is a shrewd decision by general manager Ozzie Newsome. Having bolstered the secondary by adding Kyle Arrington just two weeks ago, Newsome proved that the team is determined to have more than ample depth at cornerback this season.
After suffering a secondary meltdown in New England in January, something needed to be done at cornerback both in terms of quantity and quality. The Arrington addition brought quality. Now, the Ravens have added some more quantity with the Vaughn signing to go along with the selection of Tray Walker.
As a veteran minimum player, Vaughn offers almost no risk for the Ravens. At worst, he gets released in August with no significant consequences. At best, he becomes a roster-caliber player and adds valuable depth.
Vaughn is far from a household name, but he brings experience to a Ravens secondary in need of it. He started five games in 2014 and has 23 NFL starts to his credit. The 27-year-old has also earned defensive snaps in a playoff game in each of the last three seasons. If he is still with the team in January, the team could benefit from his experience in the postseason.
Looking at Vaughn's tape, there is a reason that he was still available in late May. He earned notable playing time with the Lions last season, primarily as a slot cornerback, but rarely stood out either positively or negatively.
But there are some qualities that could intrigue Ravens secondary coach Chris Hewitt. As a minimum-deal player, Vaughn will have to prove that he can be a reliable depth option for the team. With sufficient slot experience, he could find himself backing up Arrington at slot cornerback in 2015.
Vaughn rarely displayed above average change of direction or speed, but he did show both good physicality and awareness.
At 5'11", 195 pounds, Vaughn has an average build, but he uses his aggressiveness to neutralize larger receivers.
Against the Tampa Bay Bucaneers last season, Vaughn faced a much larger (6'2″) Louis Murphy in the slot.
Utilizing his allotted five yards of contact, Vaughn jams Murphy off the snap and maintains his hold during the initial few yards. At this point, the pocket is clean for quarterback Josh McCown and he can survey the field.
By the time Murphy is finally able to disengage from Vaughn, the pocket collapses in front of McCown. After Murphy releases his press, Vaughn maintains a tight coverage and avoids losing ground.
Another trait that Vaughn displayed in a lesser quantity last season was his field awareness and ability to read the eyes of the quarterback.
On one of his two 2014 interceptions, Vaughn reads and reacts to the quarterback's eyes.
Vaughn is once again in the slot. The receiver runs an inside route.
Just one second into the play, Vaughn locks eyes with the quarterback while running with his receiver and diagnoses the throw.
Vaughn releases off his original coverage and places himself in between the two receivers in anticipation of the throw.
His positioning allows him to undercut the route of the outside receiver and come up with an interception on a rather poor throw and decision by the quarterback.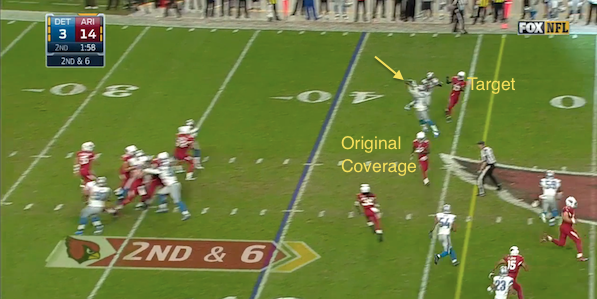 Vaughn's two redeeming qualities – physicality and awareness – will help his case for a roster spot against a crowded group of cornerbacks. As a minimum-deal signing, the Ravens should not expect Vaughn to be anything more than a borderline final roster player. But with plenty of NFL experience under his belt, the Ravens may stash him on the roster for depth.
The top three cornerbacks heading into training camp will be Jimmy Smith, Lardarius Webb and Kyle Arrington, which should not change barring injury. What will be interesting will be the battle for the remaining roster spots at cornerback. With Walker, Asa Jackson, Rashaan Melvin and Vaughn as the current top four (in no specific order) behind Smith, Webb and Arrington, the preseason roster competition for the final cornerback spots should be a fun battle to watch.