Training Camp Preview: Wide Receiver
Print this article
Another year, another lackluster receiving corps for the Baltimore Ravens. Like clockwork, the Ravens enter the season with a good-not-great set of receivers to work with, but that is a common practice for the organization.
With the departures of veterans Torrey Smith and Jacoby Jones comes the much anticipated arrival of rookie Breshad Perriman, this year's first round pick. The big-bodied, speedy Perriman is a dynamic but unfinished product whose pure physical traits promise to net him a spot in the starting lineup by September.
Outside of bringing in Perriman, the front office made only minor additions, and barring a veteran addition via a signing or trade prior to the regular season, the set of receivers on the roster will look quite similar to last season.
Perriman and veteran Steve Smith, Sr. are followed on the depth chart by Kamar Aiken and Marlon Brown, among others. The current group of receivers surely will not hold the team back this season, but is the corps talented enough to be a difference maker down the stretch for the offense?
Notable new additions: Breshad Perriman and Darren Waller – As noted, Perriman was the team's first round pick, but he was not the only draft selection at wide receiver by the organization.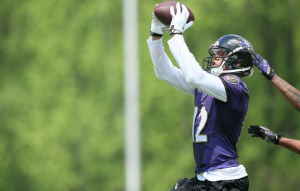 Waller, a 6'6 pure physical specimen from Georgia Tech, was selected in the sixth round as a risk-reward pick of sorts.
Similar to the 2012 selection of Tommy Streeter, Waller is a premier athlete with little development as a wide receiver, pushing him toward the end of the draft. He has the size and catching ability needed to succeed in the league, but can wide receivers coach Bobby Engram groom Waller enough in order to work him into the offense?
His preseason development should be monitored, as promising signs could lead to a spot on the final 53-man roster. A noticeable need for further improvement would likely lead to an "injury" for Waller, ultimately sending him into a redshirt season with the team.
As for Perriman, he has enough pure talent to become a starter opposite Smith Sr., and while he figures to have a hefty sum of slip-ups as Engram works to polish his game, Perriman promises to help fill the void of Smith in year one.
The preseason should give fans a glimpse of how far along Perriman and quarterback Joe Flacco are in their deep ball connection.
Also keep an eye on undrafted free agent DeAndre Carter, as the pint-sized speedster could provide special teams value and push for a roster spot.
Player with most to prove: Michael Campanaro – As a returning seventh round pick, ideally the pressure should be minimal for Campanaro heading into year two. But with a recurring theme of injuries – with the latest being a quad injury that should be healed by the start of camp – Campanaro needs to prove that he can stay on the field, thus instilling confidence in the coaching staff.
A slot aficionado at Wake Forest, Campanaro managed just seven receptions in four games played during the 2014 season, partially due to injuries. When healthy, Campanaro is versatile enough to compete for the third receiver role presumably up for grabs behind Smith Sr. and Perriman, however "when healthy" seems to be said much too often.
If Campanaro fails to make it to the end of August unscathed, it may be time for the organization to consider just how much of a future he has in Baltimore. But for now, let's just hope he can stay on the field.
Player to follow: Jeremy Butler – There are always the offseason stars who fade away once the real practices begin, and no Raven was more of an offseason star than Butler. Earning rave reviews throughout OTA's after an impressive 2014 preseason, Butler may be primed for a big leap forward this year after spending his rookie campaign on injured reserve.
Once training camp begins, Butler has a chance to prove that he can stand out more often than just relatively meaningless offseason practices. In a crowded competition for a roster spot, Butler certainly has a chance to latch on as a fifth or sixth receiver.
Potential surprise: Butler and Waller develop during camp, push Campanaro off roster – Campanaro is a popular player as a local product, and while a talented receiver in college, at this time
in his Ravens career, it is hard to definitively say he is a shoe-in for a roster spot this year.
Smith Sr. and Perriman are definite selections for the final squad, and Aiken and Brown would have to considerably regress to lose their roster privileges. Assuming the team carries six wide receivers, that would leave only two spots up for grabs. If Campanaro misses any time during camp, Butler, Waller, Carter and even veteran Aldrick Robinson would have prime opportunities to improve their roster candidacy.
As profiled above, Campanaro has the most to prove of any wide receiver heading into training camp, and the slew of fellow young receivers alongside him could lead to uneasy times during final cuts for the second-year pro.