Print this article
Last week the good folks at Baltimore Magazine informed us that Russell Street Report has been named a Baltimore's Best in three categories:
• Best Blog (Sports)
• Best Online Publication
• Best Columnist (Tony Lombardi)
I speak for our entire staff when I say that we are extremely humbled by these awards – accolades that we owe to all of you who spend some of your time here on our part of cyberspace and of course, our wonderful customers who make Russell Street Report and our baseball site (Eutaw Street Report) all possible. We sincerely hope that you support them.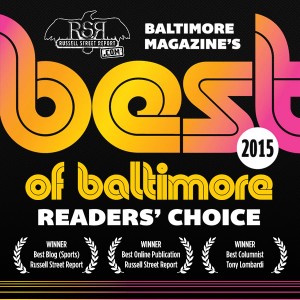 When I started Ravens24x7.com back on July 3, 2003, one day after my son's 11th birthday, I had no idea where things would go. At the time the word "blog" wasn't even part of mainstream vernacular and really the driving force behind the website was my insatiable appetite for all things Baltimore Ravens.
Today thanks to the good graces of the organization we've supported, we have access. And thanks to the many fine writers who have agreed to be part of our team. Once you were just contributors. Now I have the privilege of calling each of you "friend".
All of us at Russell Street Report share a passion – the Ravens, and that allows us to deliver the right content for our audience. We are fans just like you.
I once asked a few members of mainstream media who cover the team if they were fans of the Ravens. You know these media personalities although for purposes of this discussion the names aren't important. That said, the general consensus was (and I believe still is) that they aren't fans because it taints their objectivity when covering the team.
We want no part of that of that kind of thinking. It's not in our DNA.
We feel your emotion.
We share it.
And my vow to you is that it won't change. Mainstream can keep their clinical objectivity. We will celebrate with you and we'll help you vent your spleen.
The raw emotion of Sundays in the fall should NEVER be filtered.
That's why we've coined the phrase "Fanimal". But that's another story for another day.
For now I'm flattered, somewhat speechless (for me), honored, thankful and even invigorated. Your votes for us aren't taken lightly and it is now, thanks to you, our collective mission to get better and earn your vote next year and for years to come for the benefit of our customers without whom we would not exist.
Here's to the future.
Here's to the Baltimore Ravens.
And here's to the best fans on the planet – Ravens Nation!
THANK YOU! THANK YOU! THANK YOU!