Penalty Woes, Familiar Foes & Brad Allen
Print this article
Coming off of what can only be described as an embarrassing week from a discipline and penalty standpoint, the Ravens look to right the ship and keep the dirty laundry to a minimum as they face the Cleveland Browns on Monday Night Football.
While it's difficult to make any real assumptions about the league-wide officiating, or the Ravens' (in)ability to draw costly flags, referee Brad Allen should provide the slightest glimmer of hope for Baltimore.
OFFICIATING CREW: Brad Allen (referee), Richard Hall (umpire), Jim Mello (head linesman), Doug Rosenbaum (field judge), Shawn Hochuli (back judge), Tom Hill (side judge), Tom Symonette (line judge).
---
What Happened to the Ravens Last Week?
Where do I start with this one…what we witnessed last Sunday was a 3-7 season's worth of frustration finally boiling over, with a handful of flat out stupid penalties that a team 11 weeks into the season has no excuse making. When the Ravens offense got their first shot in the game, they methodically started working their way down field… until Ryan Jensen was hit with a tripping penalty. The result? Yet another stalled drive due in large part to penalties. From that point on, you could see the team slowly start to unravel, paving their way to 14 total penalties (10 accepted) for 137 yards.
To put that into perspective, the last time the Ravens had 14+ penalties for 130+ yards was September 2012 against the New England Patriots (14 for 135).
Ouch.
Here's the final penalty allocation from last week's game.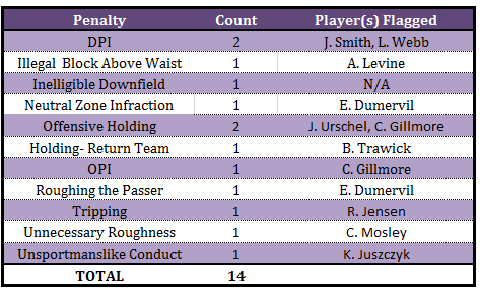 How's this for another glaring stat: of the 14 total penalties against Baltimore (10 accepted/3 declined), only 1 player was called for multiple violations (Dumervil- Neutral Zone Infraction & Roughing the Passer).
That's 10 different players with a flag last week (and one penalty unidentified by officiating crew). And it wasn't limited to one side of the ball either, with five flags on the offense, six on the defense and three on special teams. And with such a dispersion, coupled with the Ravens' 4th time surpassing the 100-penalty-yard mark, it's hard to find any sort of silver lining from last weeks game…
But we did!
Of the 14 flags thrown in Baltimore's direction, only 1 penalty came in the 4th quarter of a close game (Dumervil- NZI ). You would assume with the drastic amount of flags we've seen this season that the Ravens would have many more 4th quarter penalties, but in the 2015 season this team is averaging 1.2 accepted 4th quarter penalties per game.
All things considered, that's not too shabby!
After taking last week into consideration, here's how the Ravens penalties break down.
With another handful of DPI & D-Holds last week, the Ravens continue to show it's their biggest fault in the penalty department. In fact, the Ravens currently lead all NFL teams with 11 DPI flags, & sit in 4th with seven D-Holds.
Delving deeper into the Ravens penalty woes, here's how their five most common penalties stack up against the league average.

In short, the Ravens commit fewer Offensive Holding penalties and fewer False Start penalties than the league average, while committing more Defensive Holds and many many more DPI's and Personal Fouls for Unnecessary Roughness, where they also lead the pack once again.
---
Last Meeting Between the Browns and Ravens
There's good news and bad news.
Let's start with the bad news and get it out of the way: the last time Baltimore and Cleveland clashed (10/11/15) Baltimore was nailed with 13 penalties (12 accepted) for 98 total yards. Oh, and the Ravens lost 33-30. So all around brutal.
Here's what Baltimore saw from the officiating crew in that game.
So where's the good news? Take a look at a few of the penalties that shouldn't be a concern this time around.
So there's a handful of penalties in the previous matchup by players no longer on the active roster that won't be an issue this week. Granted, I understand that those marginal players were replaced with other marginal players, but the current crop of backups/special teamers are better than those listed above (or at least smarter).
---
Brad Allen's Crew
First and foremost, yes, Shawn Hochuli is the son of current referee, and fan favorite, Ed 'Hercules' Hochuli. This is only Shawn's second year in the NFL, and his first with Brad Allen, after spending 2014 with Tony Corrente (I assume they pulled him because they didn't want him picking up Corrente's bad habits).
Speaking of relative fresh-meat in the NFL officiating pool, referee Brad Allen is also in his second year in the NFL. Allen had taken the traditional route- starting at the high school level, working his way up to the college level in the ACC – until he reached the NFL, where Allen was awarded the referee position in his first season in the league, something that hasn't been done in over 50 years.
Kudos to you Brad!
And how about one more little fun fact: Allen's first game officiated at the NFL level was the Mark Trestman-led Bears hosting the Buffalo Bills (Trestman's Bears lost in OT 23-20).
As for Allen's crew for the 2015, here's how their penalties have been allocated to date.
This is a beautiful thing right here – No glaring areas showing Allen's crew calling more penalties on offense or defense, not a ton of personal fouls to speak of, and overall just a fantastic dispersion of penalties.
I'm not saying Allen is the poster boy for the NFLRA, but I can say that this crew is exactly what they want to see out of all of their crews. They set the bar, and they set it high. A young gun in his second year calling great games without any major controversial calls attached to his name should make guys like Walt Anderson and Pete Morelli either tighten up their game, or hang up the whistle.
To further that notion of a young referee finding his way quickly, isn't this exactly what us fans wanted? The league is currently saturated with elders in the officiating world, and most of them seem stubborn/set in their ways, regardless of whether those ways receive rave reviews or questionable ones. Having a crew like Allen's out there doing their thing without any controversy should truly encourage the NFLRA to continue their youth infusion to hopefully weed out some of the problematic crews that are constantly creating a stir in the league.
---
What to Expect
If Allen calls this game the way I expect him to, this game will come down to the discipline of the teams and nothing more. For the Ravens, it'll be a question of which team we see. Will it be the '100+ penalty yards team' we've seen on four occasions this year, or the '5-or-less accepted penalties' team we've also seen four times this season?
Unfortunately, based on the amount of replacements/backups that will be playing in this game due to injury, expecting something in the 8-10 penalty range with roughly 60-80 yards should be right in the Ravens' wheelhouse.
Then again, every time we expect the Ravens to show up and get blasted with penalties, they completely surprise us and limit the flags to five (and win!) so you may as well be throwing darts in the dark.