Liar's Luncheon: Ravens Reveal Nothing
Print this article
The Ravens brass held their annual pre-draft press conference on Tuesday morning. Like the many times before, they failed to reveal much of anything about their draft plans.
GM Ozzie Newsome, Asst. GM Eric DeCosta, HC John Harbaugh and Director of College Scouting Joe Hortiz answered vaguely about a vast number of draft topics during the hour long presser.
"It's going to change a lot," remarked DeCosta when asked if the team has finalized their top six players on the draft board. "We're just meeting with players now. We're watching tape. Our coaches haven't turned their reports in yet.
"Our scouts come in next week. Over the next two-and-a-half weeks, we'll have a lot of debate on these guys and we'll get it all ironed out. I'm still sleeping. We haven't really started a lot of the heavy lifting to come over the next couple of weeks, and we'll get there."
Newsome did provide some insight regarding whether or not their draft board has changed much since the organization added free agents TE Ben Watson, WR Mike Wallace and S Eric Weddle.
"It really has not, and we have not had a meeting since before the Combine," stated Newsome. "As I said earlier, we'll get the scouts back in.
"But, getting those three players, it won't adjust our board, because we still believe in taking the best players available, regardless of position. So, it won't affect it that much."
Selecting the best players available has always been the Ravens' way. Despite many fans feeling anxious, the front office isn't feeling too much pressure to hit on their sixth overall pick.
"We feel the pressure, honestly, regardless if we're picking sixth or 32," said DeCosta. "We've picked both. I think the players are better, but we still feel the same pressure. We felt pressure last year when we picked 26th last year; we felt the same pressure. Honestly, we're looking at a different level of ability in some respects."
Instead, DeCosta offered that picking in the latter rounds is perhaps even more stressful for him and his staff.
"I'm actually probably feeling more pressure at pick 36 than I am at six," DeCosta went on to say. "I feel like if you're picking sixth, you really only have to look at four or five players, and you're just going to have to iron those guys out and you rank those five players. At 36, there's a lot more volatility.
"There's a lot more different players you're going to be looking at, a lot more combinations," he added. "So, I've been spending a lot more time thinking about 36 actually in the last couple of weeks, because there could be a lot of different players.
"We have to look at these guys and study these guys and scrutinize these guys on the field, off the field, the intangible work ethic, durability, football intelligence, ability, all of these different things to make sure we nail that pick."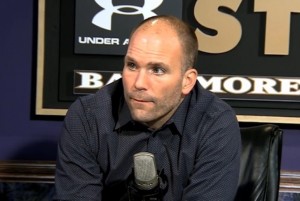 DeCosta also acknowledged the value of mock drafts when looking at potential draft picks.
"I look at all that stuff a lot, because I think, at least, I believe – every team is different – but, I like to try and get a sense for league value, how other teams see players," responded the Asst. GM. "I think mock drafts are sometime indicative of that. I think that's something that you should pay attention to."
For him, it's all about trends regarding certain players and even the ones that are flying below the radar.
"I just like to see the players that are consistently showing up in the mock drafts. I like to look for trends," he added. "Players that either consistently show up in the mock drafts or players that possibly just consistently don't show up in the mock drafts helps me, a little bit, to get a sense for when we have to take a guy versus when we can stretch. I would prefer to stretch, in most cases.
"Get the guy when I think we have to take him, not take a guy too early, before we really have to take him. Maybe take a better talent. Sometimes we lose out on a guy. I can think of one instance when I really thought we had a chance to get a guy in a given round, and he went earlier than that and he ended up being a good player. I'm still mad at myself that we didn't take him earlier. You do the best you can. I think just try to get a sense for how other people think about that player. It helps you decide when you really want to take them – what your threshold is to take them."
The one thing that was certain during what many media members have deemed the "Liar's Luncheon" is how committed they are in improving their football team. They will certainly leave no stone unturned.
They cannot afford to. Their future depends on it.
Follow me on Twitter @sportguyRSR