Introducing the Flachometer
Print this article
The Ravens took to the field under sunny skies with the temperature hovering at 71 degrees Thursday at the Under Armour Performance Center in Owings Mills for an early morning 8:45 a.m. practice.
Donned in pads for the first time in week two of camp, John Harbaugh's crew started the day with positional drills before combining for seven-on-seven and 11-on-11 team drills.
Missing In Action
OLB Terrell Suggs, OLB Elvis Dumervil, WR Steve Smith Sr., WR Breshad Perriman and RB Lorenzo Taliaferro all remain on the physically unable to perform list.
WR Chris Moore (walking boot), TE Crockett Gillmore, DE Timmy Jernigan (undisclosed), TE Dennis Pitta (sprained thumb), WR Michael Campanaro (day off) and Lardarius Webb (day off) did not participate in practice on Thursday.
Rookie Bronson Kaufusi was carted off the field during practice after suffering a broken ankle. John Harbaugh confirmed it's likely Kaufusi's season is over.
Studs of the Day
Rookie cornerback Tavon Young is cruising at the NFL level, at least against the second- and third-team offenses. Young treated onlookers to a solid display on defense particularly when breaking up passes. On special teams, he excelled, too, blocking a Will Lutz field goal. The true test will come in the preseason, but don't be surprised if the rookie gets reps with the first team defense before then at the slot corner position.
While the offense struggled throughout the day, WR Jeremy Butler performed well for the second-consecutive day. Butler hauled in errant passes from both Joe Flacco and Ryan Mallett. Butler is making his case for the 53-man roster, especially since rookie Chris Moore remains in a walking boot and hasn't practiced in almost a week.
The young and powerful defensive front was quite impressive during Thursday's padded practice. They brought constant pressure, and their run defense was unstoppable. Kapron Lewis-Moore, Lawrence Guy and Brandon Williams all turned in plus efforts. Brent Urban was the player who stood out among the group, batting down pass after pass and managing to sack Ryan Mallett twice.
Duds of the Day
Newly signed RB Stephen Houston looked more like a punching bag than a ball carrier. The newest camp body struggled mightily in pass pro drills and also when catching the ball out of the backfield. He was walloped by Arthur Brown after one catch and it forced the former Hoosier to fumble. It's likely Houston's time in Baltimore will be limited, especially if he has more days like today.
The starters had their issues, but the second-team offensive line really struggled with timing. The unit was called for five false start penalties which drew the ire of both head coach John Harbaugh and offensive line coach Juan Castillo.
Flachometer (New!)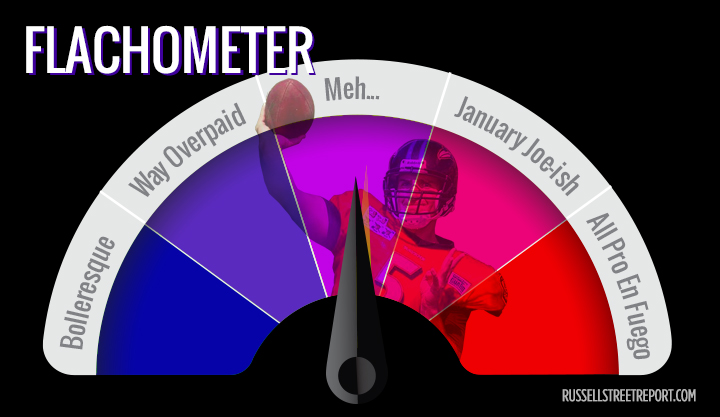 Joe Flacco turned in his worst performance of camp during the early portion of practice. The veteran quarterback was off balanced and struggled to find open receivers. Flacco completed zero passes on his first five attempts during the first 11 on 11 team drills. Even when he was completing passes, he was off-target but bailed out by the likes of Benjamin Watson, Kamar Aiken and Jeremy Butler.
Play of the Day
While there was little to brag about offensively at practice, WR Keenan Reynolds drew cheers from teammates following a reverse, making LB Albert McClellan miss, and juking safety Kendrick Lewis out of his shoes.
Other Observations
Running back Kenneth Dixon returned to practice in a limited role. The rookie spent most of practice with his position coach working on drills on the sideline. Cornerback Will Davis also returned to practice and was a full participant.
Anthony Levine continues to get chances at both safety and linebacker. The veteran special teamer made several nice plays on Friday, including a blocked field goal.
Rookie OLB Kamalei Correa was a reps machine during practice. He continues to split time inside and outside and shined at both spots. While taking reps with the second team defense, Correa tipped a pass in the air and came close to intercepting the ball before he and the ball hit the ground.
During red zone drills, running back Terrance West was shaken up after being hit in the groin in a pile up. The former Towson standout still managed to score.
Safety Matt Elam intercepted quarterback Jerrod Johnson at the onset of full team activities. After returning the ball, fellow safety Eric Weddle ran full speed onto the field to congratulate the former first-round draft pick.
Quote of the Day
"Tavon, stop holding. The touchdown could have potentially been called back because of you!" – Special teams coordinator Jerry Rosburg to rookie Tavon Young during return drills.
On Deck
The Ravens will be back out on the field bright and early for an 8:45 a.m. practice. Special teams coordinator Jerry Rosburg, offensive coordinator Marc Trestman and defensive coordinator Dean Pees are slated to speak at the podium following practice.
Follow me on Twitter @sportguyRSR