Former Ravens QB Tony Banks
Print this article
Tony Banks spent two of his 10 NFL seasons in Baltimore, and helped the 2000 Ravens win the franchise's first world title.
*Note: Banks didn't play during the entire 2002 season.
I recently spoke with Tony to see what he was up to these days, and to ask him about how he viewed his time in Baltimore.
Mike Fast: What are you up to these days?
Tony Banks: I'm a single dad and have a 10 year old boy, which takes up most of my time. I do some broadcasting with FOX Sports Southwest, and a local live Cowboys show here in Dallas. [I'll do] anything I can do to be around my little man.
MF: Do you keep up with the Ravens or any former players?
TB: I see Derrick Mason from time to time. I still run into him at some Spartan functions. I'll talk to Chris McAlister from time to time, too. That's about it. Chris Redman every now and then.

MF: What did you enjoy most about playing in Baltimore?
TB: That offense really catered to some of my skills, allowing me to audible at the line of scrimmage. A lot of franchises didn't have a lot of freedom like that. I liked to push the ball down the field.

MF: In your last year of college ball at Michigan State in 1995 your head coach was Nick Saban. What do you recall about how he coached you and your teammates in East Lansing?
TB: He was really [concerned] with attention to detail. That was my first chance to play in a pro-style offense. Playing with Saban will make your football IQ shoot right up, whether you like it or not. If you want to get on the field on one of his teams, you need to know what you're doing. I hear he's softened up in his old days. He didn't smile a lot back then.

MF: You were drafted in the 2nd round of the '96 draft (42nd overall) by the Rams, and you played three years there. After seeing them win the Super Bowl in 1999, one year after you left, what were your thoughts?
TB: It was time for me to get out of there. I always understood the game. I wasn't an NFL quarterback with the Rams, I was just an athlete with a big arm. Once the fans turn on a QB, it's time for [the QB] to get out of there.

MF: In the 2000 season, you had the offense running well in the first half of the season, throwing 8 TD to 3 INT and helping the team score 98 points in its first four games. Was that period of football easy for you, or did it just seem that way from the outside?
TB: I was still getting used to Shannon Sharpe. I had most of my success throwing outside to the receivers. [Brian] Billick wanted me to start my progression with my eyes looking inside. Once defenses started adjusting to me being so vertical-oriented, things shifted toward the ground game.
MF: During the Titans game in Week 8 of 2000, Coach Billick benched you and went with Trent Dilfer. Was that decision something you understood, or did you feel like you should've continued playing?
TB: I knew Trent Dilfer wasn't going to be able to push the ball down the field like I did. I definitely thought I deserved more of the benefit of the doubt. We were still 5-3, but that wasn't my decision. I was bitter about it. I was a young, bitter kid. I didn't enjoy it that much.

MF: What will you remember most about Super Bowl XXXV?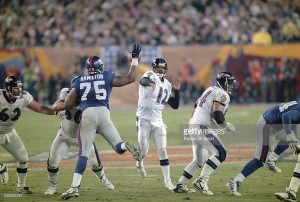 TB: I don't have the warm and fuzzy feelings. I don't remember much. I enjoyed the party after with my father and wife, but that's about it.

MF: You were on four teams in your 10-year NFL career and you won a Super Bowl at age 27. Do you have any regrets?
TB: I have regrets. I didn't take the quarterback situation as serious as I should've. Things kind of came easy to me and I took some things for granted. My production didn't match my talent. I needed [to pay] more attention to detail.

MF: Do you have a message for Ravens fans?
TB: I hope they value Joe Flacco. He stands in that pocket so courageously, which is the most important attribute a quarterback can have. I hope they appreciate him.