Rookie Report Card 2016 (Part 2)
Print this article
Click Here for Rookie Report Card Part 1
It has been said that you build championship football teams deep in the draft, and despite some recent early-round busts, Ozzie Newsome has a stellar record selecting talent late. In Part 2 of Rookie Report Card, let's take a look to see if that was the case for the 2016 draft class (and two undrafted rookie free agents).

Willie Henry: D+
After playing for Jim Harbaugh at Michigan, Willie Henry was selected by brother John as the 132nd pick overall. He represented good value among a crowded group of defensive tackles, but found the jump to the pro game difficult. Behind a deep and talented group of linemen, Henry was the only of the Ravens' five fourth-round picks who did not see the field before being placed on IR in Week 11.
With potential free agent losses this offseason, he will have no excuses for not cracking the rotation next year.
Kenneth Dixon: B
Despite the season-long under-utilization of the running game, Kenneth Dixon opened eyes and emerged as the starter late in the season, forming a productive duo with Terrance West. Dixon is explosive; he hits the hole with acceleration, has a sharp, effective cut, and finds hidden yardage at the ends of plays. He is a dangerous weapon in the passing game too, catching as many as eight passes in a single game. The former Louisiana Tech Bulldog recorded season totals of 544 yards from scrimmage and three touchdowns. Dixon's biggest need for improvement is as a pass blocker.
Recently, John Harbaugh claimed that he wants to add another running back, which was a bit surprising, considering the relatively productive one-two punch of Dixon and West, who are both young and cheap. Unless Leonard Fournette or Dalvin Cook fall to Baltimore, I doubt the Ravens invest serious capital into a back who would unseat Dixon (or West, for that matter).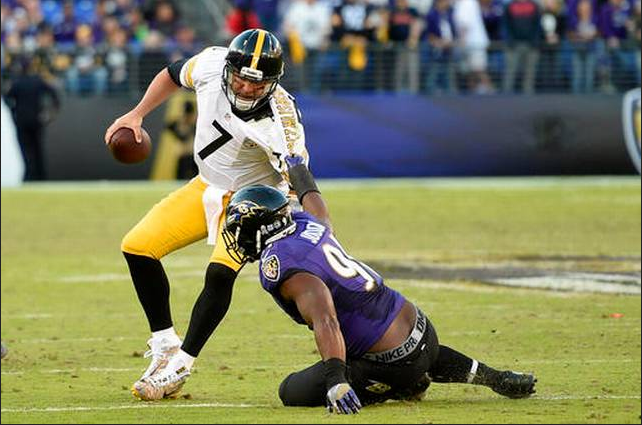 Matt Judon: B-
A small school prospect, Matt Judon was a hot name coming out of Grand Valley State, and the Ravens took a chance on him in the fifth round. Judon flashed some quickness early on and developed into a productive rotational pass rusher, finishing with 4.0 sacks. Despite initially struggling against the run, he improved noticeably in terms of setting the edge and intelligently tracking ball carriers.
Judon needs to improve his special teams play in order to solidify his game day value, but his future is bright and coaches seem to already favor him over Za'Darius Smith.
Keenan Reynolds: C-
Former Navy Midshipmen sensation and fan favorite Keenan Reynolds struggled with his transition to wide receiver from quarterback and failed to make the 53-man roster. The Ravens were able to sign him to their practice squad where he worked all season until his promotion to the active roster in the final week of the season (he did not dress in Cincinnati).
He'll need to take major strides as a route runner, improve his hands, and prove that he has value in the return game to stick around.
Maurice Canady: Incomplete
It seems like it has been forever since we last discussed Canady. The former Virginia Cavalier was active for just four games before a hamstring injury sent him to injured reserve. Canady impressed Dean Pees this past summer and has good size at 6'1" 193 lbs., so he has a good chance to again compete for a spot on the 53.
Michael Pierce: A
Pierce's star burned bright in the preseason and he gave the coaches no choice but to give him snaps from Week 1.  He is a bowling ball in the middle of the defensive line, and has surprising quickness with active hands. Pierce recorded 35 tackles, 2.0 sacks and a pass defended.
He went from an undrafted, unwanted prospect from Samford to a major reason why one of the league's best rush defenses may be willing to let the best run-stuffer in the game in Brandon Williams depart this offseason. That can only be classified as a meteoric rise, and for that, Pierce earns an A.
In order to prove he can start, he will need to perform consistently and continue to show that he can penetrate against the pass. But his quick first step, and ability to clog running lanes are enough to guarantee his spot along the defensive front for the foreseeable future.
Patrick Onwuasor: B-

"Peanut" as he is known, made a late contribution to the 2016 campaign, and was Baltimore's starting inside linebacker for Week 17.  Onwuasor made waves in training camp, laying some big hits despite his small stature for an inside backer.  He was activated in Week 6, made some plays on special teams, and finished the year with 21 total tackles and a forced fumble. The Ravens like what they have in C.J. Mosley and Zach Orr, but Onwuasor is a great story, has good value on special teams (and as a linebacker/safety hybrid), and will be in the roster/practice squad mix next season.
—
Let us know in the comments below if you would change any of these grades, and give us your impression of the 2016 rookies as a whole.
And don't forget to check out Part 1 here.