Here's Bryant McKinnie blocking nobody on the failed 4th-and-1 attempt
Print this article
On Sunday night against New England, the Ravens once again came up short in a critical short-yardage situation. While not nearly as ultimately detrimental as the debacle at the end of the Philadelphia game, this was another situation where the Ravens were unable to pick up just a few yards when they needed it.
Situation:
New England leading, 30-21. Baltimore ball on the Patriots 33-yard line, 4th down and 1.
Here is the Ravens formation pre-snap. Bryant Mckinnie (highlighted), who was originally lined up as the fullback, motioned to the left and Vonta Leach came in to his usual fullback spot. From left to right on the offensive line are McKinnie, Michael Oher, Ramon Harewood, Matt Birk, Marshal Yanda, and Kelechi Osemele. Ed Dickson is the tight end to the right. That's a lot of beef.
Prior to the snap, leach shuffled to his left. At this point, everybody in the stadium knows that the play call is a run to the left. That shouldn't matter. With that amount of manpower up front, and the power back – rookie Bernard Pierce – in the game, getting one yard should be a snap. The Ravens have the personnel to be able to get a hat-on-a-hat on the left side, as shown below.
At the snap, McKinnie for some reason goes right, and attempts to chip the man Oher is trying to block, Chandler Jones. This leaves safety Patrick Chung unblocked to his left. Uh oh.
Also, linebacker Jerod Mayo is rushing the gap, but Leach should be able to handle him.
Now, McKinnie is not only doing nothing to help Oher (who is getting beaten by Jones to compound things), but he is standing around doing ABSOLUTELY NOTHING. Chung is licking his chops as pierce comes his way. Had McKinnie simply kicked Chung out, there would have been, if not a huge hole for Pierce, at least an option for the rookie to try to make something happen.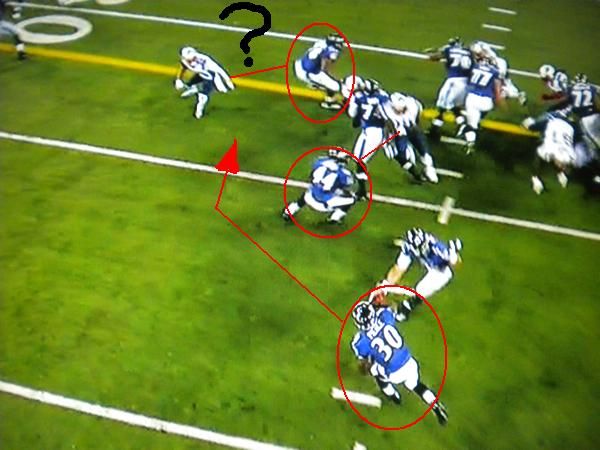 I'll say that again. Had Bryant McKinnie – 6'8″ 360 lb – merely gotten in the way of Patrick Chung – 5'11" 210 lb – the Ravens probably would have picked up this first down.
Instead, McKinnie decided to check out the scenery, and simply take in the play that was going on around him. Mostly behind him, at this point.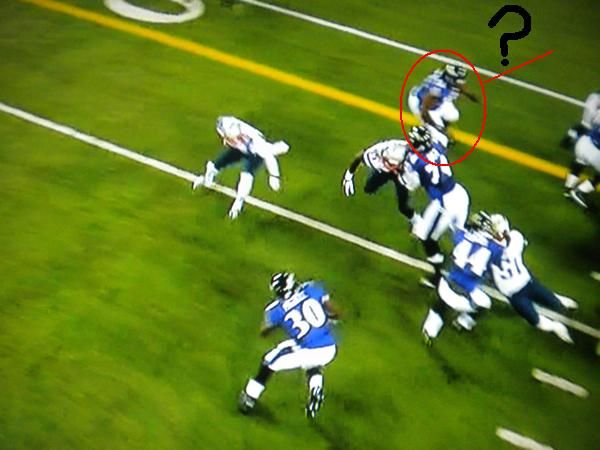 As we all know, Chung wrapped Pierce up for a one-yard loss, and New England took over on downs.
Luckily, this play did not end up costing the Ravens the game. I hope McKinnie got a good view of things while he was standing around on the field though, as I think the bulk of his views of Ravens plays will continue to come from the bench.