Steve Smith Sr. Knows His Role
Print this article
If there was ever a football player that was destined to be a Raven, that player would have to be new wide receiver Steve Smith Sr.
"I love the personality. It's not really about how you say it; it's about what you do, and that's the part I love about it. I'm not really concerned more about the perception," Smith Sr. stated at the podium on Wednesday.
"It's more about what's going on. So, that's the thing that I love about it – what's really going on, what are we doing, how are we improving. That's really, at the end of the day, that's really what people really care about – it's the wins and losses. It's not all the stuff and the fancy get-up that goes on during the week."
Steve Smith, Sr. signed with the Ravens (three-year contract) in March after being released by the Carolina Panthers with whom he spent his entire career. He is focused and prepared as the Ravens will hold their first full-team training practice on Thursday.
Smith Sr., the Five-time Pro Bowler is ready to get started and focus on his role in the Ravens offense this season and his ability to be successful in the new offense.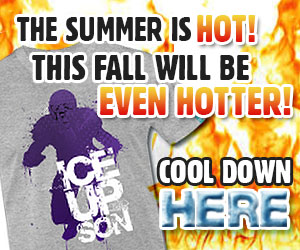 "I think I fit in any offense once you learn it, understand what the routes are, understand what they're trying to get. I understand there are going to be times when I'm the premier receiver, and there are times that I need to clear through for Torrey [Smith] or Jacoby [Jones] or Marlon [Brown]," Smith responded when asked about his role in 2014.
"You have to be able to be efficient in any offense; you've got to understand in every play what your role is, and if you don't understand what your role is, that's where you have veterans that become frustrated, and things start to unravel."
"I understand my role. My role is one, to make plays, but two, also understand the concept, understand what my job is on this play, and I understand that. And each week is going to be a different challenge, and I'm ready for that."
While training camp gets started and the time to build chemistry with other wide receivers and more importantly the guy who is throwing the ball to you, Smith Sr. was clear and concise about the chemistry formulated between Flacco and himself after OTA's and minicamp.
"Do you want me to lie to you or tell you the truth?" the veteran receiver said with a smile.
"The truth, honestly, for me, I've been catching passes for quarterbacks for a lot of years, and I've been running routes for a lot of years. If you throw me the ball, there's no chemistry; you throw me the ball. [If] it's catchable, I'm going to snag it."
"That's what practice is going to be there for. Practice is there to make mistakes, to understand what I need to do and how Joe operates. Then, my job at the end of the day is to make him look good."
Smith Sr. understands the importance of meshing with his fellow wideouts yet being friends isn't a number one priority for the new receiver.
"At the end of the day, I'm here to do a job. I'm not here to worry about [if] we're friends or not friends. We have to do a job. We could be the best of friends, but if we're not connecting and doing our jobs, we're going to be two friends that are unemployed."
"The bottom line in football, which I believe, is it's about making plays. People get hired and fired not based on relationships, but about your ability. And that's what I thought I was brought here for, for my ability and not my friendships. But I will [make] friends and get to know [my teammates]. They'll get to know my family; I'll get to know their family."
Smith Sr. certainly brings with him a fiery style of play, something the Ravens desperately needed last season. Even at the age of 35, Smith Sr. acknowledged his intensity will never go away which was in full display earlier this month when he mixed it up with cornerback Lardarius Webb during the teams' minicamp.
"The competitiveness doesn't mellow out; your focus is just a little different. The things that maybe riled you up don't rile you up as much, but it's hard for you guys [to understand], because you really don't know me. You see a push, and then that's a fight."
"So you just kind of see that, but we're here to play football. We're not out here to exchange cookie recipes. It's combative. When we play the Pittsburgh Steelers, [former Carolina teammate] Mike Mitchell is not going to come up and say, 'Hey, Steve, I've got this great chocolate-chip cookie recipe,' and I walk up [and say], 'I've got a great brownie recipe.'"
"No. [If] I go across the middle, he's going to try and hit me. We're not on the same team anymore, so I'm going to try and knock his block off, too. And when I get up, I'm going to spin [the football], go back to the huddle and do it again."
What you see is what you get with the former Carolina receiver. He doesn't hold back and is a breath of fresh air for a Ravens offense that was very pedestrian last season.
Buckle up fans, it's going to be a interesting training camp with Smith Sr. on one side of the ball and Terrell Suggs on the other.
Follow me on Twitter @sportguyRSR