Defense Dominates Despite Brown's Struggles
Print this article
The Ravens donned the pads for practice under sunny skies at the Under Armour Performance Center in Owings Mills on Saturday.
The defensive side of the football ruled the roost in a fiery practice, with several of the big names on defense having an impressive day.
Linebacker Terrell Suggs stood out, disrupting the Ravens offensive line which featured Ryan Jensen and A.Q. Shipley as Kelechi Osemele and Marshal Yanda were not present for practice. Suggs was key in pressuring Flacco and Taylor and recorded two sacks during 11 on 11 drills.
Sizzle was in rare form and was often heard yelling at both the offense and the referees. "What are you looking at?" Suggs yelled in reference to a hold that resulted in a long Ray Rice run downfield.
Haloti Ngata, Elvis Dumervil also had solid practices and made their presence known in the offensive backfield.
Other Notes & Observations
Cornerback Chykie Brown had a rough outing on Saturday drawing the fury of head coach John Harbaugh. During an 11-11 drill after the whistle had blown, Brown kicked the football in frustration resulting in a delay of game penalty which prompted Harbaugh to dismiss Brown from practice for the day sending him to the locker room.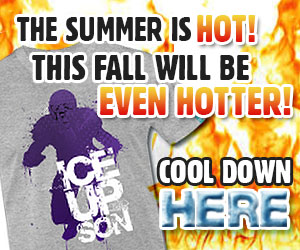 "Chykie, get off the field," Harbaugh said loudly. "Get off the field." Harbaugh also yelled as Brown exited the practice field, "Are we going to be a disciplined football team? Or are we going to be a [BS] outfit?" Brown was later allowed back on the practice field only to get involved in a fight with wide receiver Steve Smith Sr.
Cornerback Jimmy Smith was back on the field after missing practice on Friday. Smith had several nice pass breakups and was stingy when wide receivers tried to gain separation. During run blocking drills, Smith excelled against wide receiver Torrey Smith shedding him with ease.
With Daryl Smith (groin) still absent from practice, Josh Bynes and Arthur Brown split reps with the first team defense. Brown was solid in pass coverage but had trouble getting off blocks in run defense. Bynes who is fighting for a roster spot had his best day of practice. On two occasions he nearly missed an interception and delivered some solid hits on running backs Ray Rice and Bernard Pierce during team drills.
Asa Jackson is clearly the front runner for the third cornerback position. The downfall of Brown has opened the door for Jackson and he is making the most of it. Jackson did struggle at times but did however show flashes of his ability when he had pass defenses against Smith Sr. and Torrey Smith.
Head coach John Harbaugh stated at his presser following practice that its unlikely Lardarius Webb will play in the Ravens first two preseason games, possibly three.
Absent from Practice:
Lardarius Webb, Terrence Cody, Timmy Jernigan and Pernell McPhee (day off) did not practice on Saturday.
Follow me on Twitter @sportguyRSR