What Went Wrong Up Front?
Print this article
The consensus most pleasant Baltimore Ravens story line during the first month of the regular season was the stellar play of the offensive line.
After a putrid 2013 performance from the unit, by September's end, Baltimore's offensive line was beginning to look like one of the NFL's best.
While that still may end up being the case, Sunday's performance against the Indianapolis Colts does bring some concern as to how consistent the line can be on a weekly basis, especially during road games.
Quarterback Joe Flacco was sacked three times in the season opener against the Cincinnati Bengals, but was not sacked once in the following three games.
On Sunday, a catastrophic meltdown occurred up front, and Flacco was sacked four times while also being under duress for much of the day.
There's no one single lineman to blame for the poor performance, although the reality check undrafted rookie James Hurst received in his second NFL start didn't do Flacco any favors.
What went wrong on each of the four sacks allowed by the offensive line?
On Flacco's first sack, a surprising slip-up by left guard Kelechi Osemele occurred, which kickstarted a full out rush of Flacco on a play action.
Baltimore's most consistent lineman this season, Osemele loses leverage off the snap and is caught reaching.
Osemele is thrown aside by defensive lineman Cory Redding, who gets a free release on Flacco, sending him toward the right side of the line.
On that side, though, right tackle Ricky Wagner and right guard Marshal Yanda aren't holding on for long.
By the time Flacco rolls out, three Colts defenders have free shots at Flacco.
Osemele was the first culprit in the play (and ultimately the main one as Redding finishes the play with the sack), but the right side of the offensive line didn't give Flacco any help either.
Hard to complete passes with three defenders having a free shot at the quarterbacks.
The second sack allowed was a true "welcome to the NFL" moment for Hurst, complemented by poor execution on the right side.
Off the snap, Hurst is quickly beaten on the outside by Colts linebacker Bjoern Werner, who simply executes a speed move on the rookie.
On the other side, Wagner makes the decision to hand Redding off to running back Justin Forsett.
Hurst unsuccessfully tries to recover in time to catch up to Werner.
Meanwhile, Forsett can't handle the pure strength of Redding, who easily pushes the running back out of the way.
Forsett is ultimately caught watching the play develop as Redding gets a hand on Flacco in the pocket.
Flacco evades Redding's sack attempt but is quickly brought down by Werner, whose closing speed was too much for Baltimore's quarterback.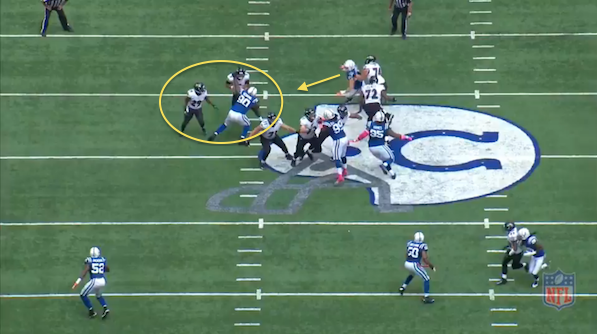 Sacks number three and four were both given up at the cost of Hurst, for differing reasons.
On a 4th down attempt in the red zone, a short-yardage pass play was called.
For such a quickly developing play, the value of the offensive line increases, as one slip-up ruins a potential game-changing play.
With a package in which the Ravens have a fullback, an extra offensive lineman and two tight ends, there's simply no excuse for a sack.
Early in the play, tight end Owen Daniels gives a quick blocking effort to safety Sergio Brown, who is blitzing off the edge.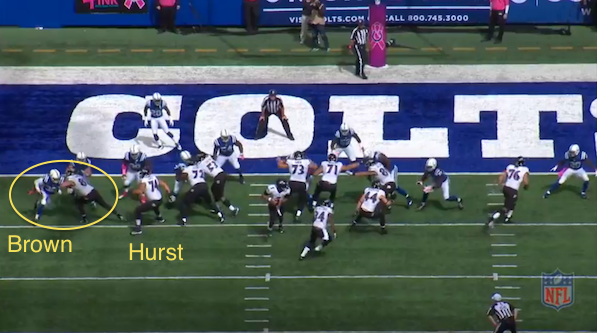 Daniels – a receiving option on the play – can't hold the block for too long as that isn't his main duty, so Brown is sent off to Hurst, who has more than enough time to get in position, as seen above.
However, as Brown approaches Hurst, the left tackle opens his hips and gives Brown a lane on the left shoulder.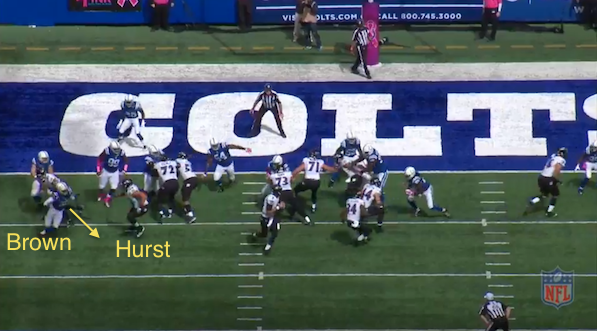 Ideally, Hurst should have kept his body square to Brown instead of turning sideways and opening up a lane on the outside.
This results in an easy speed rush for Brown, who simply runs around an off-balance, chasing Hurst, leading to a rushed play for Flacco and a sack.
The fourth and final sack came at the most inopportune time: Baltimore's final offensive drive.
Backed up near its own end zone after regaining possession, the last thing the Ravens offense could afford was a setback to begin the drive.
But another poor play by Hurst put the offense in a hole early.
Hurst is on an island with Werner, who doesn't initially beat Hurst with a speed move.
Instead, Werner goes directly at Hurst with the intention of more of a power rush.
Hurst is already off balance; notice the difference in weight distribution between him and Wagner on the other side.
Werner simply hits Hurst with an inside power move, dips his right shoulder under Hurst's right side and powers through. Nothing special, just a pure overpowering of Hurst.
This leads to an easy takedown of Flacco for Werner.
Hurst was easily Baltimore's worst offensive lineman on the field Sunday; even watching the game live it wasn't hard to tell.
After a strong debut, Hurst's performance against the Colts proved that maybe some tougher competition (Werner) is too much for him at this stage in his career.
He wasn't the only one who struggled, though, as fellow linemen such as Osemele and Wagner had their share of struggles too.
Heading back out on the road this week against a Tampa Bay Buccaneers defense which is tied for 18th in the NFL with 9.0 sacks, it will be interesting to see whether or not the offensive line (particularly Hurst) can have a bounce back game.
When Flacco is given time to throw and feel comfortable in the pocket, he can have performances such as the one against Carolina, when he threw for 327 yards and three touchdowns.
But when he has to worry about whether or not the offensive line will give him time throughout the game, performances such as his one against Indianapolis (235 yards, zero touchdowns, one interception) are much more common.