The Emergence of a Shutdown Corner
Print this article
During the 2011 season, the Baltimore Ravens had an emerging star at the cornerback position on their hands.
Lardarius Webb – in his third NFL season – burst onto the scene during Baltimore's near-Super Bowl year, proving that his immense athleticism could evolve into the talent needed to be a shutdown cornerback in the NFL.
At the same time, though, the Ravens had another project going through the rounds.
2011 first round pick Jimmy Smith came along at a troubling rate. When he joined the team, it was believed that the former Colorado Buffalo had a high ceiling and the potential to be one of the game's best.
But during his rookie campaign, slowed by nagging injuries, Smith was on the field for just 256 defensive plays during the regular season. And when he took the field he looked like a green rookie on most occasions.
Patience was key though, and heading into his second NFL season, expecting him to finally come along and show some flashes wasn't too much to ask. However, that was far from the case.
Benefitting from a season-ending injury to Webb in October, Smith was able to touch the field on defense more than expected. Smith amassed 474 snaps during the regular season, an increased in workload that would have likely led to an increase in performance, as on-field experience is more valuable to cornerbacks than most other positions.
But Smith showed no signs of improvement. His imposing 6'2 frame didn't scare off any defenders, and his reputation for being an ideal press cornerback never came to fruition.
He looked lost on many plays, and ball awareness was far from his strong suit.
Through two NFL seasons, was it time to finally temper expectations for Smith or still hold out hope for the best?
Maybe a bit of both, depending on how much patience you have. It's obvious that the Ravens had plenty of patience, as when the 2013 season began, they had no hesitation to let Smith loose.
With a starting cornerback spot open, Smith won the job and never looked back. He was a full-time player in 2013 for the first time in his career, finishing with 1,068 defensive snaps and improving on a weekly basis.
Now five games into his fourth NFL season, it's safe to say Smith has finally tapped into his potential and is making a case for himself as one of the NFL's top cornerbacks.
A defender who rarely needs help in coverage, Smith's press coverage, closing speed, physicality to the whistle and ball location are all above average, making him a complete cornerback.
For a player who looked out of place for much of his first two seasons, Smith is now one of the league's most consistent players in coverage.
In fact, according to Pro Football Focus, Smith leads NFL cornerbacks this season by allowing a measly 5.6 yards per reception. The next best number in that category is 7.4 yards per reception, shared by Brandon Flowers, Brandon Boykin and Darryl Morris.
Smith has also allowed just 12 receptions on 24 targets and a mere 25 total yards after the catch in 2014.
To put his impressive 2014 start in perspective, Smith allowed receptions on 69.2% of his targets in 2012 while allowing 11.9 yards per catch, more than double his average in 2014.
What is it about Smith's game that has made him an emerging star?
It's not just about coverage ability when it comes to the cornerback position; awareness is just as valuable.
Smith's awareness at this point in his career couldn't be much better, and it's what makes him the dominant cornerback the Ravens desperately needed.
Take Week 2 against the Pittsburgh Steelers for example.
Smith is lined up on the outside one-on-one with wide receiver Markus Wheaton, but the Steelers also have wide receiver Antonio Brown – a lethal threat with the ball in his hands – lined up to the left of quarterback Ben Roethlisberger in the backfield.
Initially, Smith stays true to his coverage with Wheaton, but keeps a keen eye on the development of Brown out of the backfield.
It doesn't take long for Smith to realize that Brown is free to run in the flat, and before Roethlisberger even releases the ball, Smith has already begun his break for Brown.
Reacting to the pass to Brown and leaving Wheaton is just half the battle; Smith is still faced with an open-field tackling job.
If Brown slips past Smith, he'd just have linebacker C.J. Mosley to beat in order to amass a long gain.
Smith takes off at Brown full speed, though, and without hesitation, squares his body up and takes Brown out by the legs, preventing any gain.
To be a shutdown corner, one has to do more than simply cover one receiver to the best of his ability throughout the game. An elite cornerback also knows when to be confident enough in his game to leave his coverage in favor of another receiver.
Having top notch tackling ability doesn't hurt, either.
Smith's ability to tackle in the open field one-on-one was on display in Week 5's matchup against the Indianapolis Colts.
Lined up against Reggie Wayne, Smith loses the receiver – who is running a crossing route – early in the play as another route develops between Smith and Wayne.
Smith recovers in enough time to match Wayne stride-for-stride as the receiver finishes his crossing pattern with quarterback Andrew Luck gearing up to throw.
Recovering in time to regain the coverage on Wayne is a good start, but can Smith finish the play by making the open-field tackle?
He sure can.
Smith, in a similar fashion to his tackle on Brown during the first play, initiates his violent attitude and takes off at Wayne full speed, taking him down with ease for just a two-yard gain.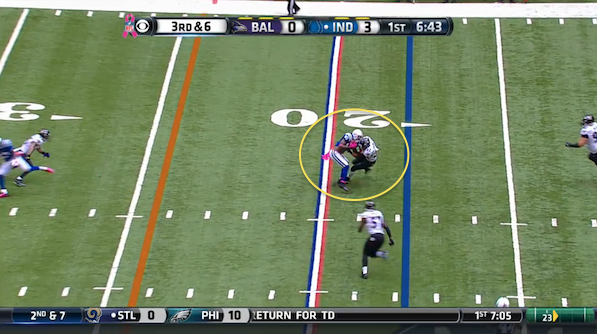 In Week 3's matchup against the Cleveland Browns, Smith's immense awareness and feel for the game was yet again on full display.
On another screen, Smith correctly diagnoses the receiver's role and makes an impact.
The Browns use two receivers on the left side to block the two Ravens defenders, freeing up wide receiver Taylor Gabriel out of the backfield.
When quarterback Brian Hoyer decides to throw to Gabriel, Smith is about 10 yards away.
Smith gets blocked initially, but keeps his eyes on the ball carrier.
He then uses his immense strength to toss the blocker aside and turn his attention toward Gabriel, who Smith pays attention to throughout the play.
As seen above, Gabriel has already slipped past one Ravens defender and is about to slide past another.
Gabriel does just that, leaving Smith as the last man to prevent the play from turning into a big gain, as outside linebacker Terrell Suggs is just a bit too far behind Gabriel to make a tackle.
Smith executes his shed of the block, locates Gabriel and brings the receiver down, preventing any further damage.
At this point in his career labeling Smith as a "shutdown corner" might not tell the entire story.
The NFL is loaded with premier cornerbacks, and Smith deserves to have his name mentioned in the same category as the league's best.
He's at least among the 10 best cornerbacks in the NFL; where he ranks is another debate.
A few years ago, it appeared that Webb was going to be the top-tier cornerback the Ravens would have for several years.
Instead, it turns out that Smith is the one who has developed into that player.