Have The Ravens Found Their Franchise Right Tackle?
Print this article
The Baltimore Ravens entered the 2014 regular season with plenty of unanswered questions. Through seven games, most of the uncertainties, such as whether or not the run game would return to normal and if quarterback Joe Flacco would go back to his 2012 self, have been answered.
One of the biggest uncertainties was the right tackle position. However, there are no questions anymore when it comes to who should be the right tackle and if that player is doing his job well.
Second-year tackle Ricky Wagner entered the season with little competition to replace Michael Oher as the starting right tackle.
He deserved to be the favorite to win the starting job over the likes of Jah Reid and James Hurst, and Wagner did just that.
An inexperienced tackle by NFL standards, Wagner's first season (and likely not his last) as the starter has progressed without many speed bumps. His regular season started with a final drive slip-up in Week 1 that cost the Ravens a chance to tie the game, but since then, he's been a reliable tackle whose steady improvement has helped make Baltimore's offensive line one of the most improved positional units in the NFL.
Almost halfway through the season, it's safe to say Wagner is working toward solidifying his spot at right tackle beyond 2014. While he may have been a fifth-round pick, Wagner has displayed the qualities of a franchise right tackle for the Ravens.
In pass protection, Wagner's dependability has proved to make things easy for Flacco in the pocket.
Wagner has exhibited immense awareness and timing this season.
Against the Atlanta Falcons, Wagner flaunted his ability to successfully diagnose a defensive line stunt and pick up a new defender in ample time.
Initially, Wagner's first man cuts toward the inside.
As Wagner engages with the defender and works to gain positioning on the inside, the lineman initially between center Jeremy Zuttah and Marshal Yanda breaks free on the left side of the defense, heading Wagner's way.
Wagner recognizes this and send off his initial man to Yanda.
As Wagner's man is picked up in time by Yanda, Wagner shifts his feet back to the right and acquires positioning on the oncoming defender.
By the time Flacco steps up in the pocket and readies his throw, both Yanda and Wagner have easily stonewalled their new defenders and engineered a desirable pocket for their quarterback.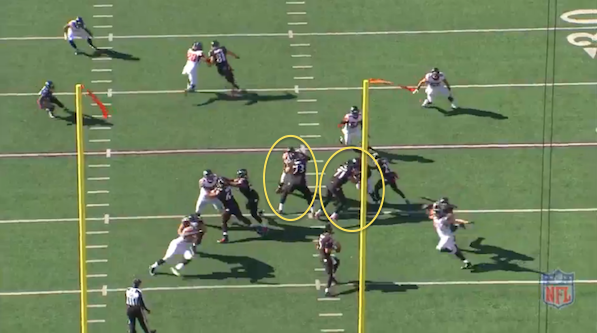 Displaying the ability to move well in confined spaces, Wagner's ability to defend pass rushers one-on-one on an island has also been a plus for the offense.
Despite Wagner's sometimes slow-footedness, his technique and positioning often make it easy to take on pass rushers without any extra help.
For example, against the Tampa Bay Buccaneers, Wagner had a one-on-one blocking assignment.
As Wagner releases out of his stance, his base is as wide as can be.
Despite that wildly wide base, Wagner is able to maintain his balance throughout the play.
As the edge rusher approaches, Wagner keeps his steady base, and grabs a hold of the defender properly, essentially taking full advantage early in the play.
The play call was a quick pass, which meant Wagner didn't need to hold his ground for too long.
He did so with ease. By the time Flacco turns and throws, Wagner has completely sealed off the rusher's path.
This all started with Wagner's wide base to start the play.
He was able to gain the initial positioning, and then at that point, he put his immense strength to work, which helped him finish the blocking process.
While pass protection has been his forte, Wagner has also had success as a run blocker.
Despite his large 6'6, 310-pound frame, Wagner has shown off quality movement skills in the run game, but his power has typically been his go-to.
Against the Carolina Panthers, on a run play originally designed to go right, Wagner has to kick out and pick up his defender on an angle.
Before Flacco even hands the ball off to running back Justin Forsett, Wagner has already begun the process of wiping his defender out of the play.
Wagner's power outweighs the strength of the defensive end, and it's an easy blocking duty for the right tackle.
When Forsett receives the handoff, Wagner and the rest of the right side of the offensive line – including Kyle Juszczyk – clear enough space to open up a cutback lane (one of Forsett's best run plays).
Just pure strength and early-play positioning by Wagner.
Through seven games, it's easy to see the positives in Wagner's game that make him an intriguing option for the offensive line.
He has far from fully earned the starting job for anything beyond the 2014 season, but based on his performance thus far, it's fair to think he will eventually be more than just a one-year option for the team.
The Tennessee Titans signed Oher to a four-year, $20 million deal ($9.35 million guaranteed).
Wagner's base salary this season is $495,000.
It's safe to say Wagner matches up nicely with Ozzie Newsome's credo, "right player, right price."
And then some…