Ravens OL Best in Football Through 8 Games
Print this article
At the midway point of this season, it's time to take stock of the Ravens' linemen, and despite a pair of significant injuries, they remain the best line in football.
Sunday was no exception as the regulars all returned to play against the Bengals and provided ATS on 20 of 35 drop backs.  The only sack came on a protracted play where the pocket held up well.  With the exception of a pair of goal-line plays, the run blocking was also successful.
Included here are the grading charts for the first 8 games.  I had some minor corrections that came from discussions with PFF, but most notably, I had charged Jeremy Zuttah with the week-1 holding call that is now correctly assigned to Monroe.
The graphs below have a position-specific lines for the minimum grade by position.  Each game score is divided into a raw score (purple) plus a subjective adjustment (red) which is comprised of quality of competition above the replacement level (0 to .10 max), .01 for each highlight (starred) block above a threshold of 4 in any game, and any other element I don't think is captured by the system.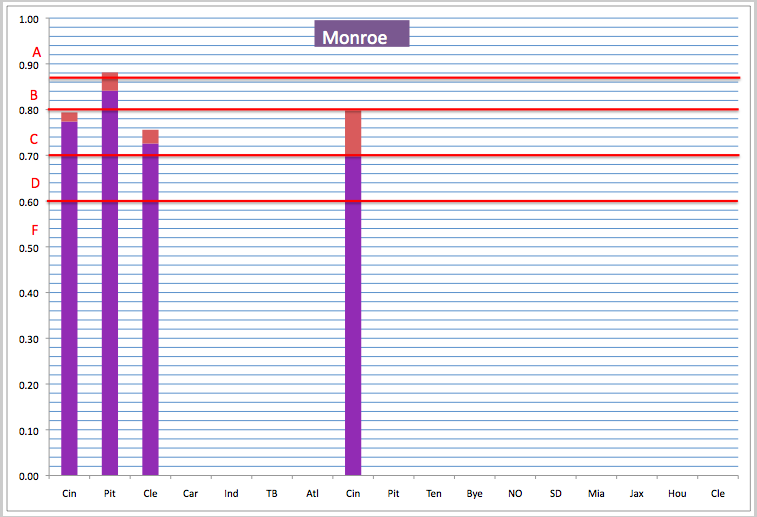 Against the Bengals, the Ravens ran 60 competitive offensive snaps (excluding the kneel at the end of Q2):
Monroe:  Eugene returned and blocked well.  He shared a pressure with Zuttah (Q3, 3:35) on the 29-yard pass to Taliaferro.  His other negative plays were both penalties – a false start in Q2 and an unsportsmanlike conduct penalty following the Ravens' go-ahead TD (Q4, 6:36).  Neither of those plays stalled a drive, and the unsportsmanlike conduct was a simple field-position penalty that is nowhere near as significant as a chop block or tripping call would have been in the middle of a drive.  His blocking highlight came on the 21-yard screen to Juszczyk (Q3, 14:54) where his cut block 10-15 yards downfield drove Rey back several yards before he could make the tackle.
Scoring:  53 plays, 50 blocks, 2 missed, 1/2 pressure, 1 false start, 1 unsportsmanlike conduct, 37 points (.70 per play).  I credited an adjustment of .10 based 40% on quality of competition and 60% on the fact I think the -9 for UC is approximately 4 points too harsh for the circumstances.  B-.
Osemele:  Kelechi had an outstanding return.  He was beaten by Atkins for a penetration (Q2, 2:26) for his only negative event, but was perfect as a pass blocker as I have it scored.  He had 3 star blocks, the most meaningful of which was his pancake of Gilberry to lead Taliaferro's 8-yard TD (Q4, 6:36).  He made 10 of 12 blocks in level 2.
Scoring:  58 plays, 55 blocks, 2 missed, 1 penetration, 53 points (.91 per play).  He gets .04 adjustment for quality of competition, but that's an A without adjustment.
Zuttah:  Jeremy was consistent, but I didn't score him with even a single highlight block.  He was beaten across his face by Atkins for a pressure that disrupted a play-action boot left (Q3, 14:54), but Flacco screened to Juszczyck for a gain of 21 anyway.  Take a look at that play and you'll see something that one of the great old-time tight ends, Jackie Smith was known for.  Juice threw a cut block on Gilberry, then got up immediately to make the catch 2 yards behind the LoS and ramble for 23 YAC.  As a run blocker, he was 2 of 4 in level 2.
Scoring: 60 plays, 54 blocks, 4 missed, 1.5 pressures, 51 points (.85 per play).  With adjustment, that's a B.
Yanda:  Marshal took a brief trip to the clubhouse near the end of Q2 and missed 5 plays.  Otherwise, he had a typical outstanding run-blocking effort .  He sealed off Still to open the cutback lane for Taliaferro on his first TD run (Q3, 2:04).  For the 2nd straight week, he didn't miss any run blocks and he ran his consecutive string of level-2 blocks to 26.  He failed to block Gilberry (Q2, 12:52) who pressured Flacco to throw the pass away.  Gilberry also beat him inside for a QH on the Ravens' final drive (Q4, 0:51).
Scoring:  55 plays, 53 blocks, 1 pressure, 1 QH, 48 points (.87 per play).  With an adjustment of .05, that's an A.
Wagner:  Rick had a tough draw against Carlos Dunlap.  Dunlap bulled him for a pressure on 3 separate occasions and beat him inside for a QH on the Ravens' final offensive play.  Gino Atkins also bulled him for a pressure.  His false start was his first penalty of the season.
Scoring:  60 plays, 53 blocks, 2 missed, 4 pressures, 1 QH, 39 points (.65 per play).  That's his worst raw score of the season, but with a .07 adjustment for Dunlap, it's still a C.
Urschel:  He entered for 2 plays when Osemele left and then moved to RG on the very next series while Yanda went to the clubhouse for 5 plays.  He made 6 of 7 blocks with just a single L2 whiff.  He had a nice combination block on Atkins where he subsequently peeled off to flatten Lamur (Q2, 3:05) to open the hole for Forsett's 12-yard run.  It's very comforting to see the Ravens have perhaps the 2 best guards in football each go down for a few snaps and get seamless play from the understudy.
Hurst:  James subbed for 7 snaps when Monroe left in Q2 in addition to 3 short-yardage snaps earlier.  He made all 10 of his blocks.
The Bengals pose a regular threat against the Ravens.  They will rush 4 as long as that works.  On Sunday they employed a 4-man rush on 26 of 35 drop-backs and 18 of those resulted in ATS, but as we'll see, Flacco was unable to solve the 7-man coverage schemes.  To summarize results by ATS:
He's still well above his expected yards relative to opportunity at the midway point of 2014 (+197), but yesterday's loss was largely a function of his performance when standing tall.
Should I Stay or Should I Go?
A few weeks ago I did a piece on the defense which separated the defensive players into 5 categories that broadly categorize their value relative to cap charge.  Here is a similar breakdown for the offense…
The players here can be divided into 5 primary groups:
Key contributors on rookie deals:  Juszczyk, Osemele, Smith, T., Urschel, Wagner.
Developmental (all young players we hope will quickly emerge in the above category):  Aiken, Brown, M. (recently demoted from the above category), Campanaro, Gillmore, Hurst, Pierce (also recently demoted), Taliaferro.  Some of those are close to promotion.
Core veterans (all paid very well, but contributing at a high level):  Daniels, Flacco, Forsett, Monroe, Smith, S., Yanda, Zuttah.
Veteran cap value concerns:  Jones, J.
Transitional (role players, whose spots will always be in jeopardy):  Gradkowski, Reid, Supernaw, Taylor, T.
The Ravens have a tougher future on offense primarily because the developmental category is substantially larger for the defenders and the players included have a higher ceiling.