Ravens Face Next Former AFC Central Foe
Print this article
A few weeks ago, the Tennessee Titans came into M&T Bank Stadium in the midst of another lost season. Now, the next former AFC Central powerhouse that's been reduced to shambles looks to derail the Ravens' playoff hopes.
Doesn't it just seem like the Ravens have pretty much always been good, while the Jacksonville Jaguars have always been bad? Most younger fans, at least, would concede that point. However, we Ravens fans who are a bit older and who can remember the old AFC Central days still get nightmares of Mark Brunell, Kennan McCardell, and (the other) Jimmy Smith when we see that teal on the field.
As a matter of fact, as you'll see below, the Jags STILL lead the all-time series with the Ravens, by a 10-7 margin. Much of that is due to the unfortunate circumstance that, when they entered the league, they were absolutely OWNED by Tom Coughlin's squad twice a year, every year. Jacksonville won the first eight meetings, not losing until that crazy 39-36 contest that got the Ravens' first Super Bowl season off to a nice start.
[RELATED:  A Coming of Age Game for Ravens]
This week, the Jags come into town looking to be spoilers, while the Ravens hope for some consistency as they make their push for the postseason. Let's take a look at the stats, notes, and quotes, courtesy of Conrad's Seafood.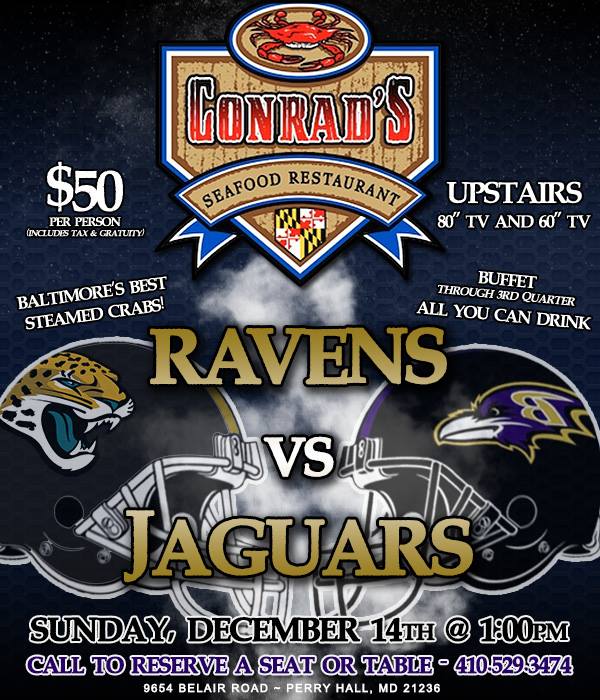 SERIES HISTORY
KNOW THY ENEMY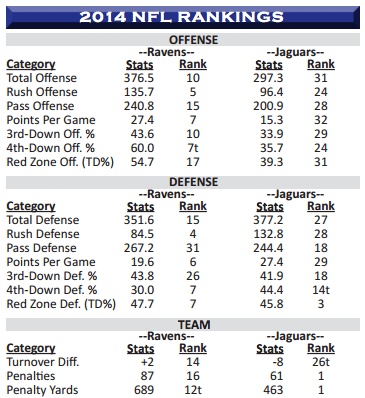 QUOTES OF THE WEEK
ESPN.com's Jamison Hensley on John Harbaugh going for it on fourth-and-1 in the third quarter from his own 34-yard line at Miami last Sunday:
"John Harbaugh is at his best as a coach when his team faces adversity because he knows how to get the Baltimore Ravens in the right mindset. … Harbaugh loves sending messages to his players. He'll give them blue-collared shirts during training camp to promote their workmanlike attitude. He puts up signs throughout the facility like W.I.N. – 'What's Important Now.' On Sunday, his latest message spoke volumes."
OLB Elvis Dumervil on setting the Ravens' new single-season sack record of 16 QB drops:
"It's just a blessing. The sacks will come, and they come in bunches. I'm truly grateful for the opportunity with a great organization, great teammates. So many people played their parts. I'm just grateful to be in a great situation to be able to take advantage of it. … I can't take all the credit. All the unselfish guys that I play with – Courtney Upshaw, give him a special shout out to help me stay fresh. We've got Pernell McPhee up the middle. Obviously, playing alongside Terrell Suggs, it really helps. I'm just with great players and taking advantage of it."
OLB Terrell Suggs on beating another playoff contender in the Miami Dolphins in Week 14:
"You just learn more about yourself if you can go win on the road after an emotional loss [at home to San Diego in Week 13]. You learn a lot about yourself after that. Our fate is in our hands. We don't want to have help going down the stretch. We win, we're in. That's the kind of mentality we're having down the stretch. We got this one [at Miami]. If we go 4-0 [down the stretch], we've got a good chance of being in the dance."
USA Today's Jarrett Bell on considering OLB Terrell Suggs for the Hall of Fame down the line:
"Suggs has had a fine career and will obviously be discussed when the time is right. Will Suggs garner serious discussion? That's probably a good bet. When he plays against the Steelers, he surely reminds me of Lawrence Taylor. So much intensity. In general, it's not easy to compare him to others, which will be good for his case one day. I see some [Charles] Haley and Derrick Thomas in Suggs because of his explosion off the edge, and I see some Rickey Jackson and Ted Hendricks, too, because of his versatility."
QB Joe Flacco on mastering the Ravens' new offense:
"It's a lot about the way Gary [Kubiak] teaches the offense. He makes it black and white. He knows what he wants, and he knows what he doesn't want, and I'm a guy who likes to run the offense based on the way the coordinator set it up. So yes, it's a nice fit, because I trust myself to make the right decision. When it's very black and white on what you're supposed to do, it makes it very easy for me to go out there and do it. You're going through your progressions and getting the ball to the guy who's open and where the ball should be, and I love that."
GETTING TO KNOW YOU ~ Q&A with Eugene Monroe
What was it like when the Jaguars selected you in the first round in 2009?
"That was probably one of the biggest days of my life, being drafted by them. It was very unexpected, especially since the day before the draft the Rams told my agent and me that they were going to select me."
What is it going to be like facing Jacksonville for the first time?
"It'll be just like playing against any other team at this point, especially since most of the guys who I was in Jacksonville with all those years aren't even there anymore. It's a completely new team. There might be a handful of guys that are still there, but it's not even like we're playing my old team."
What are your thoughts on RB Justin Forsett's emergence?
"We were teammates in Jacksonville. I had the chance to get to know who he was, and he's the same guy here as he was there. He's definitely a hard worker. He's going to come in and give you his best every single day, and he's just a great guy to be around. It's pretty cool to see him have success."
How do you feel when Forsett credits the offensive line for his success?
"It's a cool deal when the guy who is toting the ball can hit those milestones, and fortunately, I've had that happen a few times – once before in Jacksonville when Maurice Jones-Drew was the leading rusher in the NFL. It's a special deal for those guys. The O-line, you're a part of that as well. It's an accomplishment that sticks with the runner, but it's a celebration of the entire group's effort."
What is the mindset of an offensive lineman?
"The offensive line, that group is the unsung heroes of the team. When your offense sputters, you take all the blame as an offensive lineman. When you do well, you get credit if someone happens to mention you, but it doesn't happen often. With that said, it's not about that. It's not about recognition. It's about going out and being dominant every week, just eliminating the defensive front from the game. That's your ultimate goal."
Were there players that you looked up to when you were younger?
"Growing up, I played the game without any particular role model, in terms of a guy who I looked up to. When I was younger, one of my high school coaches did give me some film to watch on Anthony Muñoz, but even that was to watch him, see his technique and advance my game. But it wasn't like I idolized him. I wanted to learn from people who had been successful, but also become my own player and person."
What word comes to mind when you hear the following names?
Juan Castillo:
"Repetitive."
Kelechi Osemele:
"Nasty."
Jeremy Zuttah:
"Calculated."
Marshal Yanda:
"Tough."
Rick Wagner:
"Calm."
HEY, YOU LOOK FAMILIAR! ~ Key Connections
Ravens T Eugene Monroe was originally selected by the Jaguars in the first round (eighth overall) of the 2009 NFL Draft. From 2009-13, Monroe played in 65 games (62 starts) for Jacksonville, blocking for the NFL's leading rusher (Maurice Jones-Drew – 1,606 yards) in 2011.
Ravens ILB Daryl Smith was originally selected by the Jaguars in the second round (38th overall) of the 2004 NFL Draft. Smith, who spent nine seasons in Jacksonville (2004-12), is the Jaguars' all-time leading tackler (1,096).
Jaguars offensive coordinator Jedd Fisch was a Ravens' assistant QBs/assistant WRs coach from 2004-07.
Ravens LBs coach Ted Monachino began his NFL coaching career with the Jaguars as an assistant D-line/defensive assistant in 2006. He was also Jacksonville's D-line coach from 2008-09 before joining Baltimore's staff in 2010.
Ravens strength and conditioning coach Bob Rogucki served as the Jaguars' assistant strength and conditioning coach in 2004.
Ravens RB Justin Forsett spent the 2013 season with the Jaguars. He appeared in nine games, rushing 6 times for 31 yards and catching 15 passes for 82 yards.
Jaguars WR Tandon Doss (Injured Reserve – ankle) was originally selected by the Ravens in the fourth round (123rd overall) of the 2011 NFL Draft. In three seasons (2011-13), including Baltimore's Super Bowl XLVII campaign, Doss played in 29 games (two starts), totaling 428 receiving yards and 1 TD.
Ravens coaching intern (offense) Richard Angulo, who assists Jay Harbaugh with offensive quality control duties, played TE for Jacksonville from 2007-08.
LAUGH OF THE WEEK AT EXPENSE OF RAVENS' OPPONENT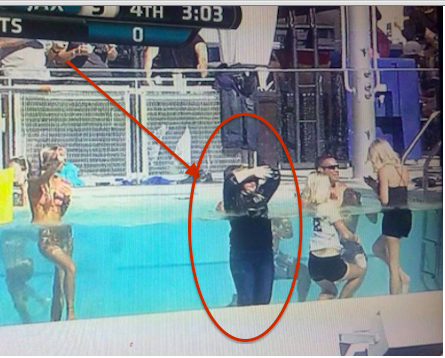 You know what, though? You guys are kinda on our good side for this very inappropriate joke: