Undrafted Hurst Baptized by Fire
Print this article
On Saturday night, Steelers defensive coordinator Dick LeBeau must have been salivating at the thought of turning his relentless pass rushers loose on an offensive line that featured two rookies playing in the biggest game of their young careers.
Filling in for the injured starters, James Hurst and John Urschel were baptized by fire and ultimately left LeBeau shaking his head in angst, as the two held their own for most of the night.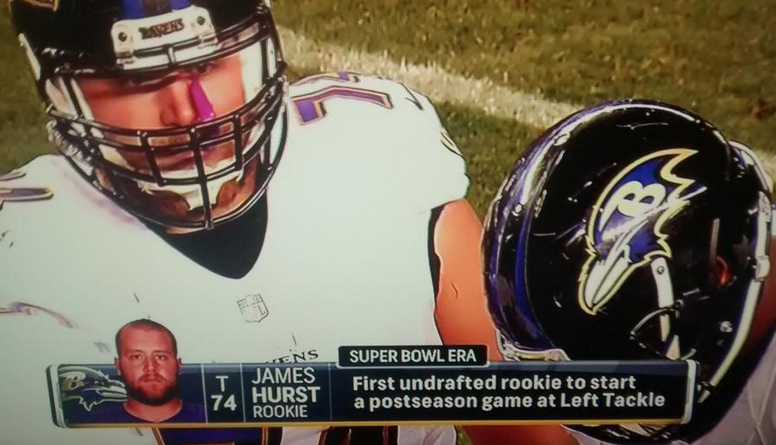 "It was real nerve racking," Hurst said following the 30-17 Ravens victory. "A rivalry, a playoff game everything is a first for me. There were certainly a lot of nerves for me before the game.
"You just have to get into a groove and realize you are playing football. All the hard work that you put in preseason and the whole season and trust the stuff you know."
Responsible for protecting Joe Flacco's blindside, Hurst put his nerves aside and went to work as he drew the daunting task of blocking the ever dangerous James Harrison. Harrison, of course, has given the Ravens and their fans nightmares in the past.
"He's a great rusher," Hurst said of Harrison. "He gave me trouble early, and I felt like I settled in after the first couple series and got the job done."
One of Hurst's worst moments came in the third quarter against Harrison and had it not been for left guard Kelechi Osemele, it could have been costly. On second down and five, Harrison got around Hurst and had a clear path to Flacco in what could have been a sack and even worse a forced fumble. Instead, Osemele hit Harrison at the last moment to allow Flacco to find Torrey Smith for the touchdown.
"I told K.O. he saved my life," Hurst told the Baltimore Sun. "Obviously it was a touchdown, so it was even bigger. Harrison made a really good move, but K.O. helped me out and gave Joe just enough time to make that pass. You have to have each others' backs."
As the Ravens start their preparations for the Patriots on Monday, veteran starter Eugene Monroe's game status for the Divisional Playoff round remains uncertain.
If Monroe is unable to go, Hurst will again draw the start. He'll have to continue his maturing process under even brighter lights, with the winner advancing to the AFC Championship game.
Follow me on Twitter @sportguyRSR