Ravens at Pats: Tensions Begin to Boil
Print this article
Perhaps one of the more understated aspects of the Ravens 30-17 win over the Steelers in their Wild Card Game showdown in Pittsburgh last Saturday was the fact that Baltimore took the field with two rookie offensive linemen. One is an undrafted player (James Hurst) out of North Carolina and the other a fifth round pick (John Urschel) from Penn State.
But we'll let the Steelers huggers continue the "what if" debates about Le'Veon Bell.
That said, Eugene Monroe returned to the practice field yesterday and that could mean he'll return to his starting left tackle position. If so how might Gary Kubiak and Juan Castillo reconfigure the offensive line?
Will Hurst flip back to right tackle and Yanda slide back to his All Pro right guard position or will the Ravens leave everything in tact from last week except left tackle?
My vote is to bench Hurst and leave the rest alone.
You?
DID YOU KNOW?
Since the Baltimore Ravens franchise entered the league in 1996, without a name, logo, uniform or practice squad, they are 15-7 (.682) in postseason play which accounts for more wins than the rest of the AFC North combined: Steelers 14-9 (.609); Bengals 0-6 (.000); Browns 0-1 (.000).
And we always hear that the Steelers are the kingpins of the division, why?
JANUARY JOE v. BRADY
The Baltimore Ravens have faced off with the New England Patriots three times in the postseason, all at Gillette Stadium with the visitors winning twice.
Back in 2010 Joe Flacco had a horrible afternoon going 4 of 10 for just 34 yards and an interception. But since then Flacco has come on strong. Here's a statistical comparison between him and Tom Brady during those 3 playoff games.
In those three playoff games here's a look at the temperature and point spread of each:
2010 ~ 20 degrees ~ Patriots by 4
2012 ~ 29 degrees ~ Patriots by 7
2013 ~ 41 degrees ~ Patriots by 7 ½
Since Spygate the Patriots are 4-5 in the playoffs.
Maybe they should go back to cheating?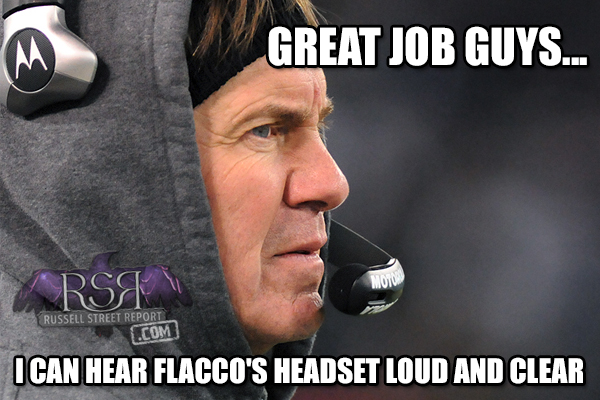 Boston-based publications have taken to trashing the Ravens fan base calling it the league's worst and that 98% of the country will be rooting for the Patriots on Saturday night.
Feeling like that was at best a slight exaggeration (imagine a Bostonian who pocks the cah doing that), I did a Google search of "Worst fan base in the NFL".
Maybe those people in Boston skipped math class.
Or maybe they're just a little concerned about Saturday night. Clearly actor Ben Affleck, a big Patriots fan is a bit concerned.
STEELERS' FANS STRUGGLE WITH COUNTING TOO!
The Pittsburgh Steelers fans love to throw that "6" out there whenever they can to somehow prove that they have the league's best franchise. Funny, I never hear Yankees fans walk around saying, "27"! Insecurity anyone?
The Steelers' first season goes back to 1933, 82 years ago, which means that they've won a championship once every 13.7 years. The true New York Yankees equivalent in the NFL is the Green Bay Packers, a team that has won 13 titles in their 91 year history – one every 7 seasons.
When Steelers fans proudly pound their chests and chant "Six!", it's really no more than a display of ignorance.
What if MLB changes the name of "The Commissioner's Trophy" (awarded to the winner of the World Series) to the Connie Mack Trophy? Would subsequent winners that were not the Yankees suddenly have a more successful franchise(s) than they Yankees because they took home more "Macks"?
Of course not!
And nor should the fans of Pittsburgh when it comes to their NFL franchise.
But that's Steelers fans doing what Steelers fans do…
AND FINALLY, If you want to see some great pics of the best fans in the NFL, visit our photo gallery HERE!
Thanks for tuning in to the Ravens Town Tavern. Follow me on Twitter at @RussellSTReport