Devin Funchess Can Win Jump Balls
Print this article
Stop me if you have heard this story before: the Baltimore Ravens are coming off an end to the season in which the defense performed well, but the offense seemed to be missing that one extra piece. The team was one top-flight receiving option away from taking the offense to the next level, and finding that missing piece in the offseason is a priority.
Sound familiar?
It seems that every offseason, the Ravens need to be bold and draft a young, dynamic, top-tier wide receiver. The only problem is, that almost never happens.
On draft day, general manager Ozzie Newsome stays true to both his "best player available" and "build between the tackles on both sides" mentality, often spurning wide receivers and even cornerbacks in the early rounds, two necessary positions in today's pass-happy NFL.
So as mock draft season begins, it is only natural to expect wide receivers to be mocked to the Ravens, who hold the 26th pick in the first round of the 2015 NFL Draft, set to commence on April 30 in Chicago.
One prospect who stands out is Michigan's Devin Funchess, a tight end convert who played wide receiver in 2014.
The underclassman was mocked to the Ravens by ESPN's Mel Kiper Jr. as well as NFL Network's Daniel Jeremiah. Two of the most notable draft analysts in the business see Funchess as a logical fit in Baltimore, but is he?
In terms of late-first round picks, Funchess would be a viable option and a potential great fit in Baltimore's offense. Regardless of whether or not free agent Torrey Smith returns to Baltimore, it would behoove the Ravens to take a chance on a receiver early in the draft if one is high on the front office's draft board.
With mediocre depth behind Smith and Steve Smith Sr. – as well as questions as to how many more years Smith Sr. will play with the Ravens – it would benefit the offense to find another potent receiving threat this offseason, preferably via the draft.
So how could Funchess potentially fit into the picture?
Let's dive into Funchess' Michigan career, his NFL potential and his possible fit in Baltimore.
His career path at Michigan was a bit of an odd one, and a positional path that will be heavily debated during the draft process.
Funchess kicked things off in Ann Arbor as a tight end, even earning honors as a John Mackey Award (given to the nation's top tight end) semifinalist in 2013, his sophomore season. As a tight end, Funchess' immense versatility and potency as a receiving threat was on display. He also displayed some blocking skills, although he will never be known for his blocking regardless of his NFL position.
Prior to the 2014 season, the Wolverines decided to test Funchess out at wide receiver. For a player listed at 6'5, 230 pounds, shifting out wide could be a tough test. At Funchess' size it can be hard to be agile enough to outplay the opposing coverage.
But in Funchess' first year on the job, he performed well recording a career high in catches (62), however he did finish with career lows in touchdowns (4) and yards per reception (11.8).
Part of this could fall on the spotty quarterback situation at Michigan, but also on Funchess, who displayed inconsistent hands in 2014 (which we will get to later).
It is hard not to be enamored with a 6'5 receiver who has yet to turn 21 years old. The massive potential ahead of Funchess – particularly at wide receiver with more experience – is intriguing.
Whether Funchess plays receiver or tight end in the NFL will be a topic to discuss between now and the end of April. As Jeremiah noted in his mock draft, "some evaluators like Funchess as a tight end, but I prefer him on the outside, where he can use his size/strength to overpower defenders."
The statement about Funchess' ability to win on the outside by overpowering defenders is certainly true.
Used both out wide and in the slot as a receiver, Funchess displayed a multitude of ways to win at the catch point.
When matched up one-on-one on the outside, Funchess does not need much separation (or any) to make a catch.
Against Notre Dame in 2014, the defender matches Funchess step for step downfield. Hugging the sideline, Funchess out-leaps the defender, gets two feet in bounds and sends the defender to the ground in the process.
Why are Anquan Boldin and Smith Sr. so beloved amongst Ravens fans? Because even when they are covered, they are open. Separation isn't necessary if the receiver can make the reception with a defender in his face.
Funchess is different than the receivers mentioned above, but the story is similar: once the quarterback develops a rapport with the player, he does not need the receiver to be open. Just throw the ball in the receiver's vicinity and let a guy like Funchess make the catch.
Displaying athleticism and dominance at the catch point on the outside is a key reason why Funchess can succeed as a wide receiver in the NFL and does not need to be moved back to tight end.
Even when Funchess was a tight end, he still made contested catches by displaying unmatched high-point ability for a player of his size.
Don't you think Joe Flacco – or any NFL quarterback – would want the luxury of being able to throw to a player with the catching radius and high-point ability of Funchess?
Win on the outside, win in the intermediate range, how about winning as a deep threat?
Funchess can do just that, particularly because of his ball location skills and concentration. He does not have the long speed to outrun defenders downfield, but if needed, he can make contested catches downfield.
Here, both Funchess and the defender locate the ball in the air at the same time.
At this point, it can be deemed a 50/50 ball. It turns out to be just that, as both Funchess and the Penn State defender are both in position to make the catch, and they both get a hand on the ball.
Funchess' concentration, strength and hands contribute to his ability to pry the ball away from the defender, stay focused to regain control of the ball, and find himself in the end zone.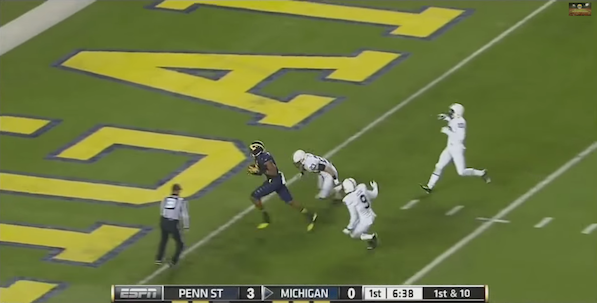 Not bad, huh?
For a player who is as inexperienced at wide receiver as Funchess, it is a promising sign to see so many likable qualities.
As mentioned he does have flaws to iron out if he wants to become a #1 receiver for an NFL team. At his size, he is not the most nimble of route runners. Perhaps more experience as a wide receiver will get Funchess more acquainted with the route tree, thus improving his quickness in and out of routes.
Also, inconsistent hands led to some struggles for Funchess in college.
For example, Funchess simply must hold onto the football on a play like this:
Overall, Funchess' size, dominance at the catch point and upside as a receiver make him a player worthy of first round consideration.
It is still only January, so this evaluation of Funchess should not be taken as a proclamation that he should be the guy who the Ravens should target in the first round, but rather to present him as a more than viable option for the team.
With over three months to spare until draft day, many more potential Ravens targets will be identified. However if you have been yearning for the Ravens to find a big, strong, young receiving threat with loads of potential, Funchess may be near the top of your draft-day Ravens wish list.
Videos from Draft Breakdown and YouTube were used for this article.