Can Ravens Afford to Pass on "DGB?
Print this article
Can the Ravens afford to draft Dorial Green-Beckham? Can they afford NOT to?
What if I told you the next Calvin Johnson were available in this year's draft?
A receiver so imposing, such a mismatch, that even the tallest cornerbacks are unable to affect change. Would you use the No. 26 overall pick? Trade into the top-10? Top-5?
What if there was a caveat?
What if this receiver was potentially not the next Calvin Johnson, but the next Josh Gordon? All the skills in the world, however perpetually toeing (and crossing) the line between active and suspended. Brilliance on hold.
Herein lies the Ravens' conundrum in evaluating former Missouri, and never-really Oklahoma wide receiver Dorial Green-Beckham.
Green-Beckham – or DGB – is listed at 6-foot-6, 225-pounds on the Sooners' website, and while those numbers are often exaggerated, there is no doubt that Beckham is at least 6-foot-5.
Coming out of Georgia Tech, it wasn't only the size/frame that separated Megatron and made him the dangerous weapon at wide receiver (and premium pro prospect), it was his uncanny combination of athleticism, ball skills and speed to accompany that frame.
This is where Green-Beckham (like similarly physically elite wide receivers – Johnson, A.J. Green, Dez Bryant, Josh Gordon, Demaryius Thomas) is most spectacular.
In high school, Green-Beckham was dominant in everything he did – his senior season at Hillcrest High School in Springfield, Mo., he recorded 119 receptions for 2,233 yards and 24 touchdowns. Until 2013, he held the all-time high school receiving record after amassing over 6,000(!) yards in his career and scoring 75(!) touchdowns.
Like many elite skill-position prospects, Green-Beckham played basketball and ran track and field outside of the fall season. On the hardwood, there was at the very least mild entertainment towards the idea of DGB lacing up for the Mizzou hoops team. In track and field, Green-Beckham ran a personal best 100-meter dash of 10.59, as well as posting a long jump that was just about a foot-and-a-half less than the world record set in 1901.
He's a freak of an athlete – you get the idea.
Green-Beckham's back-story merits telling.
Bouncing around foster homes, he was adopted in 2010 by the family he had been living with since 2005 – John and Tracy Beckham. John just so happened to be a football coach, and had ascended to head coach in 2008, when Dorial was an eighth grader.
"There's not a lot of 6-foot-6 receivers out there; there's a few, but not a ton," John Beckham says. "He runs really well. The 40 time—I don't know how accurate our times are—we've clocked him at 4.37 seconds, but he's a 100-meter champion in the state of Missouri (and has an) electronically timed 10.5 100. For a guy his size, he can really control his body, and he can turn like a pro on the ball."
With his immense talent came the obligatory spotlight, and naturally, Green-Beckham was the most coveted player in the class of 2012 – a unanimous five-star recruit.
We've heard cautionary tales of special treatment afforded to coddled athletes; however, by most high school accounts, Green-Beckham deferred attention and was a humble teammate. That didn't preclude him from trouble once reaching the University of Missouri campus, though.
October 10, 2012
Green-Beckham and two other Missouri football players were arrested on charges of possession of marijuana of an amount less than 35-grams (certainly a wide range). Green-Beckham and the two others were smoking in a vacant parking lot out of a 2004 White Lincoln Navigator registered under his name. He pleaded guilty to second-degree trespassing. The players were suspended for one game.
January 10, 2014
Green-Beckham was arrested for "possession of a controlled substance with intent to distribute." Green-Beckham and two others were pulled over in a friend's Jeep for expired tags, and police found a pound of weed in the trunk. No charges were formally filed against Green-Beckham following the investigation by Greene County police.
April 7, 2014
Green-Beckham was suspended indefinitely by Missouri University for a "violation of team rules." Word eventually emerged that the suspension – and eventual dismissal – from the program stemmed from an event where Green-Beckham allegedly forced his way into the apartment of his 18-year-old girlfriend and pushed her roommate down four stairs. There were no charges pressed, and the reason was quite literally due to Green-Beckham's stature as an athlete.
As the former top recruit in the nation and a homegrown Missouri product, Green-Beckham had already caught 17 touchdowns in his first two seasons at Mizzou, and that was with the general acknowledgement that he was only scratching the surface. In one game against Kentucky, he had seven receptions for 100 yards and four touchdowns. As anybody who has attended a university with a major football program knows, those players are celebrities.
The following is a text message from Green-Beckham's then-girlfriend to the friend who was allegedly pushed and injured by him from the initial police report:
I'm not sticking up for him but football is really all he has going for him and pressing charges would ruin it for him completely. I really just want all of us to move past this and not have this happen again by completely being done with him. I can't do this anymore. Now he's hurting my friends, not just me.
That second half sounds familiar doesn't it, Ravens' fans?
Those text message chains suggest Dorial Green-Beckham, the Missouri coaches, and John Beckham had all dissuaded those girls from filing charges against Green-Beckham. They described Dorial as completely dependent on football, saying he "wouldn't make it in a real job, and would be [in] the streets and in prison like his brothers."
And so Green-Beckham was dismissed from Missouri and sought out a new team to which he could take his talents, hoping that he would be eligible to play in the 2014 season. Oklahoma was the team who ultimately took the chance on DGB, but they weren't alone.
"People need to remember: we didn't pull this kid out of the garbage dump," an Oklahoma University source told NewsOK.com. "The average person doesn't understand he is a once-in-a-decade talent."
Green-Beckham's request for reinstatement was officially declined less than a week before the start of Oklahoma's season. He would miss out on his chance to play his junior season, but his eligibility for the NFL draft remained intact. For what it's worth, the Oklahoma coaches spoke highly of his mental growth in the time off, as would be expected.
"Ever since he was a young kid, he's been the star of his team and playing," former-Oklahoma wide receiver coach Jay Norvell told NewsOK.com. "I think he's gotten a chance to step back from the whole thing and kinda maybe see the game in a different light. I think it's helped his maturity. I think it's helped him appreciate it.
"He's doing a good job in school. He's been a good teammate here. We'll just continue to try to help him and develop him."
Norvell was fired from Oklahoma on January 4. On January 6, Green-Beckham declared for the draft.
Despite Norvell's words, the character concerns remain a glaring red flag in Green-Beckham's draft profile. And the aforementioned text messages paint a picture all too familiar to the Ravens fanbase after the public Ray Rice trials.
So, can the Ravens afford to take a chance on Green-Beckham, when taking into account both their organizational context and his own personal history?
The answer may not be binary.
"Once-in-a-decade-talent" is not a term to be thrown around loosely. The most intriguing aspect may be just how quickly this thought process has changed for the Ravens organization.
As much as fans laughed at analysts bemoaning the leadership void when Ray Lewis and Ed Reed departed, it's undeniable that a segment of Ravens fans were convinced that no one person could destroy the locker room during Lewis' tenure. Ray will keep them in line… It was as if the Ravens were the solution to a player's problems – the remedy for their woes.
2014 proved that the fanbase can no longer rest on those laurels; if anything, it proved that they should come to expect the worst.
So can the Ravens afford to draft a player like Green-Beckham, whose checkered past raises eyebrows before he even sets foot in the building?
Conversely, can an organization that has struggled – no, failed – for so long to draft and develop impact players at the position, be picky when this sort of talent presents itself?
The fact of the matter is, the Ravens wide receiver situation is very much in flux, and with Torrey Smith's return up in the air, the question has to be raised about how high of a premium the Ravens will place on the position.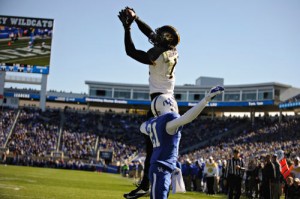 You will be hard pressed to find any one player in any draft with as much potential as Green-Beckham. New offensive coordinator Marc Trestman has proven he likes big wideouts (though they repeatedly claim his scheme can adapt to any personnel). The real key is finding personnel who can create mismatches in any scheme, and 6-foot-6, 225-pounds with a 4.37-forty looks pretty good no matter the formation.
So can the Ravens afford, from a PR standpoint, to draft Green-Beckham? Maybe – after all, he would enter the NFL with a clean slate, so he would have to fail a lot of tests to find himself under the league's Josh Gordon-guillotine. Yet, what reason has DGB given to expect anything less?
Can the Ravens afford to pass him up? They've never had that true No. 1 wide receiver, and there is no doubt that Green-Beckham's raw potential can eclipse nearly anyone else's. Yet, what reason have the Ravens given to believe they can tap into it?
A quick glance at his tape shows a man among boys – not so much a burner, but a runner who glides and whose strides effortlessly take him upfield. He can high-point the football and make tough catches – hell, he scored three TDs his sophomore year on plays where he was interfered with. It's scary to think about what he could achieve with Joe Flacco.
That being said, Green-Beckham has his flaws. His route running is raw and he's not quite the skilled pass catcher that Calvin Johnson was (though to be fair, few are). He could also be accused of taking plays off, and hasn't yet found that mean streak in blocking – something the Ravens are known to covet. But that doesn't change the positives, and those things can't be taught.
A few years ago, the Ravens were considering drafting Dez Bryant, who was only available due to perceived character concerns. Bryant's had his issues, but has certainly proven worth the trouble.
Green-Beckham will make jaws drop at the NFL combine. There's no doubt about it. Just look (above) at the faces of the people in Kentucky's stands after DGB reaches over the defender's back for a jump ball in the end zone (seen at the 1:39 mark of the video below). Those girls on the left don't even look sure he's human.
It's more than possible a team falls in love with him before the 26th pick.
It's also possible the Ravens have already crossed him off the draft board.
But rarely do you find this type of potential late in the first or in the second, and when you do, most would argue you have to take a hard look.