Grading the Ravens' Backup Quarterbacks
Print this article
The backup quarterback is the most popular player on the team.
And once in Ravens history, that was justified.
Defining the backup QBs is somewhat difficult if not arbitrary in many instances due to injury. So I adopted 3 simple rules to define and rank these players:
The QB who started game 1 of the regular season is defined as the starter. Anyone else who subsequently replaced him during that season is a backup. That makes Scott Mitchell the starter for the 1999 Ravens and Tony Banks one of 2 backups.
I've eliminated any QB pretenders who didn't start a game unless the team had the same starter every game of the season (as with the entire Flacco era).
The grades are based solely on their play as a backup in the seasons they had that role.
Back to Scott Mitchell for a moment. As with other lists, the "Water Buffalo" gets special attention. ESPN tagged him as the 10th best left-handed QB of all time, which seemed good until #9 was unveiled as "the field" of all other left-handed QBs ever to play. Mitchell is the worst QB in Ravens' history and almost single-handedly cost the talented 1999 team a playoff spot by imploding against the Rams and Steelers in the first 2 weeks (1 TD, 4 INT, 31.5 QBR).
Mitchell isn't on the rankings list of backup QBs, but he made backup QBs popular whenever he played.
Here are the grades and countdown for all of the Ravens backup quarterbacks.
13. Stoney Case
1999 Role: He was a short-term backup in 1999 who was 2-2 as a starter after taking over for Mitchell. The record is a lie. He was awful. (Ed. Note – I distinctly remember folks being excited about the start of "The Stone Age," when he replaced Mitchell. Oops.)
What were his significant accomplishments? His 54-yard TD pass to Justin Armour was an OT game winner versus the Falcons in week 4.
Key Metrics: He completed 45.3% of his passes with 3 TDs, 8 INTs, and a 50.3 QBR.
The little picture: He went to Permian HS in Odessa, Texas. That's the school Friday Night Lights is based on and he was 16 in the season the author followed the team (1988).
Grade: F. He gave way to Banks during the home loss to the Chiefs in which he threw 3 picks and had a QBR of 14.8.
12. Chris Redman
2003 Role: After an effective 6-game stint as a starter in 2002, Redman was banished after a horrific relief effort at St Louis in the game Boller was hurt in 2003.
What were his significant accomplishments? As a starter, he turned around the 2002 season with 34-23 win against the Broncos on MNF in week 4.
Key Metrics: Chris was 3-3 as a starter in 2002, but he never started a game as a backup. In the 2003 game when Kyle Boller was injured, Redman was 7/12 with 0 TDs, 2 INTs, 5 times sacked, and 2 fumbles (1 lost) versus the Rams in St Louis in his only significant (and last) 2003 appearance. Redman was cut that week and the Ravens gave the starting job to Anthony Wright.
The little picture: Redman was out of the NFL and selling insurance when he next got a shot with the Falcons in 2007. He would see playing time in 4 of the next 5 seasons with an 83.3 QBR in a backup role with the Falcons that did not end until 2011.
Grade: F. Case was worse for longer, or Redman would be on the bottom. Chris had one of the weirdest split careers ever, but his quality time as a backup was with another team.
11. Tyrod Taylor
2011-14 Role: He threw 35 total passes in 4 seasons as a Raven. He could not find a place, even in slash packages.
What were his significant accomplishments? It's said he did a fine job as the scout team QB when the defense needed to learn methods to stop the wildcat and pistol.
Key Metrics: 0-0 as a starter.
The little picture: I don't know the player who made the comment, but there was a Sirius FM commentator who said Taylor is the reason Buffalo will be much improved this season.
Grade: C-. There was nothing to like about him as a passer, but he was a cheap option when that is all the Ravens ended up needing.
10. Kyle Boller
2006-07 Role: He was Steve McNair's backup for 2 years. He played 5 games, all in relief, in 2006. The next season, he entered in the first game of 2007 in relief of McNair and started 8 games. He won his first 2 starts before dropping his next 6 in the midst of the Ravens' 9-game losing streak.
What were his significant accomplishments? In 2006, he led the Ravens to their division-clinching win versus the Browns in relief of McNair. In 2007, he nearly led the Ravens to an upset of the undefeated Patriots in week 13.
Key Metrics: He owns the highest single-season QB Rating in team history in 50 or more passes (55 passes, QBR 104 in 2006).
The little picture: In SAT format…Tom Brady :: Gisele as Kyle Boller :: ? A: Tara Reid. I would also have accepted Lindsay Lohan. And so would have Kyle.
Grade: C-. He was better as a backup than when he won the job out of camp. One could look at the 2003 draft as an instance where the Ravens traded 2 number 1s and a number 2 to select Terrell Suggs. He's been worth it, especially when you consider the alternative. Would you rather the Ravens selected Byron Leftwich and retained a 1st and a 2nd?
9. Kordell Stewart
2004-05 Role: Stewart spent 2 years as a backup quarterback behind Boller and Anthony Wright. He did not throw a single pass, but he didn't leave us without any memories…
What were his significant accomplishments? He entered as the emergency punter when Dave Zastudil was hurt and helped the Ravens to a significant road win at the Jets in week 10 of the 2004 season. He punted 5 times, including a 42-yarder which pinned the Jets at the 7-yard line on their last drive of OT. He was named AFC Special Teams Player of the Week.
Key Metrics: His weirdest line came in the 21-9 loss to the Bengals when entered for the injured Anthony Wright and ran 4 times for 24 yards to lead a FG drive. He didn't throw a pass on the drive, but he was the intended receiver of one thrown by Randy Hymes (Q3, 0:49).
The little picture: I'm not sure what attracts the Ravens to slash QBs as their number 2, but Taylor, Smith, and Stewart all did more with their legs and totaled 9 seasons as backups with the team.
Grade: C. He can't get high marks for his play, but the win versus the Jets was immortalized by the NFL Films production which used only mic'd-up players, coaches, and announcers. This was the first incarnation of Sound FX.
8. Troy Smith
2007-09 Role: With the Ravens reeling under an 8-game losing streak entering week 16, Smith started the final 2 games of 2007 and came away with a split (loss at Seattle, win at home versus Pittsburgh).
What were his significant accomplishments? His illness in training camp 2008 launched the career of Joe Flacco. Joe has started every game since.
Key Metrics: Just 1-1 as a starter in his career as a Raven, he threw just 89 passes in 3 seasons with the team and only 13 after Flacco arrived.
The little picture: The man who proclaimed he would have crawled to Cleveland to play for the Browns, presumably flew to San Francisco where he played his final season with the 49ers in 2010.
Grade: C. How long might Flacco's debut have been delayed had Troy not become ill in the 2008 preseason?
7. Marc Bulger
2010 Role: Bulger never played a single snap outside of exhibition games for the Ravens. He was to the 2010-11 teams, what we hope Matt Schaub's presence will provide in 2015.
What were his significant accomplishments? It has been reported from various sources that he would have returned to duty in 2011 had Flacco been hurt during the season, even though the Ravens had Taylor on the roster. Another team might have called, of course, but that sort of relationship is valuable, particularly for no cap cost.
Key Metrics: None
The little picture: Bulger was drafted by the Saints, spent time on the Falcons practice squad, and later signed with the Ravens as a free agent, but every one of his career snaps came with the Rams.
Grade: C+. Excellent insurance value.
6. Jeff Blake
2002 Role: He took over for the injured Redman with the Ravens at 3-3 and took a cap-purged Ravens team into the final week of the regular season with a chance for a playoff spot.
What were his significant accomplishments? He had a TD pass in 9 of his 10 starts. In his only game without one, the Ravens won a beautiful, ugly game in Week 13 over the soon-to-be AFC South Champion Titans, 13-12.
Key Metrics: His 77.3 QBR was actually slightly better than Redman (76.1). He had 5.79 Net Yards per Attempt despite being sacked 30 times in 10 games.
The little picture: Blake was the consummate journeyman, playing for 7 teams in a 14-year career.
Grade: C+. He gets a bump in grade for an awful supporting offensive cast.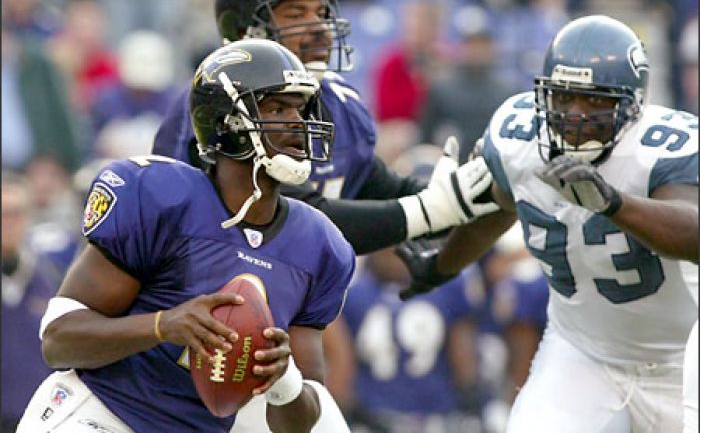 5. Anthony Wright
2003, 2005 Roles: The 2003 Ravens dropped to 5-5 with his first start at Miami in week 11. That was a game where he threw a 4th quarter interception to turn the ball over in Miami territory (Q4, 5:11) then fumbled in Ravens territory (OT, 10:43) to set up Olindo Mare's game-winning FG. From that point through the end of the regular season, 2003 was his year.
What were his significant accomplishments? His 5-TD game versus Seattle in 2003 remains the most exciting comeback in team history. Marcus Robinson caught 4 of his TDs and Wright also completed a 44-yard pass (Robinson tipped it to Frank Sanders) to convert 4th and 28.
Key Metrics: He was 5-2 as a starter in 2003 after Boller was hurt and Redman imploded, but then lost the Wild Card game to Tennessee in Baltimore. In 2005 he could manage just 2-5 in relief of Boller. The magic was gone.
The little picture: Wright broke out crying while giving his post-game speech following the Seattle epic. He had a child born that same day.
Grade: C+. His story would make a good book, but a bad movie. The ending sucked.
4. Randall Cunningham
2001 Role: It's not clear why Ozzie thought the Ravens needed another high-priced backup to Elvis Grbac, but Cunningham played reasonably well and the Ravens won both of his starts. He did not see action in the postseason.
What were his significant accomplishments? He led the Ravens from down 17-6 early in the 4th quarter to an 18-17 win in Week 8 versus the Jaguars. The next week at Pittsburgh, he again led the team to a 4th-quarter comeback in a game that featured 4 missed FGs by Kris Brown.
Key Metrics: He completed 60.7% of his passes for 3 TDs and 2 INTs. Not bad for a backup in that era, but his Net Yards per Attempt were just 5.02 (see below).
The little picture: In 2001 he was sacked 12 times in the span of 89 pass attempts, a prodigious 11.9% sack rate as a percentage of drop backs. That was nothing. Cunningham set the all-time NFL record for times sacked in a single season with 72 in 1986 (David Carr since had 76 in 2002). That season Cunningham was sacked an amazing 25.6% of drop backs.
Grade: B. He won and helped get the Ravens to the playoffs.
3. Tony Banks
1999 Role: He took over the reins from Case to finish the embarrassing 35-8 loss to Kansas City in the team's first ever Thursday game. He would start the last 10 games, leading the Ravens to a 6-4 record.
What were his significant accomplishments? He led the team's first significant win streak (4 games from 12/5-26) including a 41-14 pounding of the eventual AFC champion Titans, which is still among the most impressive wins in team history and marked the start of the dynasty.
Key Metrics: 17 TD, 8 INT, 81.2 QBR, 5.51 net yards per attempt. He earned the 2000 starting role.
The little picture: Banks was a fumble waiting to happen on any blind-side sack. He had 46 fumbles (31 lost) in 43 starts with the Rams. He lost 12 fumbles (of 16 total) in 18 starts with the Ravens.
Grade: B+. My better half went to buy her first jersey before we went to the 2000 playoff games. The store was out of every jersey except Tony Banks. To her delight (at the time), a medium jersey which had been on hold, was released to be sold. She still wears that Travis Taylor jersey occasionally.
2. Eric Zeier
1996-98 Role: As a backup to Vinny Testaverde and then Jim Harbaugh, he started 7 games over 3 seasons and played well.
What were his significant accomplishments? His 3-4 record as a starter doesn't look great until you realize the Ravens went 13-27-1 in games by other QBs during those seasons.
Key Metrics: 87.3 QBR, 12 TDs, 5 INTs, 5.9 net yards per attempt. Those are outstanding backup numbers.
The little picture: Many people thought the team should have moved from Testaverde to Zeier the year after Vinny was a Pro Bowler (1997).
Grade: A-.
1. Trent Dilfer
2000 Role: He entered in the 3rd quarter versus the Titans in Baltimore (Week 8). He lost the next week to the Steelers 9-6. The team then won 11 in a row, culminating with Super Bowl XXXV.
What were his significant accomplishments? He led the game-winning drive in the Titans' first home loss at Adephia after throwing a pick 6 to leave the Ravens trailing 23-17.
Key Metrics: 11-1 as a starter is the metric that matters. All others are far less impressive including 12 TDs/11 INTs during the regular season. Like everything about the 2000 Ravens, he was better in the playoffs when his QBR was 83.7.
The little picture: Dilfer remains outwardly indignant about the team's decision to sign Elvis Grbac prior to the 2001 season. He's never taken it out on the fans, however. I won't forget seeing him let children wear his ring for pictures at a local autograph show. Pure class.
Grade: A. He avoided bad decisions during the postseason and allowed some fine teams to experience 60 minutes each of progressive despair against the 2000 defense and special teams.