Print this article
As Baltimore sports fans we've experienced the perils of poor ownership. Former Orioles owner Eli Jacobs was less than desirable. He was a financier and an attorney who viewed the team as both a tinker toy to entertain high roller associates, and as an investment that he would someday flip like a renovated row home in Canton.
He was later forced into bankruptcy in 1993 and had little choice but to sell his "toy". The buyer was Baltimore resident Peter Angelos (who ironically is a Pittsburgh native).
Initially the out-of-court settlement connoisseur seemed interested in winning but by 1998 Angelos was intoxicated by his massive ego and most of the time since, it has been the fans who have suffered the hangover.
Angelos' interests veered towards winning trivial battles within the organization – one that began a slow decay that lasted 14 seasons. And of course he was attracted to profits like flies to a horse farm.
He became and remains Charm City's Ebenezer Scrooge. Greatness isn't on the Orioles owner's agenda. Instead he appears to be steadfast in balancing an equation, the variables of which are to be good enough to increase revenues while managing expenses. The formula is far from that of a champion but instead one driven by a larcenous heart.
And then of course there was the poster child for bad owners – Bob Irsay. The former ventilation and heating peddler regularly blew hot air marinated in Beefeater gin towards the beloved Mayor William Donald Schaefer. He ripped at the fabric of our city's sports heritage and tossed aside iconic players as if they were disposable diapers.
Finally, in March of 1984 Irsay did the unthinkable and moved the Colts to Indianapolis.
In 1996 when Art Modell arrived with his team, he was viewed as a savior of sorts. Baltimore quickly embraced his wit and charisma. It was a perfect match. Cast out of Cleveland like an exorcised demon, Art needed a new home and Baltimore, longing for love on the gridiron, rolled out the purple carpet.
Baltimore practically deified Art and his omission from the Pro Football Hall of Fame is an extremely sore spot for all Ravens fans.
Rich in spirit but relatively cash poor, the Modells sold a 49% stake in the team just less than 4 years from their arrival in town to the supremely successful entrepreneur Steve Bisciotti.
Bisciotti, a local guy who grew up in Anne Arundel County and a diehard local sports fan, was the ideal successor to Modell. He cares about the community, cares about the organization and is self-confident enough to allow his organization to shine while he inauspiciously guides from behind the curtain.
Bisciotti enables his staff and brings a keen sense of understanding character while meshing personalities in a way that would make the conductor of the Baltimore Symphony Orchestra proud. Art Modell may still occupy a bigger spot in the hearts of fans because his decision to move here changed lives. But at the end of the day, Bisciotti is the superior owner.
Since he took control of the Ravens, exercising his buyout option in 2004, Bisciotti, after a bumpy first few years when the team went to the playoffs just once between 2004 – 2007, has been a postseason participant for six of the past seven seasons.
Without meddling Bisciotti has challenged his organization to continually improve upon what they do – to think outside the box. In many ways he manages the team with the attitude of a player who is more concerned about the plays he left on the field and not those that he made.
In other words, let's not gloat about what we've done, let's figure out how to do it better.
It may surprise some that the former founder of Aerotek has been seated in the owner's chair in Baltimore for 11 seasons already – two more than Modell. And while he may still be among the youngest NFL owners, Bisciotti's reign isn't permanent.
"I don't know that I'm going to own this team until the day I die", Bisciotti explained recently in an exclusive interview with Russell Street Report.
"I don't know that I'll be the owner 20 years from now. It does take a lot out of you and I don't know that I'm [the owner] when I'm 75."
Bisciotti seems very focused on the next 10 years. He speaks about more Super Bowls, more opportunities for John Harbaugh, Joe Flacco and Ozzie Newsome to once again hoist The Lombardi.
"I want Ozzie to stay as long as he wants. I think it's well documented that Eric [DeCosta] is happy and patient – God bless him, to wait to take over for Ozzie. So I'm kind of looking at Ozzie, Joe and John being secure here for the next 8 or 10 years. So I'm really happy to be sitting here and saying that I don't have major upheaval in my future."
Bisciotti has always been very forthcoming and seldom speaks from a guarded vantage point. His candor is refreshing yet it is concerning for those looking ahead and beyond the Bisciotti years.
"If I end up selling the team 10 years from now and there's 2 years left on the lease it's going to create a tough situation for Baltimore with a new owner who would have leverage over the team and Baltimore that I might not exercise myself. I'm 55 and I don't see myself as the 65-year old guy who's threatening to move the team if he doesn't get a new stadium."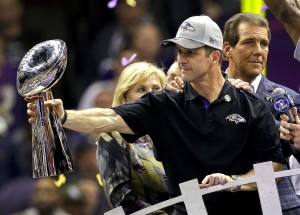 Chances are that the Ravens owner will pass the ownership baton of the team to another steward of the franchise, someone as passionate about the team as he is and with ties to the area. Yet it's anything but a given that the next owner will be the team player that Bisciotti is – one whose involvement makes those around him better.
"I think it's pretty cool if we can win a couple more and we're 8 years out and there's still the same guys sitting on that stage when it comes to the quarterback, head coach and the GM."
THAT is a picture of beauty painted with Bisciotti words.
And if such a decorated canvas becomes reality, it wouldn't be surprising to see him sell the team and walk away as a champion, much like Ray Lewis – the man immortalized in bronze at M&T Bank Stadium and in Bisciotti's office.
"I think that we have to make progress [with the stadium] every year and then maybe have a long-term plan to do one major renovation that's done 10 years from now so that we can sign another 30-year lease and secure this thing until way past the time I die and sell the team."
There's no need to press any panic buttons but the Maryland Stadium Authority should heed Bisciotti's advice to help keep the marriage between the Ravens and the city a healthy one for many, many years.
We know all too well what can happen when such things are ignored.