Kevin Byrne Looks Back at 20 Seasons
Print this article
Because of his close affiliation with BaltimoreRavens.com I never really gave much thought to including the Ravens Sr. Vice President of Public & Community Relations, Kevin Byrne in our 20 For 20 Series. Kevin helped to organize my one-on-one interview with Steve Bisciotti and it then dawned on me who better to tell a story about the Ravens than Kevin Byrne.
So I decided to ask Kevin to join in on the series and to our delight, he agreed.
TL: You've been with the organization dating back to the days in Cleveland. In 1995 the Browns were forced to play about 3/4ths of a season with the fan base fully aware that the team was moving to Baltimore. Talk about the challenges you faced from a public relations perspective.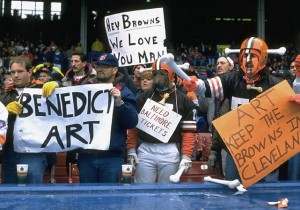 KB: That was difficult. The fans were angry at Art [Modell], but they still wanted to cheer for the players. All of our sponsors wanted out and we allowed them. Since games were being played, we did not give refunds to fans who wanted to return tickets. Our basic message was: "We're going to compete the best we can. We're preparing to win and we'll fight through this. Please support the players who had nothing to do with this decision." It was an ugly situation. When we were asked about the move, we would say we were focusing on that week's game. And, give those players credit, they were still going out in the community doing good deeds for Clevelanders.
TL: NFL history would look so much different had the Browns retained the services of Bill Belichick who would have had a bit of a homecoming had he returned to Baltimore. Looking back what was the thought process motivating the move to Ted Marchibroda?
KB: Bill was our coach for five seasons in Cleveland and we had losing records in four of those. The relationship between he and Art was frayed and Art had lost confidence in him. When Ted walked away from the Colts after taking them to the AFC Championship game that season, he became an easy choice. He left the Colts on principles – he felt he deserved a better contract. He was well known in Baltimore for heading the last winning Colts' teams and he's a good man who could be the face of the franchise for most days of the year.
TL: So Ted stayed on for 3 seasons and then along came Brian Billick who coached the team for 9 seasons. Talk about that transition and how it changed the franchise.
KB: For many of us that was a tough transition. We all liked Ted, but Art, David [Modell] and Ozzie [Newsome] had made the decision midway through the 1998 season that we would make a coaching change. Art allowed Oz and David to head a small committee to start searching for the next head coach.
We would sneak out of the office sometimes and meet at David's house. Ted knew something was up. All of the sudden Oz, David, me, James Harris, Pat Moriarty and John Wooten were gone, and we all were always in the office. Ted would come by my office the next morning and chuckle: "Where were you guys yesterday late afternoon?"
Brian obviously is a different personality and he has a commanding presence. And, he's a good guy, smart with an excellent sense of humor. He fit right in with us, but he also recognized that he had the juice to change some things and he did. We all could see right away that we would win with Brian. The transition from Ted to Brian was very smooth. You have to give Ozzie and the Modells credit for that. Players liked the transition. Ted had very physical practices and training camps. Brian brought in the Bill Walsh way of saving players for the games. And, it worked. Under Brian, we were still one of the most physical and tough teams in the league.
TL: Have we seen the last of Brian Billick as a head coach?
KB: Man, I thought teams would flock to Brian after he left the Ravens. Some franchises did, but they were not organizations Brian thought would win. I know the Eagles made a run at Brian two years ago when their negotiations with Chip Kelly stalled. I think Brian is of the belief that Super Bowl winning coaches like he, Tony Dungy and Bill Cowher are not in the picture any more. I think all three could win again at a big-time level.
TL: Compare and contrast the coaching styles of Billick and John Harbaugh.
KB: I laugh when I see the question. As you know, Harbs does not like comparisons. He refuses to do that for the media. Everything is unique. Both of these guys are my friends, so I won't do contrasts. They are both grinders, willing to work all the long hours to succeed in the NFL. Both are very smart and highly, highly competitive. Both are commanding and demanding. Both can laugh at themselves and are great family men. They are dedicated to the women in their lives: John to his wife Ingrid and
daughter Alison, and Brian with Kim and daughters Aubrey and Keegan. Both demand in their ways that you keep up with them and stay dedicated to the team. Both are terrific in front of the team.
TL: You were with Art Modell for many years. If you were asked to make a case for Art in the HOF, what would you say on his behalf to sway the voters?
KB: What's the line some voters use regarding the Hall of Fame: 'If you can't write the history without mentioning this name, that person should be in the Hall.'
Let's start with the foundation of the NFL, shared revenue. NFL teams basically share all the revenues equally, giving each team the same opportunity financially to win. Art is responsible for that. He had a national TV network carrying the Browns. The Giants had one, too. He went to the Giants and suggested they give up their networks, share the revenues from TV and the rest is history.
He then chaired the TV Committee and negotiated the first "money" contracts in league history. The NFL took off with these TV revenues. How about Monday Night Football? He started it, sold the idea to ABC-TV, a network struggling in the ratings at the time, and hosted the first one. He was the first President of the NFL, elected by his fellow owners. He negotiated the first-ever collective bargaining agreement with the players. He was the chair of that committee that included Hall of Famers Vince Lombardi and Jim Finks. He hired the first minority as a general manager (Ozzie). He was dramatically instrumental in the merger of the NFL and the AFL, convincing the Steelers to join him in going to the new American Football Conference. He did preseason doubleheaders…
I could on. You get the picture. I believe he'll get in some day. It's sad that it didn't happen when he was alive.
TL: How has the organization changed under the guidance of Steve Bisciotti?
How lucky have guys like Ozzie and me been to work for two men like Art and Steve. Both are self-made success stories, earning every penny they ever had. Both are dominant, intelligent people. Yet, both are/were humble. It was important for Art to be in the office every day. Art let you make decisions, but he was very aware of those and wanted to be involved in the thought process. Steve is not here every day. He sets the tone and lets you go after that. Steve is aware of everything we do, but doesn't feel compelled to be there for every step of the process. Art was the face of the franchise. Steve jokes that 'If I'm the least known owner in all of pro sports, I'm good with that.'
Let me tell two stories on how each steps up in crisis. In Cleveland, Coach Belichick wanted to cut our starting quarterback, Bernie Kosar, who was a huge hero in Cleveland. Much like Cal Ripken is to the folks here. Bill tried to convince Art that that was the best thing for the team at that time. Art didn't agree, but supported his head coach. I didn't want Art to go to the press conference announcing the release of Kosar. Art insisted. He said he wanted to sit next to Bill to show his support. As we were walking into the press session, Art turned to me and said, 'There would be a lot of owners who would be in the south of France today.' That made me laugh.
Last year, after the second Ray Rice video came out and ESPN did the 15-page story that had a lot of what we believed were untruths and misleading information in it, we decided to take on ESPN and answer any and all questions about the situation. I suggested that Steve, Ozzie, Harbs and Dick Cass, our president, do a press conference. Steve said no. He told me that it is true that the buck stops with the boss and he would do the presser by himself. I asked Steve a second time to reconsider and he smiled and said, 'I should be the one held accountable. I'll be fine.' In as difficult of a press situation as I have ever seen, Steve was terrific.
How about two leaders who stepped up when they did not have to do it. Very impressive by both men.
TL: The Ravens have been consistent post season participants and winners of two Super Bowls. Looking back, is there a season when you thought another Super Bowl would be won but it somehow slipped away?
The 2006 season with Steve McNair and we had an outstanding defense that year. The pre-game introductions that day when we hosted the Colts in the playoffs and we trotted out Cal Ripken for the coin toss – maybe the most electrifying and loudest moment ever at M&T Bank Stadium. We held Peyton to no touchdowns, five field goals, and still lost. Still hurts. I also had a good vibe in 2011. Actually told some folks in the office during that season to "smell it, feel it and taste it," because I thought we were on our way to the championship. We all remember what happened at the end of that game.
TL: Of the two Super Bowl wins, which do you remember more fondly?
KB: Which of our four children do I love the most? No, each Super Bowl was fantastic. The second one with the Harbaugh brothers was more fascinating because of the family connections and all that went with that.
TL: As a member of the team's front office and leader of the team's connectivity to the public, what is the one thing that you look back upon with the most pride?
KB: When we first came here in 1996, the ride to and from work hurt every day because I'd never see a Ravens' sticker. I'd whine to myself that, 'No one knows we're here.' Now it seems like every 10th car has something about the Ravens. I think we've become part of the fabric of this community and we're very proud of that. It's important to us that everyone gets to touch a little bit of us, even if it's only watching on TV or listening on radio, or meeting a player at a community event.
TL: What is your favorite non-football related memory connected to the team?
KB: Seeing the Fulton County prosecutor have to drop the charges against Ray Lewis. We knew Ray could not have done what he was accused of and that prosecutor had such a poor case – and it was being played out live on national TV on both ESPN and Court TV – that he had to humbly say, 'My bad, sorry to put you through this Ray.'
TL: Lastly, describe what these 20 seasons have been like from your privileged perspective and what you think the future will hold for the team and its fans?
It is my good fortune to have worked with such outstanding people, many of them are the greatest athletes in the world and others are some of the smartest. Think about that. I don't have to read what others think about these achievers, or hear what others think. I'm right here at ringside. I have to pinch myself at times. What I know is that it is really hard to win in the NFL and we have done that consistently. We will continue to do that, because Steve [Bisciotti], Ozzie, Harbs, Dick, Eric [DeCosta], Joe Flacco and many more aren't going anywhere for a while. That's pretty cool.