Luck In Line For Mega Deal
Print this article
Andrew Luck is scheduled to become a free agent in March 2017. Undoubtedly, his next contract will be worth considerably more than his current one.
Right now, Luck is entering the final year of his rookie contract–a 4-year contract that after the 2015 season will have paid him a shade over $22.1 million.
Not bad.
However, as outstanding as Luck has been, his current contract ranks 20th among all NFL quarterbacks, including Jameis Winston, who has yet to play a single down.
In fact, according to otherleague.com, nine NFL head coaches make more per year than Luck.
Granted, at the time he was drafted, the value of his contract was determined by the CBA, so negotiation wasn't an option. Going forward, though, Luck will have an awful lot of leverage.
For starters, he's never missed a game (or a Pro Bowl) in his first three years. He's thrown for nearly 13,000 yards and has a TD/INT ratio of 2:1. Last year, he led the league in passing touchdowns (40), passing plays of 20 yards or more (73), and ranked third in passing yards (4,761).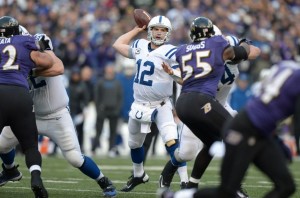 As far as the playoffs go, Luck and the Colts are 3-3 since 2012, but twice have lost on the road to the eventual Super Bowl champion (Baltimore in 2012, New England in 2014). In the regular season, Luck is 33-15, and has lost consecutive games just once.
Regardless of what stat or metric you analyze, Luck is among the very best NFL quarterbacks.
Speaking of which, the current franchise tag for quarterbacks (the average of the top five highest yearly salaries) is $21,092,000. Given the inevitable increase of the salary cap, that figure (as well as Luck's worth) will continue to rise.
According to Jared Dubin of CBS Sports, the current NFL salary cap ($143.28 million) rose 7.5 percent from 2014's cap, and has risen 67 percent over the last 10 years. Figuring an average raise of 7 percent over the next two years, the salary cap heading into the 2017 league year will be $164.04 million.
If the franchise tag for quarterbacks is roughly 14 percent of the overall salary cap, and if the above projections hold true, the 2017 franchise tag for quarterbacks will be $24.1 million.
Franchising a player isn't a bad move if you're uncertain about his future. But with a generational talent like Luck, why would you even consider it? Colts owner Jim Irsay should do everything in his power to make sure Luck where's the horseshoe for life.
Luck's agent (and uncle) Will Wilson and the Colts know this next contract will set a record. Both sides have got to think that with Luck at the helm, a Super Bowl championship isn't far off.
The question is: How much should Luck be paid?
Former NFL agent Joel Corry shared that he believes "Luck is the best candidate" to "be the NFL's 1st $25M per year player."
While the length of most quarterback contracts range from four to six years, the Colts could (and should) sign Luck for eight years. Luck's camp might not initially favor a term that long, but if the price was right, they could easily re-consider.
If Luck is signed for eight years at $25 million per, that would mean he'd become the NFL's first ever $200 million man.
He will have just turned 28 at the beginning of the 2017 season, which means he'd be under contract until he was 36. Considering Luck's longevity, immense talent, and the ever-increasing salary cap, signing Luck to a deal worth an average of $25 million per year would, in a way, be somewhat of a bargain.
You know who has a lot in common with Luck?
Joe Flacco.
They're both big, strong quarterbacks that don't seek the press, just want to win, and consistently put the team first. Both were first-round picks, have never missed a game, and have had tremendous success from the very beginning of their professional careers.
Both have had postseasons end in New England against Tom Brady despite throwing for over 300 yards and two touchdowns, and come back the very next year to beat the Peyton Manning-led Broncos in Denver in the divisional round.
While it's not official yet, Luck is virtually guaranteed to sign a contract worth over $20 million per year, like Flacco did in March 2013.
Most importantly, they're both winners.
Luck's record during his first three seasons (playoffs included): 36-18.
Flacco's record during his first three seasons (playoffs included): 36-19.
Contract values are based on past performances of both that player and his peers. If Luck has performed equal or better to Super Bowl-winning quarterbacks, and shows no sign of letting up, why wouldn't he garner as much money (if not more) than those players?
All signs point to Luck winning multiple Super Bowls and MVP awards before his career is over.
Irsay should should go to Luck, follow the advice of "Rounders" antagonist Teddy KGB, and "Pay that man his money."