Smith to Retire After Season
Print this article
Steve Smith Sr. has announced that he will retire at the end of the season.
Steve Smith announces that he will retire after the 2015 season.

— Russell St. Report (@RussellStReport) August 10, 2015
Smith Sr. says that he has known since April that this would be his last season in the NFL.
Smith said he knew in April that this would be his last season. — Jeff Zrebiec (@jeffzrebiecsun) August 10, 2015
The Russell Street Report staff reacts to the news.
Joe Polek
I freaked when I saw this… Thinking it meant now. Then I realized how much the Ravens are counting on him. Without Smith, the Ravens have a bunch of unproven receivers. Ozzie will have to work his magic after this season to bring in a veteran guy. He has been very succesful in doing that so far.
Tyler Lombardi
I'm somewhat surprised that he would announce this early in the 2015 season, but I'm not at all surprised that he's retiring. While Steve Smith looks very spry for his age, it's hard to imagine that it didn't have something to do with his drop in production toward the end of 2014. This training camp, Smith has accepted an off-day, which he hasn't done in the past. When this season is over, football fans should look back on Smith's career with nostalgia. It would be fortunate if the Ravens could send him off with a ring, of which he is very deserving.
Derek Arnold
#RE89ECT
Am I doing this right?
In all seriousness though, I wish this guy had spent a lot more time as a Raven. It was a pleasure to watch him play here last year, I hope his follow-up is as good, and here's to sending him out on top.
Tony Lombardi
Steve Smith, Sr. was born to be a Raven. I wish that the organization could have acquired him years ago when those rumors surfaced, but at least he will finish a great career as a Raven in Baltimore. Hopefully his swan song will finish on the same note as No. 52's back in February 2013.
#IceUpSon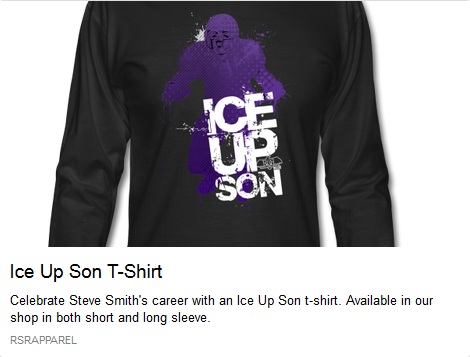 Cheryl Bowens
Only quasi-shocked by this.  Physically he could probably go a couple of more seasons, but he's a family man and his kids are growing up in Charlotte while he works here in Baltimore.  I think it probably has less to do with football and more to do with family.  Hard to believe that one of the more diminutive wide receivers in the NFL has had the kind of impact he has made with the Baltimore Ravens.  We were lucky to have him for as long as we have.  Let's go get him that trophy!
Adam Bonaccorsi
Can't say I'm surprised, but I can certainly say I'm bummed out. The young gun receivers on the team better soak it all up while they can! This is a man that has mastered his craft, has a true heart for the game, and (yes, I will be that guy and use the cliché) truly plays like a Raven.
Side note- Remember the last time a prominent Raven announced his impending retirement? That Ray Lewis fella? Remember the sendoff the team gave him? I think they threw him a party in New Orleans and a parade back in Baltimore? Yea, let's do that again!
Brian Bower
Somber moment out here at the Castle as Steve Smith Sr. announces he will retire at seasons end. Born to be a football player and made to be a Raven.
Ken McKusick
Smith's retirement announcement was as honest and heartfelt as I have seen.  He'll be missed as a leader and he's given the Ravens as much notice as could be hoped.
Dev Panchwagh
This isn't surprising news. Steve Smith has been one of my favorite players in the league for a long time. I always admired his game from afar when he was with Carolina. When he came to the Ravens, I was a bit biased in assessing his ability to contribute. The reality was that his production tailed off sharply in 2013, and all of the signs pointed to him being on the downside of his career. Even I didn't anticipate the rejuvenation he experienced by coming to Baltimore. Making this announcement now should be another jolt of inspiration to a team that already has Super Bowl aspirations. Smith is one of the great players in this league that deserves to go out on top as a champion.
Kyle Rate
Steve Smith will go down as one of the great underdogs in NFL history.  His size says about nothing about the way he plays or his tremendous passion for the game.  I feel privileged to have eventually had the opportunity to root for him once he put on purple.  He will be missed immensely on the field and in the locker room in Baltimore after this season, but will continue to play a vital role in this offense during his last ride.
Ryan Jones
Despite playing only two seasons in Baltimore Steve Smith has epitomized everything it means to be a Baltimore Raven. Watching the press conference where he made the announcement, he seemed very at peace with his decision, regardless of however this season ends. There is no doubt however that it will serve as a little extra motivation to his teammates to as Courtney Upshaw put it, "send him off the right way." Definitely a little bit of Deja Vu from 2012.
Mike Fast
Like Derrick Mason, Steve Smith, Sr. injected talent, swagger, and a rare level of determination into the Ravens after playing over eight years with another team.
I can't blame Smith for calling it quits after this year, and I can't wait to see how he goes out.
Hopefully, he'll be basking in the San Francisco sunset, hoisting the Lombardi trophy on the evening of February 7, 2016.
Nadeem Kureishy
When Steve Smith signed the three year deal last year, a majority of people felt that he would play for two years and then retire. We now know this to be true. I felt that he was the best WR that the Ravens had last year. It is a shame that he only spent two years on the team. He's a special player.