Eliminate The Hassles at Ravens Games
Print this article
Like many of you I've enjoyed Ravens home games since the team's inception in 1996. I remember the walks up 33rd Street following tailgate parties around Lake Montebello when Memorial Stadium was the team's home for two seasons.
Well over 100 M&T Bank Stadium tailgate parties later, many of us are still going at it strong, with friends and family on the lots in and around Russell Street.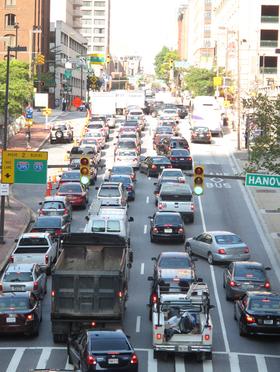 But lately I have to admit, leaving the lots after games has become a hassle. Perhaps it's the presence of Horseshoe Casino (to no fault of theirs), maybe it's more late games – maybe it's both…but the gridlock surrounding the stadium is a buzz kill.
So in an effort to keep the spirit alive and tailgating hassle free, we have chartered busses and partnered up with Bmore Around Town to take you to and from the stadium in style and escort you to the best party in and around M&T Bank Stadium.
We have chosen 3 convenient locations around town to pick up passengers in a Mack Daddy bus equipped with all the creature comforts including TV's, bathrooms and Wi-Fi.
So now instead of sifting your way through the bottlenecks in South Baltimore after a game, you can sit back, have a cold drink, watch the second game, dial into the web with your smartphone, eliminate drinking and driving worries and let our professional drivers take one for the team while sheltering you from road rage.
It's a win-win.
For more information go HERE.