Ravens v. Eagles Preseason Ratings
Print this article
The game Saturday had all the uplifting feelings and rapidity of a Wagnerian opera, spanning 166 offensive plays (excluding excepted penalties).
I have not researched, but I cannot recall another Ravens game as long. By comparison, the Ravens double overtime win in the 2012 playoffs at Denver had "only" 161 plays.
The OL problems are the forward-looking story of this game (the penalties are transitory and correctable). Monroe, Osemele, Urschel, Reid, and Hurst all either did not suit up or left with injuries.
Wesley left mid-series with an injury, but these are the 5 offensive linemen for the first play of each series.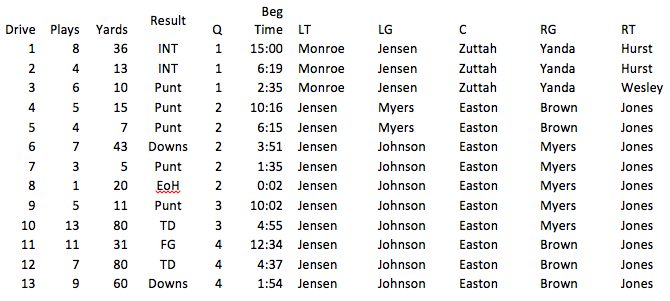 Some notes on the OL rotation:
• Yanda was moved to RT for a few plays following the injury to Wesley. When he left, Jones moved out to RT anyway. It was an odd substitution.
• Hurst didn't look awful at RT before he left, but took Taliaferro with him.
• In a comical production error, Ryan Jensen's picture in the lineup slide was replaced with that of Gino Gradkowski. Aside from the fact that they are both white, they could hardly look more dissimilar. Jensen had difficulty recovering from the slight and was flagged for illegal formation, tripping, and a false start.
• In total, the line was flagged 9 times.
• The concern over a high-value cut I expressed last week (10 payers for 9 spots) seems a long way in the rear-view mirror now with the injuries. The question now is whether they can find 9 healthy bodies among the 10 players or acquire an additional tackle.
Individual Grades and Notes
As in past years, I have given a number of Ravens a grade from +3 to -3 reflecting how much my expectation of their impact on the 2015 Ravens changed based on their performance Saturday. The grades provided are of the form (game grade/cumulative grade). I don't generally rate starters, players who have no place on the team, or anyone for whom I don't think I have any data for a judgment. The players here are new to the team, rookies, on the cusp of making the team, have new responsibilities in 2015, in positional battles, or have otherwise have something to prove this season.
All snap counts are directly from the Gamebook and include penalties.
Allen (+1/0): Allen's personal performance was unspectacular. He had 6 carries for 19 yards with a long of 6 and caught 2 passes for 25 yards. Based on the injury to Taliaferro, I would project a significant opportunity for him during the regular season.
Beyer (+2/+4): He was one of the few bright spots for the Ravens defensively. He rushed unblocked to deliver a QH on Barkley (Q3, 11:30). He hit Barkley after a handoff (Q3, 7:27), which was correctly unflagged (after the absurd flag on Suggs in (Q1, 8:38)). He had good pressure on Barkley (Q3, 5:05) that would go incomplete with a QH by Bilukidi. He flushed Tebow (Q4, 4:52) to force a throw away.
Bilukidi (+1/0): He just signed an inexpensive 2-year contract, but is on the roster cusp due to its structure. He made good progress with a QH (see Beyer), PD at the LoS (Q3, 5:12), and a pressure on Tebow to force a throw away (Q4, 5:21).
Boyle (-1/-2): The Ravens had 17 players targeted, but Boyle did not have any of them after a team-leading 7 versus the Saints. He was steamrolled right through Schaub for a sack by (Q3, 9:00), but otherwise did not make my notes. With Reuland's extended play, I am afraid he may have been hurt.
BrownA (-1/-1): Arthur again provided extreme plays in each direction. He blitzed the A gap past RG Moffitt for a 12-yard sack of Barkley (Q3, 13:40). Just a few plays later he shot his gap to take down Mostert for no gain on a play Walker blew up in the backfield. The very next play, Mostert beat Brown to the outside for an 11-yard pass play to convert 3rd and 5 (Q3, 11:59). Barkley completed a 17-yard pass to Bailey (Q3, 11:03) on which Brown was obstructed by a block on the sideline, but appeared to make an extremely lackadaisical effort to reach the receiver. Immediately following the play, Brown was replaced by Orr while wearing the defensive signal caller's (green dot) helmet! He returned after (I presume) getting chewed out, but did not thereafter make my notes. On special teams, he lost outside containment on Barner's 68-yard punt-return TD (Q2, 4:08).
BrownD (+1/0): Dan made a nice catch down the right sideline for a 28-yard TD (Q4, 2:50) on his only target. There isn't room for him on the team, but he made a case for a spot on someone's practice squad.
BrownM (0/-1): The Gamebook shows him as targeted 3 times, but he was badly overthrown twice, once for an incomplete and the other for an interception. He made a nice back-shoulder catch for a gain of 21 (Q2, 3:15) from Schaub. He also tossed in a false start. Health is the only concern.
Butler (0/0): He was targeted 5 times with 2 receptions for 14 yards. While some of that is a function of the QBs involved, he's not doing anything special to make the team.
Campanaro (0/+1): DNP. Barring a health issue he's on the team and should be returning both kicks and punts among the current options.
Carter (-1/-3): He continued to lose ground by muffing a kickoff (Q2, 10:19), which is something I believe he'll have to do in order to make the team. He caught 2 of 4 difficult receptions, both of which involved going low to dig out passes from Renner (Q4, 11:19 and Q4, 2:58). He was sent to the sidelines for concussion protocol after the last catch.
Davis (-1/+2): He wasn't the same player who dominated the Saints in the first game. While he had portions of 3 tackles and some good lateral pursuit, he was handled at the point of attack with a pin from RG Vandervelde and block from C Molk on Mostert's 15-yard run (Q3, 14:50). He was then blocked effectively by RG Moffitt to lead a 5-yard run by Mostert (Q3, 12:42).
Easton (0/-1): He didn't play particularly well, but the competition is thinning. He'll likely be on someone's practice squad this season.
Greenwood (-1/-3): He did not enter the game until midway through Q4, played just 13 snaps, and did not make my notes. The play of Vaughn and Walker has reduced his chance to make the team significantly.
Guy (0/+3): He started and will certainly be part of the regular rotation when the season begins. I won't continue grading him.
Hurst (-2/-4): See OL comments above
Jackson (-1/-2): With Campanaro held out, Jackson got the initial opportunities as both a kick and punt returner. Interestingly, he barely saw any time at corner (5 snaps on 1 series in Q3) and now is clearly behind Smith, Webb, Arrington, Walker, Melvin, and Vaughn on the depth chart. As a KR/PR, he's completely replaceable and he has no future years of team control. I don't see a spot for him.
Jacobs (-1/0): DNP. He's probably still the best practice squad candidate, however, with 3 years of
team control remaining.
Jensen (0/0): Aside from the penalties, he had lead blocks on both of Magee's long runs (Q3, 0:59 and Q4, 10:51). He played the entire game split between LG (3 series) and LT.
Lewis-Moore (-1/-3): DNP. He was among a long list of players held out, but this is a more serious problem for KLM, who missed his first 2 seasons with injuries.
Lewis (-2/-2): Kendrick's starting job does not appear jeopardized, but I certainly don't want to hear that he led the Texans in tackles last season after a performance like last night. He played the first 3 series defensively and:
• missed 2 tackles (Q1, 7:40 and Q2, 11:43)
• overran the play on Murray's 14-yard reception (Q1, 4:12)
• got held up on a pick by Matthews (Q1, 9:04)
• was flagged for unnecessary roughness on Matthews away from the play (Q2, 14:25)
• was flagged for illegal contact then was unable to find the football in the air (Q2, 13:23) on a ball Burton charitably dropped
It will be an unpleasant film review for Lewis.
McClellan (+1/+2): McClellan entered after Brown and provided additional pressure on Arthur's sack (Q3, 13:40). He also had good coverage of Monangai that helped force an incomplete pass, negated by Smith's illegal use of hands (Q3, 12:48). He had the Ravens defensive play of the game when he ran down Monangai from behind and clubbed the ball free for the Ravens only turnover (Q4, 12:42). He was unable to get off a block from Vandervelde on Mostert's 15-yard run (Q3, 14:50).
Magee (+3/+3): He was the Ravens' best player on Saturday with 11 carries for 44 yards despite having both a 23-yard run and a 2-point conversion negated by penalty. He ran hard and caused several missed tackles. He also caught a pass for 14 yards. He and Toussaint are of similar size. However, based on his play and extra year of team control, Magee has the advantage at this point if the Ravens need to replace Taliaferro for a period.
Means (-1/-3): DNP. The last 3 LB spots are hotly contested with Brown, Orr, McClellan, Means, and Beyer now in the fight. Means may well be the most talented, but he needs to get back on the field to prove it.
Melvin (0/+1): He started and played the first 4 series. His spot is secure now, so I'll stop grading him.
Myers (-1/-1): Robert returned from a long stretch of down time (out with a concussion) and played 7 drives split between LG and RG. He was flagged for holding that negated Butler's 2-point conversion (Q4, 14:18). He allowed penetration to blow up Magee's run left for a loss of 1 (Q4, 15:00). He also allowed a PD to the leaping Bair (Q2, 8:26), but subsequently prevented an acrobatic interception. As poorly as he played, the team needs him even more now, so he's more likely to contribute.
Nelson (0/0): He muffed a kick return (Q3, 4:55) and caught just 2 passes. He did make a nice block on Waller's TD (Q4, 14:26).
Orr (-1/-1): Zach entered the game with Brown on the Eagles' 4th possession (Q2, 8:11) and remained in for much of the remainder of the game. He was unable to bring down Barner on his punt return TD (Q2, 4:08). He was nearly flagged for unnecessary roughness on Barkley's naked boot right (Q3, 5:42) when he hit the QB after the slide had begun. He was flagged for illegal contact to negate Za'Darius Smith's slow-developing sack (Q4, 13:26).
Perriman (-1/-2): DNP.
Perry (-1/-1): He got some decent playing time in the 2nd half and was not penalized, but he missed the tackle on Monangai's 25-yard run (Q4, 5:51).
Pointer (-1/-1): He was starting with the ones in camp when Webb missed time early. However, he's lost ground lately. He entered after Melvin and Walker on Saturday and was primarily used to play nickel in a 28-snap effort. He lost Matthews on a shallow cross for a 28-yard TD (Q2, 11:20) that was negated by a holding penalty drawn by Guy.
Reid (0/0): DNP. It looks like he will be needed.
Renner (0/-2): He continued to move the team despite passing that was largely inaccurate. It's possible he'll make a practice squad with his play thus far.
Robinson (-1/-1): He didn't get any kick or punt return opportunities and played just 17 snaps. On his only target he could not haul in a low pass from Renner (Q3, 1:53).
Schaub (0/-1): Schaub has not made many good throws outside the numbers, but his back-shoulder completion to Marlon Brown (Q2, 3:15) was his best pass as a Raven this preseason. He twice ran a naked boot to the left, which is difficult for any right-handed QB, but completed one of them to Gillmore for a gain of 16 (Q2, 3:51).
Smith, Za'Darius (0/+1): Smith played 51 snaps, during which time he again provided some pass rush, including a sack negated by penalty (Q4, 13:26) and another pressure negated by his own illegal use of hands (Q3, 12:47). He flushed Tebow and forced him to throw away a pass (Q4, 2:22). Also similar to his performance against the Saints, he lost his edge on 2 occasions I noted which led to gains of 8 (Q3, 14:03) and 28 (Q4, 2:13).
Taliaferro (-2/+1): After his performance against the Saints, his job seemed secure. However, following their collision, Hurst left immediately for concussion protocols, while Taliaferro lingered on the sideline before heading to the locker room. That fact has me concerned about the type of injury he may have sustained.
Trawick (-1/-3): He played 58 snaps, but despite leading the team with 7 tackles (8, 8, 17, 15, 26, 9, and 5 yards from the LoS respectively), he didn't play effectively. I'd say Brooks and Levine are now the front-runners for the backup safety spots.
Tyson (-1/-2): Tyson got on the field for 37 snaps and had just 1 tackle assist. The only reference to him in my notes is that he was fooled on Barkley's naked boot right (Q3, 5:42).
Vaughn (+2/+4): The race at corner has been simplified by the play of Vaughn and Walker. Cassius played on the outside for 46 snaps and had primarily positive results:
• (Q2, 0:40) He picked up a ticky-tack pass interference flag covering Agholor on an 11-yard play.
• (Q2, 0:33) He undercut Bailey for a gain of just 1 by the right sideline.
• (Q3, 14:27) He came up quickly to undercut Tomlinson for a gain of 3 (2 YAC) by the right sideline.
• (Q3, 11:36) He drove Pratt out of bounds for a PD not credited in the Gamebook.
• (Q3, 11:30) He was in the area, but missed the tackle on Bailey to allow 2 extra YAC on a gain of 8.
• (Q3, 10:47) He was in the area, but could not secure Gleichert's tip for an INT.
• (Q3, 6:55) He knocked away a 25-yard pass for Pratt down the right sideline.
• (Q4, 13:54) He helped contain Tebow for Za'Darius Smith on read option gain of 2.
Walker (+2/+3): He got a team-leading 59 defensive snaps and made good use of the opportunity. Here's his list of plays, positive and negative:
• (Q2, 12:29) He was flagged for illegal contact (declined) on a 7-yard completion to Burton.
• (Q2, 11:43) He made a solid tackle of Agholor after Lewis missed.
• (Q2, 10:58) He was up quickly to take down Matthews for a gain of 5 (0 YAC).
• (Q2, 1:50) He broke well on the ball, intended for Mostert by the left sideline. Had the ball been on target, it might have been intercepted.
• (Q2, 1:48) He was late breaking on the pass intended for Ajirotutu by the left sideline but it was dropped.
• (Q2, 0:11) He again broke well on a pass intended for Ajirotutu and intercepted the ball out of bounds.
• (Q3, 12:24) He came on a corner blitz, which blew up Mostert's run for no gain.
• (Q3, 10:12) He drew an offensive pass interference call (declined) on Ajirotutu on a ball the receiver dropped anyway.
• (Q3, 6:05) He was beaten on a curl near the left hash for a gain of 21, but he did not have safety help and made the tackle as the last defender.
Given the Ravens' uncertainty at corner, he's played much too well to redshirt with a mysterious trip to IR.
Waller (0/+1): He did not have a jump ball opportunity versus the Eagles, which is something fully demonstrated only by game reps. He caught a WR screen, negotiated traffic, and used his size well to score the Ravens' first TD (Q4, 14:26). Earlier on the drive he had a bad case of alligator arms when staring at the approaching Acho between the numbers and left hash (Q3, 4:15). In total, he caught 3 of 6 balls on which he was targeted for just 21 yards. His ability to secure the football while putting his midsection in harm's way will define his NFL career.
Williams, Maxx (0/+2): For the 2nd straight week, Williams hurdled a defender with another in close proximity (Q2, 1:29). I hope he stops that without having to learn the hard way.
Follow me on Twitter at @FilmstudyRavens