What Better Spot to Get Off the Schneid?
Print this article
Contrary to what you make think, the Ravens actually HAVE won a football game in 2015 – calendar year, 2015, anyway. It was back in January that they last emerged victorious in a game that counted, in the Wild Card round at Heinz Field against the Steelers. That's where they'll again search for their first win of the 2015 SEASON when they take on the Ben Roethlisberger-less Steelers on Thursday Night Football.
Hey, the last game they won was in the big ketchup bottle. What better place to finally get one under their belt tonight? The Ravens Steelers rivalry heats up once again.
Let's take a look at the stats, quotes, and more, in this week's CRAB BAG.
KNOW THY ENEMY
EVENLY MATCHED
Think these two play some evenly matched games? These numbers are crazy:
QUOTES OF THE WEEK
ILB C.J. Mosley on the Ravens defense:
"The main thing is we need to do some soul searching. We built a great foundation going into training camp, coming into the preseason, and so far it hasn't worked out our way. We didn't waste all of our time in training camp – sweat, blood and tears – to have any cracks in our foundation, and we know we don't have any cracks. We have all the confidence in the world. Like I said, we have to finish, and a lot of that goes on the defense, because we had a chance to close it out [vs. Cincinnati]. But as a team, we have to collectively look at ourselves, each player, and figure out what we need to do to win these close games."
QB Joe Flacco on the Ravens' mindset heading into Pittsburgh:
"We can't look at 0-3 and say, 'Let's look forward to when we could possibly be 4-3.' We've got to do it one game at a time, and that's the only way that you're going to keep a positive mindset – if you put the last three games behind you and forget about them. If they're in your head, then you're just going to be constantly trying to crawl out of a hole that you can't get out of right away. It's going to take time. We've had opportunities to win each one of these three games, and we're just not good enough to be good in crunch-time situations, and it's getting us beat."
WR Steve Smith Sr. on whether some players feel they can't win:
"I just think when you have a mixture of people, meaning old people, including myself, and some young guys, some middle-role guys and some flat-out rookies, they don't envision or understand that. You have to prepare your mind to envision doing something. It can't just happen by osmosis. You have to do it repeatedly, over and over again. It's trial by fire, and it's tough. That's kind of how it goes. So yes, you do have some guys because of lack of experience and lack of envisioning themselves making that play that sometimes that doesn't happen. That really has to do with being a young guy. It's not anything that they can do, or it's not that they're not doing something. These guys, they work their tails off, but we just have to work harder. At the end of the day, that's what it's about. If you feel like you're doing enough, once you do all that you can, you start over and do it all again. That's what these guys have to realize, and that's what we have to do. That's what we have to do collectively, all of us, including myself."
G Kelechi Osemele on if he thinks everyone in the locker room is looking internally and self-evaluating at this point:
"Yes, that's the type of guys we have. We just have tough men that hold themselves to a high standard, and when you have a group of men like that, obviously, if things don't go your way, you look at yourself. You look at the man in the mirror, and you're honest, and you're critical, and you just go to work. That's all you can really do is just go to work and try to get better as a player, and that's going to help the team get better."
CB/RS Lardarius Webb on if the right pieces are on this team:
"Oh, the right pieces are here. We know we have the right pieces. But I know they're going to look around, and they're going to try to change up some things, find the perfect match. But I know we have the pieces – we just have to put everything together."
GETTING TO KNOW YOU ~ Q&A with Steve Smith, Sr.
What are the greatest strengths of your wide receiver corps?
"Marlon Brown is a tall guy, but he can also play in the slot, which rarely happens. He has quick feet and is strong. Kamar Aiken is an undrafted guy who's very hungry – who has been around the block – but at the same time, he has never really been comfortable anywhere, so he's a hard worker. Once we get [Breshad] Perriman back, I think he gives us an added boost. Michael Campanaro is a jack of all trades. He was a slot guy in college, but he's learning to play on the outside pretty well."
After 15 seasons, is there a lesson that has stuck with you?
"When you're younger, you have so much speed, and everything comes easy. The one thing that I've learned – and I've used – is that technique beats speed every time. I don't care how big, how fast you are, if you don't use the right technique, you're going to lose. You really have to be technically sound versus being athletic."
What do you think is the toughest profession?
"My brother is a fireman – so I know that's tough – and he's an EMT, as well. I remember his first day on the job – there was a car accident where the family was flung from the car. It was an infant and a child and a mother. Two out of the three people in the car died. For me, that would've been very tough to deal with and see that, and he explained it as if it was running a route. Police officers and military – that's a tough job. I think the toughest job of all that doesn't get a lot of credit – that I would fail at – is a stay-at-home mom. I can't do it. Moms have a tough job as well, but they just don't get a W-2 for it."
Do you think about being inducted into the Hall of Fame?
"It's one of those prized possessions that a lot of people don't get, that a lot of people hope and wish for. A lot of time goes into it, and a lot of time passes before you can get to it, so we'll see how it goes."
If you didn't play in the NFL, what sport would you most like to play?
"I would love to have been Steve Kerr coming off the bench playing with Michael Jordan and the Chicago Bulls. That was at the height of basketball. Jordan was the greatest player, and to experience him and to be around greatness like that in that moment, I just want to know what it's like. I've met him a few times, but to be in that moment in practices and all that stuff and see him at the ultimate competitor's level, that's worth it."
Do you have a favorite play – at any level – that propelled your team to victory?
"When I was in high school, I blocked a field goal during a big playoff game. That sticks in my head, even now. It was the most unlikely moment in which an opportunity presented itself, and I was ready. It's one of those games where that one [play was] such a huge point of the game, and it's a deciding factor."
HEY, YOU LOOK FAMILIAR ~ Key Connections
Steelers ILBs coach Jerry Olsavsky (1998) and DBs coach Carnell Lake (2001) played the final seasons of their NFL careers with the Ravens, while Ravens East-regional scout Andy Weidl spent two years (1998-99) with the Steelers as a player personnel assistant.
Steelers WRs coach Richard Mann served in the same capacity for the Baltimore Colts (1982-84) and the Baltimore Ravens (1997-98). In 1985, Mann was hired as the WRs/TEs coach for the Cleveland Browns, for whom he coached current Ravens general manager/executive vice president and Hall of Fame TE Ozzie Newsome (1978-90).
Ravens WR Steve Smith Sr. and Steelers RB DeAngelo Williams combined for 17,060 all-purpose yards in Carolina from 2006-13. Steelers S Mike Mitchell joined the Panthers in 2013, and Steelers player engagement coordinator Terry Cousin played CB during the 2002-03 seasons while Smith Sr. was with Carolina.
Ravens head coach John Harbaugh and Steelers special teams coordinator Danny Smith coached together in Philadelphia in 1998. Harbaugh was the Eagles' special teams coordinator from 1997-2006 and coached the secondary in 2007, while Smith led the special teams units from 1995-96 and the DBs during the 1997-98 seasons.
Steelers "O" coordinator Todd Haley (2009-11) was Kansas City's head coach when Ravens S Kendrick Lewis (2010-13) was drafted by the Chiefs.
Ravens QBs coach Marty Mornhinweg was the offensive coordinator for the Jets from 2013-14, and Steelers QB Mike Vick and Ravens OLB Jason Babin played the 2014 season in New York.
Ravens QB Matt Schaub and Steelers QB Mike Vick were with the Atlanta Falcons from 2004-06.
LAUGH OF THE WEEK AT EXPENSE OF RAVENS' OPPONENT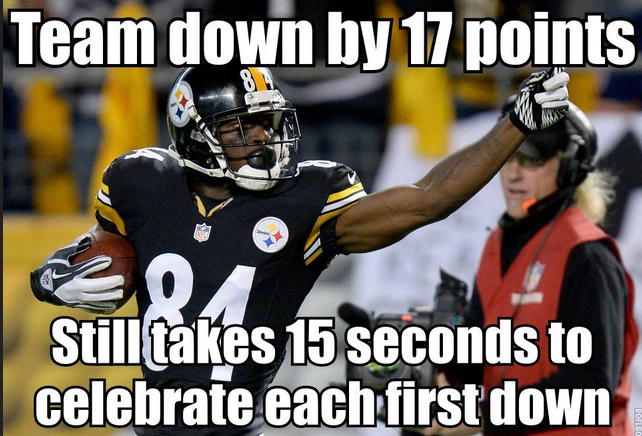 [youtube]https://youtu.be/so5ZfF6b9fM[/youtube]
(Hey, thanks for blocking YouTube embeds, NFL! Tools. You should head on over and watch those highlights anyway.)