Ravens, Steelers: Not What It Used To Be
Print this article
The Ravens travel to Heinz Field tonight to take on their divisional archrival, the Pittsburgh Steelers. Typically this is a day when fans of both teams are amped up. They are physically invested.
Almost in a Pavlov's dog kind of way, every play stimulates a knee-jerk type of bodily movement that somehow makes the game physical even for fans.
Yet for some reason, the vibe leading up to tonight's game isn't quite the same. It's not as intense. The anticipation isn't quite as nerve-racking.
Is it that fact that the Ravens are (0-3)? Does Ben Roethlisberger's absence from the game negatively impact the potency of this AFC North showdown?
Both of these elements of tonight's game are contributors to the turned down volume of the contest. But it's much more than that.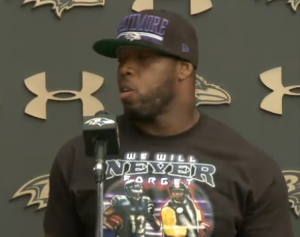 Many of the players who contributed mightily to the rivalry are gone. Besides Roethlisberger, Terrell Suggs, a genuine agitator of the angst between the clubs, is also sidelined by injury. Hines Ward is gone. LaMarr Woodley hit the road. Joey Porter is a distant memory. Troy Polamalu will no longer hover near the line of scrimmage.
And then of course there's the game itself – the game of football as we know it today, has changed for the worse.
The NFL has become pass happy. More offenses are spreading the field, showcasing four and five receiver sets from the shotgun formation, oftentimes with an empty backfield. Defenses have had to respond. Cover linebackers with speed are preferred over run-stuffing linebackers who can anticipate, scrape down the line of scrimmage and attack ball carriers.
Might Ray Lewis be as great in today's NFL?
Safeties are no longer as physical. Once heat seeking missiles that would disrupt an opponent's passing attack between the hash marks purely with tactics of intimidation, have been forced to tone down their acts. Costly penalties (yellow laundry is at its highest level in a decade) and fines have become detractors of such physicality.
Smash mouth football is dying and with it the beauty of the Ravens v. Steelers rivalry.
Who would have thought that the Steelers would become more synonymous with offense than defense or that the Ravens would lose their identity as a defensive juggernaut?
With its over-officiating and the influences of fantasy football which undoubtedly benefit the NFL financially, the league is slowly morphing into a glorified Arena Football League.
Back in 2006 I wrote an article titled Sex Sells, the point of which was to say that the NFL sees offense as being sexier than defense. Today that notion is truer than ever. The rulebook dictates it.
In the end, the game and this once exulted rivalry suffer.
And that's a loss for the cities of Baltimore and Pittsburgh as well as the fans of the NFL across the nation.
Sure, "Sex Sells" but sometimes it smells too.