Tackling The New Look Steelers
Print this article
Offense
1. Blitzburgh Still in Effect
Remember the vintage profile of a Dick LeBeau defense? Rushers standing up, bouncing around at the line, looking to time their get off just right. As an offense, you wouldn't know which rushers were coming, which were bluffing, and which were dropping into coverage. That's because LeBeau's disguises were so stealth. Hell, this is the same guy who would drop former nose guard Casey Hampton into zone coverage from time to time.
Current defensive coordinator Keith Butler might not be the master chef of chaos that LeBeau was. But he is certainly a creative cook in his own right. The Steelers front has been outstanding in the first three games of the season, and a lot of their success has to do with getting back to their aggressive ways.
Butler will use his rushers to move around before the snap in an amoeba-like fashion. Sometimes they will line up in a two-point stance, sometimes in a three-point stance. Versatile defensive end Cameron Heyward has seemingly taken on the role Brett Keisel played so well as a large standup rusher that can come from the outside or the inside to either set up a stunt or come on a delayed blitz.
Speaking of stunts, the Ravens fell victim to that rush scheme in the 4th quarter of Sunday's game against the Bengals. In particular, Rick Wagner struggled to pick up those looping rushes that went inside.
The offensive line and Joe Flacco have to be better prepared for stunts, twists, and plenty of pre-snap movement from Pittsburgh. The line needs to work in a coordinated manner to handle to secondary rushes (stunts, delayed blitz action), and Flacco needs to work the hard count (something we've seen glimpses of but not enough of), to keep the Steelers from teeing off.
2. Stay on Schedule
Another way to nullify the Steelers' pressure packages? Stay out of too many third-and-longs and obvious passing situations altogether. Looking at least year's match ups with the Steelers, being able to win the down-and-distance battle proved pivotal in the outcomes of the games.
The Ravens ability to be productive on first and second down led to two victories, and conversely, in their one loss, the offensive front was assaulted in third-and-long passing situations.
The problem for the Ravens is that they can't even start off in 1st-and-10 scenarios. Thanks to a penalty-happy offensive line, they've been seeing more 1st-and-20 and 1st-and-25. That can't happen on Thursday night.
The offense has to get back to being productive on first and second down. In particular, they need to use the short passing game to set up more manageable running situations on second and third down.
3. Screens and Isolation Routes
What happened to Marc Trestman's sophisticated screen game? It was supposed to be a major feature of the offense this season. Justin Forsett was supposed to be the biggest benefactor. Although the veteran back has 12 catches in three games, he's gaining about 3.5 yards on each pass reception.
Instead, the screens (if you want to call them that), have been major duds so far. Anything resembling a coordinated screen in which blockers are releasing into the open field has been poorly timed or easily read by the defense.
This is the week in which the screen game needs to show up. Despite the absence of Ryan Shazier (out with a shoulder injury) the Steelers have fast inside linebackers like Lawrence Timmons, so it'll be tough to execute against their speed. But if there is misdirection and double screen action involved, that can help to get the LBs moving in the wrong direction. The goal is to use their speed against them.
In addition to using screens for the backs, Trestman can also use simple slip screens to the wideouts (Steve Smith and Michael Campanaro) when the corners are backing off. Green Bay put on a clinic using this attack against the Chiefs on MNF. The Patriots also had success taking advantage of the Steelers' off coverage in Week One.
Defense
Since it's en vogue to compare Michael Jordan to football players (did you see the latest comparison between Aaron Rodgers and Jordan?), I might as well make my comparison too.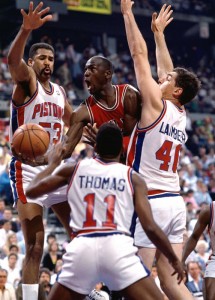 Although Brown isn't Jordan (who is?), the Ravens need to give him the Jordan treatment. Brown is so automatic, you can pencil in roughly 8-10 catches and 100 yards for him every game. He already has 35 catches in just three games this season.
So, like Jordan, there's no stopping him, really. You just have to negate Brown's dominance. That means keeping him from going over the top for a deep strike, and keeping him from gaining Madden-style YAC in the open field.
Baltimore pass defenders should play Brown close to the sticks, let him catch the 6-to-8 yard routes, but then gang tackle him after the catch. Just like the old Detroit Pistons did to Jordan when he went into the lane for a score, Brown should be hit and hit often.
If nothing else, if the Ravens can beat Brown up, they can make the All-Pro earn his yards without giving up anything cheap.
2. Dealing with Misdirection
Staying on the Brown topic, a big part of his success is getting him the ball on the move, whether he is coming into a route through motion or a quick release. The Steelers run a lot of built-in bubble screens or quick-hitting patterns for Brown and their other wideouts to beat the blitz. In fact, Ben Roethlisberger has been notorious for snuffing out the Ravens' blitz in the past with these plays. Especially when the corners are about 5-to-10 yards off the line.
The Bengals did a nice job using quick screens to their receivers to test the Baltimore corners. Although the plays didn't spring big gains, they kept the defense on guard, and enabled the Cincinnati offense to establish an up-tempo style.
With Michael Vick starting for Roethlisberger, it's hard to say how much the Steelers will lean on their screen and misdirection action.
But considering these plays are a staple in Todd Haley's offense, the Ravens should expect to see them, and they should be better prepared after getting a full dose against the Bengals.
3. Hands Up and Stay in Your Lanes
Despite being 35 years old, Vick still has plenty of juice left. All anyone has to do is look back at that 63-yard bomb he threw to receiver Martavis Bryant during the preseason. He still has the arm and the speed to make defenses pay.
For a Baltimore defense that has been struggling to rush and corral the passer, Vick isn't exactly a welcome sight. In fact, Dalton made Ravens defenders look bad on a few occasions in the open field.
The difference, of course, is that they don't anticipate Dalton taking off and running with the ball. With Vick, it's another story. They need to rush the pocket with discipline and make sure they don't get too far upfield.
In addition, when the front rushes the smaller QB, they should try to bat his passes down. The defensive front was able to knock a few of Dalton's passes down, and even had the chance for one deflection to be picked off by Courtney Upshaw. When Vick tries to get the ball out quick (just as Dalton and Derek Carr did), the defensive line needs to have their paws in the air.
One-on-One Matchup to Watch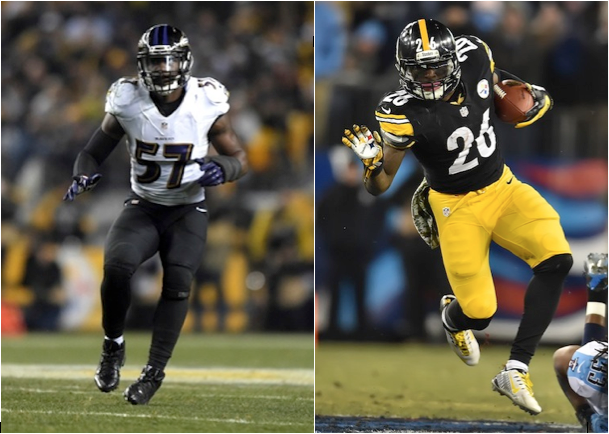 Bell is back, and there is no question that he'll be the focal point of the Steelers attack on Thursday. While Adrian Peterson is the game's best pure runner, and Matt Forte could be the best receiving back, Bell is simply the most complete. He can do it all. Perhaps the biggest problem he presents is in the passing game. Bell's versatility to split out as a receiver or go in motion before the snap puts defenses in impossible matchup scenarios.
Mosley will have his hands full trying to shadow the motivated Steelers' back all over the field. The second-year backer will need to jam and press Bell at the line. And he'll need to use his length to extend on the ball to either deflect or distract Bell when the ball is in the air.