Ravens 2016 Salary Cap Preview
Print this article
So, with the Ravens at (1-5) following Sunday's loss to the 49ers, the season is pretty much officially lost. A team that some thought would be a Super Bowl participant has disintegrated into a shell of its expected self after injuries, close losses and just enough mistakes, have taken away any hope of a turn around.
Now comes time for the Ravens to focus on 2016 and determine which players can be contributors in the future and which players the team should part ways with. The other key issue to be determined this coming offseason is whether the Ravens will decide to restructure the contract of QB Joe Flacco (he of the $28.55M Cap number) or if they will try to get through one more season before deciding to address his contract.
So, with that in mind, here's an early look at the Ravens' 2016 Free Agency and Salary Cap status:
PLAYERS UNDER CONTRACT
The Ravens presently have the following 46 players under contract for 2016 (with Cap Numbers indicated):
QBs (1): Joe Flacco ($28.55M)
RBs (4): Justin Forsett ($3.7M); Kyle Juszczyk ($750K); Lorenzo Taliaferro ($675K); Buck Allen ($644K)
WRs (5): Steve Smith, Sr. ($4.167M); Breshad Perriman ($1,979M); Michael Campanaro ($617K); Darren Waller ($553K); Cam Worthy ($526K)
TE (4): Dennis Pitta ($7.2M); Crockett Gillmore ($727K); Max Williams ($921K); Nick Boyle ($567K)
OL (6): Eugene Monroe ($8.7M); Marshal Yanda ($7.986M); Jeremy Zuttah ($4.607M); Ricky Wagner ($711K); John Urschel ($636K); James Hurst ($603K)
DL (7): Chris Canty ($2.915M); Brandon Williams ($814K); Lawrence Guy ($1.25M); Kapron Lewis-Moore ($697K); Timmy Jernigan ($1.195M); Brent Urban ($675K); Carl Davis ($697K)
LBs (7): Terrell Suggs ($7.45M); Elvis Dumervil ($7.375M); Daryl Smith ($4.375M); Arthur Brown ($1.131M); CJ Mosley ($2.397M); Zach Orr ($601K); Za'Darius Smith ($646K)
CBs (6): Lardarius Webb ($9.5M); Jimmy Smith ($9.6M); Kyle Arrington ($2.767M); Will Davis ($683K); Tray Walker ($611K); Julian Wilson ($528K)
S (5): Will Hill ($4.59M); Kendrick Lewis ($1.867M); Matt Elam ($2.153M); Anthony Levine ($1.2M); Terrence Brooks ($767K)
ST (1): Sam Koch ($3.1M)
The above 46 players are under contract for a total Salary Cap commitment (which includes dead money from players no longer on the team) of $144,608,435.
Initial projections have estimated that the 2016 Salary Cap would see an increase of $10M, moving the Cap up to around $153M.
So, using the figure of $153M for the estimated Cap, the Ravens will initially have around $8,391,565M in Cap space.
This will be the basis for early reports on the status of the Ravens' Salary Cap, but it's important to keep in mind that this number is based only on the 46 players that are presently under contract and nowhere near representative of the team's Cap with a full roster.
So, between now and March 15th at 4:00 p.m., when the new league year begins and free agency begins, the Ravens will have a lot of work to do.
PRACTICE SQUAD FREE AGENTS (FAs)
In past years, the Ravens have usually re-signed most of their Practice Squad players to contracts for the coming year. This year may be a bit different though, as due to the changes to the Practice Squad eligibility rules, several players with more experience – and hence higher 2016 minimum salaries – are currently holding several of the Practice Squad spots.
The announcement of those signed will likely come in the next couple of days.
The 10 players currently on the Practice Squad are:
LB – Brennen Beyer
WR – Daniel Brown
WR – Jeremy Butler
DE – Nordly Capi
G- Kaleb Johnson
G – Robert Myers
S – Nick Perry
CB – Sheldon Price
TE – Conrad Reuland
OT – DeOndre Welsey
Most of these players will be re-signed to one-year contracts of $450K. Based on already having a credited season in the NFL, Jeremy Butler would receive one-year contracts of $525K. With two credited seasons, Conrad Reuland would receive a one-year contract of $600K.
2015 SALARY CAP CARRYOVER
Under the terms of the CBA, teams are now allowed to carry over excess Salary Cap space from one year to the next. The Ravens are already very tight against the Salary Cap, with only around $3.352M in available Cap space at this time. As more injuries occur and further injury replacements acquired, the amount the Ravens can carry over into 2016 will dwindle.
OTHER SALARY CAP ADJUSTMENTS
WORKOUT BONUS ADJUSTMENT: All teams will have an adjustment of $561,600 added to their Cap for team workout bonuses. This number is essentially the total amount of CBA mandated workout bonuses that could be earned by the players in the offseason. This amount is a debit from the Cap. Once training camp begins, this debit will be removed and the actual amount of workout bonuses earned by the players will be added onto the Cap.
INCENTIVE ADJUSTMENTS: The Ravens' 2016 Cap will also see adjustments for incentives earned that didn't count against the 2015 Cap ("Not Likely To Be Earned" incentives) that were actually earned and incentives that did count against the 2015 Cap ("Likely To Be Earned" incentives) but weren't earned.
The total of these incentive adjustments are usually not disclosed until the beginning of the 2016 league year in March.
Several players did have incentives built into their contracts, but the parameters of those incentives haven't been publicly disclosed.
2011/2012 CAP ADJUSTMENT REPAYMENT: When the new CBA was agreed upon in 2011, the Salary Cap saw a reduction and, for the first few years, stagnation. Foreseeing this, the terms of the CBA allowed for teams to borrow ($3M in 2011; $1.5M in 2012) against future Caps, but forced teams to repay that amount during the 2014 through 2017 league years. The CBA left it up to the team to decide when to repay those amounts. In 2014, the Ravens repaid their first installment of $1.125M. This amount, 1/4th of the $4.5M due to be repaid, would seem to indicate that the team intends to repay that amount each year from 2014 to 2017. So, if they follow that pattern, the team will have a negative adjustment to the 2016 Cap of $1.125M.
PROVEN PERFORMANCE ESCALATOR: The Ravens have 3 players who were drafted in the 3rd through 7th rounds of the 2013 draft who are likely to achieve the Proven Performance Escalator, thereby seeing their base salaries rise from the scheduled amount of $675K up to the (estimated) low RFA tender amount of $1.65M. Since the 2011 CBA mandated 4-year contracts for all draft picks, thus removing the player's chance to receive the higher paying RFA tender in their 4th year, the Proven Performance Escalator was put in place to allow lower draft picks to make the equivalent of the low RFA tender if they performed well. As explained last year with regard to former Ravens G/C Gino Gradkowski, the player's "performance" is measured by playing time, so the escalator is earned if the player either (1) plays in 35% of offensive or defensive snaps in 2 of the player's first 3 seasons or (2) plays in 35% of the cumulative snaps over his first 3 seasons.
The 3 Ravens who are currently in line to receive the escalator are DT Brandon Williams, RT Ryan Wagner and FB Kyle Juszczyk.
EXCLUSIVE RIGHTS FREE AGENTS (ERFAs)
These players must be tendered contracts of the league minimum, based on the player's length of service in the league ($600K, $525K or $450K). Once tendered, these players are fully under the team's control and are not free to negotiate with other teams.
The Ravens have 5 players who are Exclusive Rights Free Agents (ERFAs)
G – Ryan Jensen ($600K)
RB – Terrence Magee ($525K)
RB – Raheem Mostert ($525K)
DT – Micah Reynolds ($525K)
DE – Zachary Thompson ($525K)
In the past, the Ravens have usually tendered all of their ERFAs.
RESTRICTED FREE AGENTS (RFAs)
These are players whose contracts have expired and who have 3 years of accrued service time. The team must tender the player with an RFA offer. Once tendered, another team can sign the player to a RFA offer sheet, but the Ravens then have 7 days to match that offer sheet and retain the player under the terms of that offer sheet. If the Ravens were to choose not to match the offer sheet, they would then receive compensation based on the level of RFA tender made to the player.
There are 3 RFA Tenders
* 1st Round Tender: allows the team to receive compensation of a 1st round – $3.586M (est)
* 2nd Round Tender: allows the team to receive compensation of 2nd round pick – $2.52M (est)
* Low Tender: allows the team to receive compensation of a draft pick equal to the round in which the player was originally drafted or the Right of First Refusal (ROFR) for an undrafted player – $1.65M (est)
Note: The 2011 CBA eliminated the "high" tender of 1st and 3rd round draft picks as compensation
The above Tender amounts are just estimates at this point. Under the terms of the CBA, the RFA Tender amounts increase at the same rate as the overall Salary Cap, with the minimum increase being 5%. An increase in the Salary Cap from $143.28M to $153M would represent a 7% increase in the Cap, so the above estimates for the RFA tenders are based on a 7% increase over the 2015 RFA tenders.
The Ravens have 3 players who are Restricted Free Agents (RFAs)
WR – Kamar Aiken (undrafted)
WR – Marlon Brown (undrafted)
S – Brynden Trawick (undrafted)
Over the years, the Ravens have tendered some of their RFAs and non-tendered others with the hopes of re-signing them to cheaper 1- or 2-year deals with a small signing bonus and veteran minimum salaries. The veteran minimum salary for such a player for 2015 is $675K.
It is very possible that the Ravens non-tender all 3 of the above RFAs, although, it wouldn't be a surprise to see one of the WRs – likely Aiken – receive the low RFA tender.
Keeping in mind, though, that RFA/ERFA tenders are not guaranteed, so just because a player is tendered (as either as a RFA or ERFA) that is no guaranty that the player will ultimately make the final 53-man roster.
PROJECTED ADJUSTED TEAM CAP AND RULE OF 51 SALARY CAP COMMITMENT
Based on all of the above, it is estimated that the Ravens will have an adjusted Team Salary Cap of $151.313M. The team's adjusted Cap consists of the projected league-wide Salary Cap of $153M, plus the carryover of the 2015 excess Cap space of $1M (estimated), less adjustments for workout bonuses ($561,600) and incentive/Cap repayment adjustments (est. $2.125M).
So, for the purposes of this projection – and presenting the worst place scenario as the starting point – if the team signs and tenders all of their PS players, ERFAs and RFAs (except Brynden Trawick), and prior to the team making any other roster moves (releases or retirements) or the restructure of any contracts, the team will have 62 players under contract.
During the offseason, though, when rosters can balloon to up to 90 players, only the highest 51 Salary Cap numbers (and all 2015 bonus prorations and all dead money from released players) are counted for Salary Cap purposes.
As such, the Ravens' estimated Rule of 51 number – again, if the re-sign all PS players and tender all RFAs (except Brynden Trawick) and all ERFAs – would be a Cap commitment of just under $152.55M. See the "2016 Projected Cap".
That would leave the Ravens projected 2016 cap number at $1.235M OVER the Salary Cap. This is obviously, the worst case scenario and they will likely release/non-tender some players and restructure some contracts in order to get under the Cap.
Again, this estimate is a worst case scenario and done before the Ravens make any other roster moves. But, it is a starting point and – much like last year – underscores just how tight their Cap will be again and just how much work they will need to do to not just to get under the Salary Cap, but also to create the Cap space necessary to fill what appears to be multiple holes in their roster.
UNRESTRICTED FREE AGENTS (UFAs)
The following 11 players are Unrestricted Free Agents (UFAs) and will be free to sign with other teams if they haven't re-signed with the Ravens before Free Agency begins on March 15th at 4:00 p.m.:
LS – Morgan Cox
WR – Chris Givens
CB – Asa Jackson
LB – Albert McClellan
G – Kelechi Osemele
TE – Allen Reisner
WR – Jeremy Ross
QB – Matt Schaub
PK – Justin Tucker
LB – Courtney Upshaw
CB – Shareece Wright
Luckily, the Ravens don't have too many UFAs that must be re-signed, but the key name here, of course, is PK Justin Tucker. If the Ravens don't reach an agreement on a long-term deal with Tucker, they are expected to use the Franchise Tag to secure Tucker's services for 2016 provide some additional time to strike a long-term deal. The amount of the Franchise Tags for 2016 has yet to be determined, but in 2015, the Franchise Tag for placekickers was $4.126M. That number will increase a bit in 2016.
2016 DRAFT PICKS
The Ravens are expected to have 9-10 picks in the 2016 NFL Draft. They have their original 1st through 4th round picks and their 6th round pick. They also have Denver's 4th round pick, which was exchanged for the Ravens' 5th round pick in the Gino Gradkowski trade. They traded their 7th round pick to Miami for CB Will Davis.
The Ravens can expect 3 Compensatory draft picks for their free agent losses last spring. The Ravens lost 5 qualifying UFAs (Pernell McPhee, Torrey Smith, Owen Daniels, Darian Stewart and Tyrod Taylor) and signed just one (Kendrick Lewis). Players released either by the Ravens (Jacoby Jones) or their prior club (Matt Schaub, Kyle Arrington) do not count under the Comp pick formula.
The Ravens can expect to receive two 4th round and one 5th round Comp pick for their losses. The Ravens do have a net loss of 4 qualifying FAs, but due to the small size of his base contract, the pick for Taylor will likely fall below the 32 Comp picks granted and will not garner the Ravens a 4th Comp pick.
The possible 10th draft pick comes from the trade of Center Nick Easton to the San Francisco 49ers for a conditional 7th round pick. It is unknown what the conditions of the trade were and then Easton was traded by the 49ers to Minnesota. Given the second trade, it would appear unlikely that the Ravens would receive the conditional pick.
RELEASE/RETIREMENT/RESTRUCTURES
Based on the above, it's pretty clear that the Ravens are going to have to create additional Salary Cap space in order to be able to sign or re-sign other players to the roster. There are two primary ways of creating additional Salary Cap space – (1) restructuring/extending of contracts and/or (2) releasing/trading players.
FLACCO: This is the (multi) million dollar decision and the timing is going to be a key factor in the team's ability to address its weaknesses. The recent contract extension given to G Marshal Yanda is a bit telling in that the team did not attempt to lessen his 2016 Cap number. This would seem to indicate that the Ravens are intent on restructuring Flacco's deal over the winter and will not attempt to get one more year down the road before deciding to restructure the deal in 2017.
Depending on the terms of a new deal, a Flacco restructure is likely to create around $3-7M, which – along with other moves – will go a long way toward creating necessary breathing room for the team.
Again, though, the timing is the key. If they can reach a deal in February or early March (as they did in 2013, when the avoided the Franchise Tag), then they should be good to go. However, if it lingers into the spring with no resolution until late spring or the summer, the Ravens are likely going to be out of business as far as free agent signings go.
The below chart lays out the Salary Cap implications of the release/trade/retirement (all basically treated the same for Cap purposes) of some Ravens players: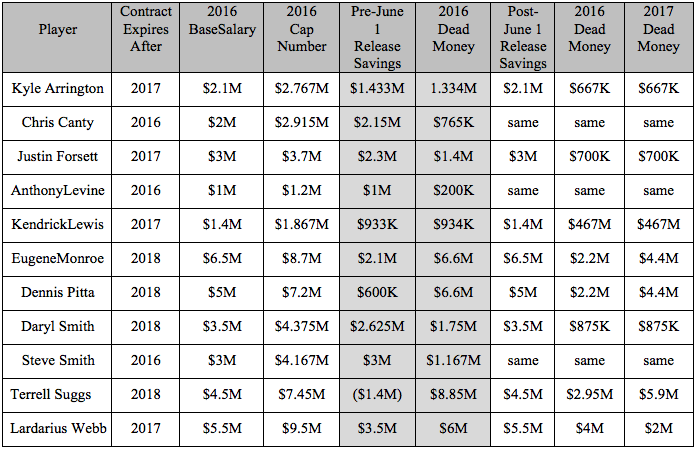 As the above chart shows there are different implications to releasing a player prior to June 1 and releasing the player after June 1. Releasing the player before June 1 allows the player to be fully cleared off the books immediately, by taking the enter hit of dead money (the acceleration of bonus money from signing bonuses) in the present year. This generally makes for a smaller amount of Cap savings, but also keeps the release from having any Cap implications in the following season. Releasing a player after June 1 (or using a June 1 designation on a release prior to June 1), allows for a more sizable Cap savings, but pushing dead money onto the following year's Cap. More importantly, though, any Cap savings realized from a post-June 1 release (or a June 1 designation release) is not available until after June 1, so there's no benefit to such a release in March, when the money is generally needed to sign or re-sign players to build a roster.
The Ravens have historically shied away from releasing players post-June 1. In the past, they have at most used just one post-June 1 release.
PITTA: At this point, who knows what will happen with TE Dennis Pitta. While he did start practice this week, Pitta himself didn't seem very sure of what would happen from here.
As indicated above, Pitta has a 2016 base salary of $5M and a 2016 Cap number of $7.2M. Given what would appear to be an increased chances of re-injury, it would be surprising if the team would allow Pitta to return under those terms. So, short of Pitta being released or him deciding to retire, the Ravens could work out a deal (with weekly game roster bonuses, perhaps) that would allow Pitta to get paid when healthy, but also protect the team if he can't.
Otherwise, whether it's by retirement or release, the Ravens are going to have to decide how they want to handle the $6.6M in dead money that has yet to hit the Cap and must be dealt with upon the release/retirement of Pitta.
The Ravens decision will come down to whether they want to eat all of the at $6.6M in 2016 or lessen the 2016 impact by pushing some of the dead money into 2017.
STEVE SMITH: WR Steve Smith, Sr. is scheduled to make $3M in base salary in 2016, with a very reasonable Cap number of $4.167M.
However, Smith, the most consistent offensive playmaker on the team – even at age 36 – has stated that he is going to retire after this season. While the Ravens most certainly will need to find a younger, star playmaking WR, you have to wonder if the Ravens have a chance to talk Smith out of retiring with the goal of finally securing the Super Bowl championship that has so far evaded him in his otherwise stellar career.
If Smith remains steadfast in his resolve to retire, his departure will create $3M in Cap space.
ARRINGTON: Given his multiple benchings already this season, the release of CB Kyle Arrington is probably the easiest release to call. While there is not a lot of Cap savings involved, the team will likely be happy to take the $1.433M in savings and use it elsewhere.
CANTY: DE Chris Canty coming off of what appears to be an injury-plagued season is probably the next easiest call for players to be released. In the last year of his deal, Canty's release will create $2.15M in Cap space for the team.
WEBB: CB Lardarius Webb's high 2015 Cap number (and the associated dead money) and his willingness to take a pay cut probably saved his roster spot last spring. Neither may be enough to save him this time around. While the team would probably prefer to not take on $6M in dead money, the Cap savings is probably too hard to ignore.
If both Webb and Pitta are released (retire), it is likely that one will happen prior to June 1 (with the team taking all of that dead money immediately) and one will happen post-June 1 (or via the post-June 1 exemption).
OUTLOOK
Over the next several months, there will be many reports on the Ravens' Cap status, most of which will not include many of the above factors that provide a full, realistic picture of their Cap situation. Those reports will likely make it look like the Ravens are in decent shape Salary Cap-wise. Unfortunately, as the above information shows, the team has a lot of work to do and, unlike many years, would appear to have a lot more roster issues to address.
The Salary Cap is a puzzle, and the Ravens' Front Office will likely use a combination of the above maneuvers to create the Cap space necessary to address the team's pressing roster issues.
First and foremost among them will be getting a restructured contract extension done with QB Joe Flacco. If that is done in a timely fashion (by February), the team will be in good shape. If no deal can be reached and the negotiations linger into the spring, the team may have to release a lot of players, restructure a lot of deals or sit out much of the early offseason. If not, it could be a long offseason, with little done to drastically improve the team's roster.
Now, obviously, the Ravens' Front Office will get under the Cap and will create some Cap space to allow them to make moves, but as this present year has shown, it may well be a struggle.  The 2015 Ravens presently have around $3.352M in available Cap space, but that has essentially been provided by two contract restructures (Suggs in March, Zuttah in October) and a contract extension (Yanda last week).  Over the last 10 or so years, the Ravens has made it clear that restructure of contracts (and creating Cap space today, at the expense of future Cap space) was something they would NOT do (and have only done on rare occasion).  Yet, this year, they've done it twice in the same season.
The larger increases in the Cap have certainly helped – and they can hope for a jump of more than $10M this year – but at some point, they may need to look to take a step back and get their Cap in order before pressing forward.  That's not to say that this is the year, but the above should illustrate that they've got a lot of work to do to get their 2016 Cap (and future Caps) in order.
As always, there's never a dull moment and the months of February, March and April will once again be an interesting time for the Ravens.