It Was Hard to Root For Steve Smith
Print this article
But I Did It Anyway!
For years, it was difficult to stomach the antics of Pittsburgh's Hines Ward.
Sure, some of the resentment was due to the fact that he played for Steelers teams that were a formidable foe for our Ravens. They won a couple of Super Bowls during his tenure in Pittsburgh. He was front and center for both of them.
I also remember watching Ward play and, much like Derek Jeter of the Yankees or Sidney Crosby of the Penguins, secretly wishing we could either have him on our side or a clone of him, at least. Truthfully, though, those kind of players are never really "cloned". They're cut from a different mold.
They're one of a kind.
Ward was a terrific player. Check that – he was a terrific FOOTBALL player. He played the game hard – sometimes even unfair or too-chippy, some would say – and yet, had a quality about his play that made him stand out from the others. He'll likely get in the Hall of Fame someday not just because he was a Pittsburgh Steeler, but he earned the accolades he received throughout his career.
Make no mistake about it, though, it was really hard to like Ward or appreciate him when he was running around in black and gold and acting like a horse's ass. You wanted to see him fail, desperately. Hines Ward would have made a terrific heel as a professional wrestler.
Over the last two seasons in Baltimore, Steve Smith Sr. has been our version of Hines Ward, albeit as a late-career rental rather than a "lifer" like Ward was in the Steel City.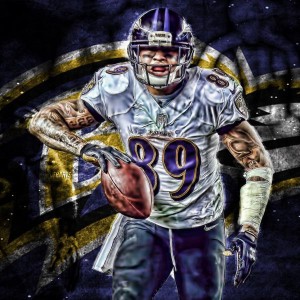 Honestly, I never really paid that much attention to Smith when he was in Carolina playing for the Panthers. And what I DID know, frankly, I didn't care for all that much. He was the loud mouth, ball spinning, too-chippy-for-his-own-good wide receiver who was seemingly in the middle of every skirmish, tussle or face-mask-grabbing incident. That's what I thought of him when he was in Carolina.
I learned to appreciate him a lot more in 2014 and 2015 when he was in purple. He's a worthy competitor, fighter, and scrapper…a guy who EARNED what he got in the game. It saddened me to see him go down in a heap on Sunday afternoon at midfield. The very second he crumpled to the ground, I said to my wife who was at the game with me, "He's done." She look at me like I was nuts and said, "How do you know that?" A minute later, they put a towel over his head so the players and fans – and TV cameras – couldn't see him crying as he left the field.
The towel said it all.
"He tore his Achilles," I replied to her. "He's done."
While I sat there watching the end of the game, my mind kept racing to Smith. I've been in the Ravens' locker room a lot. I know when they take an injured player in there they'll make a right turn just past the main doors and head to the medical room, where there are several long, padded tables for players to sit or lay on while they're examined.
I could just see Smith in there, laying down, knowing his season was over and, possibly, his career, too. That's a tough, tough, scene.
I remember once when I was in the soccer business and one of our players, Michael King, tore his ACL in Buffalo. I raced down from the press box as he was being treated on the field and literally met King and the team doctors as they lifted him on a table in the visitor's locker room at the old Buffalo Memorial Auditorium. They did a couple of quick tests and the doctor said, "I'm sorry. You've torn your anterior cruciate ligament. Completely. You'll need surgery to repair it."
A couple of tears ran down his face as King laid there, hearing the news.
Steve Smith Sr. knew his Achilles was torn long before Dr. Curl or Dr. Tucker confirmed that for him in the locker room on Sunday, but I'm sure HEARING them say it was devastating.
And as I sat there Sunday, thinking about Smith and his injury and the potential closure on an outstanding career, I couldn't help but think: "I wonder if he has any regrets?"
"Does he regret being a s**t stirrer?"
"Does he regret the fights with teammates in Carolina and the way he was basically kicked out of the organization after giving them blood, sweat and tears for more than a decade?"
"Does he regret the constant bickering with opposing players?"
"Does he regret being known just as much for his mouth as his ability?"
Much like Hines Ward was, Steve Smith is an easy target for people – like me, frankly – who would prefer to see their favorite players just play the game and NOT make a spectacle of themselves every Sunday.
I don't think I've seen a player in purple that offered more of a dichotomy for me in terms of embracing them and, at the same time, wishing they could somehow clean up their act a little bit so it wouldn't feel so "dirty" rooting for them.
I liked the way he played. And I hated it, too.
I'm also smart enough to know that Smith was the player he was BECAUSE of his style. Like Ward, his stature required that he come up with something extra. Like a heel in professional wrestling, Steve Smith needed to have a roll of quarters in his sock just to keep things fair with the bigger, faster, stronger opponents he faced. Asking him to just go up against them one-on-one didn't offer a balanced match-up. He needed help, which, usually, meant after-the-play shoves, back talking, taunting and just generally getting under everyone's skin. It's the way he leveled the playing field.
My guess is Steve Smith doesn't regret anything about his career.
If you asked him, I'm sure he'd say he wouldn't change a thing.
That's how "those guys" usually are…they give what they give and take what comes their way. If Steve Smith's career ended on Sunday, he did it his way.
I'm not sure I liked "his way" all that much, but I also know this…
I'd take him on my team any day.