No Development From James Hurst
Print this article
Part of the reason for the struggles of the Baltimore Ravens this season is the inconsistency of the offensive line.
After having one of the best five-man units in 2014, decline in play from Ricky Wagner, inconsistency from backup John Urschel when called upon, and no production from the left tackle position has led the line down the wrong road.
At left tackle, Eugene Monroe has failed to stay healthy. When he has managed to find the field, he is a far cry from his 2013 self.
His backup, second-year tackle James Hurst, has been much worse, though.
After delivering a promising NFL debut  last season, Hurst failed to ever develop during his rookie year. The situation has not changed this season, as Hurst – who has started four games – has shown little to no development, and has continued to be a liability on the left side.
Now a year and a half into his NFL career with plenty of playing time under his belt, it may be time to consider the fact that Hurst is not going to get any better. Coming out of college, despite his experience, Hurst's drawback was a lack of strength.
Which is a problem that cannot be suddenly fixed at the NFL level. Sure, a player can hit the weight room and bulk up, but functional strength is something a player either has or does not, and Hurst certainly does not.
He still repeatedly struggles with the strength of NFL defenders. Whether in pass protection or run blocking, Hurst rarely overpowers the opposition.
Early last season, Hurst showed some flashes as a dependable backup, but at this point, it may not even be worth keeping him on the roster beyond this season.
Against the run, Hurst is swift enough to move laterally, but he often simply cannot hold blocks long enough for run lanes to develop.
Here, he works toward the outside on James Harrison, one of the league's strongest players.
Hurst is able to properly engage with Harrison off the snap, and positions himself so that he can turn the defender away from the ball carrier to open up a run lane.
As running back Buck Allen bursts through the hole, the play looks promising. However, as Allen works off Hurst's right shoulder, Harrison effortlessly rips through Hurst's block and makes the tackle. Hurst is left to watch from behind.
Initiating the block and positioning himself is not the issue for Hurst; holding onto a block long enough for the running back to slip by is what gives him trouble. Unfortunately for the Ravens' rush attack, run plays to Hurst's side are often all for naught.
Likewise, strength is a major issue for Hurst in pass protection.
Against the San Diego Chargers, Hurst was overmatched by the strength of edge rusher Melvin Ingram.
Early in the play, Ingram has already engaged with Hurst and is powering through.
Notice how on the left side, right tackle Ricky Wagner has yet to even engage with his defender, yet Hurst is already struggling to fend off Ingram, with left guard Kelechi Osemele sliding over for aid.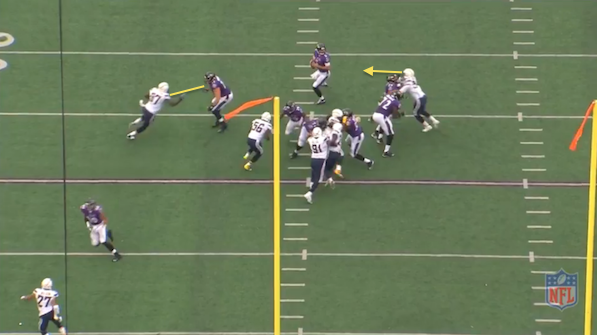 Before quarterback Joe Flacco can even settle in the pocket, Hurst has allowed Ingram to push through the block with ease and close in on the passer.
Hurst attempts to recover on the play, but to no avail as Ingram takes down Flacco for the sack.
Functional strength is something Hurst simply does not display, nor has he ever. Time and time again, Hurst is overpowered by the opposition, and there are many instances in which he appears to not be cut out for the NFL.
With Monroe's health constantly in question, Hurst is sure to hit the field on multiple occasions over the final eight games. Those games will be critical for James Hurst's future.
Unless notable positive strides are made to close out the year, he may be searching for work next spring.