Ravens Honor Military Families
Print this article
Despite the lack of smiles following their tough loss on Sunday, several Ravens players were full of them on Monday evening as they took to a makeshift football field under the lights at Fort McHenry in downtown Baltimore.
The reason?
Over 150 children whose parents currently serve or have served in the U.S. Military were on hand for a special clinic. Tose in attendance learned about many aspects of the game and went through some drills the pros perform on a routine basis.
The event coincides with the NFL's military appreciation Salute to Service and PLAY 60 campaigns, and Ravens RISE football outreach efforts, where the Ravens stress the importance of physical activity daily.
The drills, which were taught by area football coaches and military personnel featured something for everyone big or small. Players on hand included Kelechi Osemele and Ryan Jensen.
"It's just another opportunity to come out and give back and be a part of the community," said Osemele. "Young kids tend to look up to professional athletes so if they see them engaging in being a part of the community it might encourage someone to also get engaged and that aspect of it is why it's important."
Jensen also added his sentiments about being present for such an important event honoring military families.
"Being here for the military families and all they sacrifice, it's awesome to come out here and spend some time with the kids and make a couple of them smile." said Jensen. "It's big for me especially with military. I've had family who were in the military including my grandfather, so it's big to come out here and spend some time with them."
Joining Osemele and Ryan Jensen were teammates Lawrence Guy, Matt Elam, Terrence Brooks and Kapron Lewis-Moore, all of whom interacted with the many people on hand thanking the military personnel for their dedication to their country.
"I have a lot of respect for these people and what they do for us all," said Elam about the men and women who protect us each and every day. "I also wanted to come out here and make a kid's day and show them all how much I appreciate them."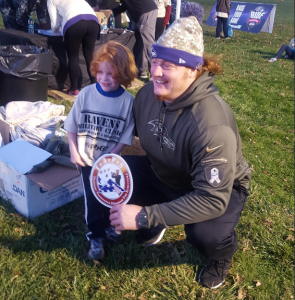 Lost in the frenzy of the game of football are the backgrounds from which many of the Ravens players come from.
Like Jensen, Guy comes from a family with an extensive military background prompting him to jump at the opportunity to give back and show his support.
"I feel honored to be able to help out military kids," Guy said. "My whole family is military so it's a privilege to help them out and have fun with the kids. In reality, it's all about the kids."
A great time was had by all at this special event and while it's impossible to thank every person who is serving our country or has served our country, Lewis-Moore summed it up perfectly as to what the event truly meant for everyone.
"I want to thank the many of veterans and people in the active military for what they do for our country and this is just a small appreciation of what we can do for them."
Great job as always by the entire Ravens organization. Class act all the way.
Follow me on Twitter @sportguyRSR