Panelists Discuss Ravens 2016 NFL Draft
Print this article
Local Media Debates Ravens' Draft Strategy
We sat down with four local area sports figures and asked them to weigh in with their opinions on the Ravens 2016 NFL Draft. Our panelists include Clifton Brown from Comcast SportsNet (@CliftonBrownCSN), Jeremy Conn from 105.7 The Fan (@JeremyConn1057), Phil Gentile from Charm City Sports Network (@IHateJJRedick) and Ken Zalis from PressboxOnline.com (@FansFantasy).
Q: During the pre-draft luncheon Assistant GM Eric DeCosta said, "Every single year, there's a guy that gets drafted in the draft in the third, fourth, fifth, sixth round at wideout who emerges as one of the best players in the draft. Our task is to find that guy this year and get him on the team."
Give me 2 guys who could be "that guy" in the 2016 NFL Draft.
Clifton Brown ("CB"): Rashard Higgins, Colorado St. – I love his nickname, "Hollywood", and he runs smooth routes. Plus, the Ravens have had recent success with another Colorado St. product, tight end Crockett Gillmore.
Malcolm Mitchell, Georgia – He has faced top college corner playing in the SEC, and has held his own. Mitchell could provide some depth as a slot receiver.
The Ravens have four picks in the fourth round. If either Higgins or Mitchell is still on the board, the Ravens should pounce.
Jeremy Conn ("JC"): Paul McRoberts SE Missouri St – He has decent size 6-2 202lbs and great speed. Hands need to get better but that's something he can work on, he has great quickness and can get off of the line with ease.
Nelson Spruce Colorado 6-1 206… He may go undrafted but I really like this guy. He doesn't have great straight-line speed but he is a fantastic route runner and he has terrific hands. He is deceptively quick to create separation.
Phil Gentile ("PG"): Daniel Braverman (Western Michigan) is a Julian Edelman clone. Love his talent. He can step in and contribute to an NFL offense immediately. Perfect slot guy. Kind of what they wanted Michael Campanaro to be.
Another name is Keyarris Garrett out of Tulsa. Led the nation with 1,588 receiving yards. He's 6'3″ and ran a 4.53 40-yard dash. Has all the tools to be a playmaker with the right coaching.
Ken Zalis ("KZ"): Round 2, Pick 6: Charone Peake (Clemson), 6-foot-2, 209 pounds
Despite his smallish hands, Peake possesses an outstanding combination of size, length and deep speed. He looks like a No. 1 receiver. He has excellent acceleration into routes. He's a big athlete with some sneaky moves underneath to separate in tight spaces. He lacked production at the college level. Peake reminds me of Pittsburgh's Martavis Bryant.
Round 4, Pick 6: Pharoh Cooper (South Carolina), 5-foot-11, 203 pounds
Cooper is strong with an excellent burst off the line of scrimmage. He has a limited route tree at this point of his development, but he breaks tackles and does not shy away from contact.
Q: Is Notre Dame tackle closer in ability to Laremy Tunsil or to the other Big 10 tackles, Jack Conklin from Michigan State or Taylor Decker from Ohio State? Pick a current NFL player who is a good benchmark for Stanley's ceiling as a pro.
KZ: He reminds me of Riley Reiff from IOWA in the 2012 Draft. Plays for Detroit Lions…adequate LT but probably will get moved to OG or RT in a few years.
PG: I think Stanley is closer to Tunsil talent-wise only because they are both projected as left tackles where as Conkin and Decker are seen as right tackles. If I had to compare Stanley to a current NFL player, size-wise and skill-wise to former Seahawks 1st round pick Walter Jones. Jones played 12 seasons as the Seahawks starting left tackle and that's what the Ravens could potentially get if they make the "unsexy" decision to draft Stanley.
CB: I'd say Stanley is closer to Tunsil. If he improves his strength, I think Stanley could ultimately be better than Tunsil. At the combine, Stanley took exception to being called a finesse player. I like that. I think Stanley wants to prove he has a nasty streak. The NFL player I would compare Stanley to is Matt Kalil, the starting left tackle for the Vikings who went fourth overall in 2012.
JC: Hard for me to judge these guys, Tunsil is clearly the best. We have seen a bunch of Tackles in years past struggle at this level. It's such a tough position to pick in my opinion.
Q: Will the Ravens stay put at No. 6?
JC: I think the Ravens will stay put at 6. I've been saying that they would take Myles Jack if he is there, but for some reason I believe it's going to be DeForest Buckner. I always check out what Daniel Jeremiah of the NFL Network thinks. He was a former Ravens scout and he knows how the front offense looks at players and he likes Buckner and more experts are jumping on board with that player.
PG: My gut tells me they trade down. The Ravens roster is severely lacking depth across the board and adding a couple high draft picks could give this team the youth they need to stay relevant in the AFC. It will come down to demand for the quarterbacks in the top five whether or not the Ravens start getting phone calls for the 6th pick.
KZ: Well right now the tealeaves say Buckner but that assumes a QB is taken in the first 5 picks. IF no QB in the first 5 picks, I truly think the Ravens trade back, but this assumes they stay put…so Buckner if a QB goes somewhere in picks 1 thru 5, If no QB I will say they select Vernon Hargreaves, CB, Florida.
CB: I think the Ravens will stay put at No. 6 and draft inside linebacker Myles Jack of UCLA. Jack's ability as a three-down linebacker, playing next to C. J. Mosley, would make the Ravens better against both the run and the pass. Jack would be an upgrade over Daryl Smith, and Jack's ability to cover tight ends and running backs would help the Ravens' defense get off the field on third down. If the Ravens trade down, they shouldn't trade out of the top 10. They need to make sure they get an immediate impact player, and they already have a nice stockpile of draft picks.
Q. The Ravens pick at No. 36 is probably their most intriguing. Give me the player that you think could be available at that pick that fits a need and has a first-round grade.
PG: Well if I think the Ravens are trading back in the first round that obviously means they don't land Joey Bosa, so pass rush is still a need. Oklahoma State's Emmanuel Ogbah is a freak of nature who will drop to the second round since he doesn't seem to play hard on every down. You can't argue with production, though, and the kid had 13 sacks in his junior year. Guys that get sacks in college tend to find ways to get them on Sundays and I think Ogbah could be a steal with the 36th pick.
JC: I love Tyler Boyd, WR out of Pitt and I also agree on Emmanuel Ogbah DE/OLB – an intriguing player that should be available at the beginning of the second round.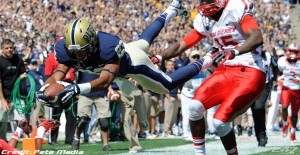 CB: Clemson cornerback Mackensie Alexander should be available at No. 36, and if he is, the Ravens should take him. A few other cornerbacks have created more pre-draft buzz, like Eli Apple of Ohio St. and William Jackson of Houston. So I think Alexander will fall to Round 2. But I think Alexander has the cover skills to help the Ravens in the slot. Yes, I know Alexander doesn't have any career interceptions, but I love the confidence he plays with at 5-foot-10. I think he's going to be a solid corner.
KZ: I think the team is hoping for a fall for Noah Spence, OLB, Western Kentucky via Ohio State, but a name to remember is Kamalei Correa, OLB Boise State.
Q: If healthy Notre Dame LB Jaylon Smith could be this draft's No. 1 overall pick. Where will he go in this draft if there isn't a clear prognosis for his injury by April 28?
KZ: I think someone takes a shot on him in the 2nd round. The talent is too good on tape. We have heard stories this week of him squatting 400 to 600 pounds, so that seems to be some good news for Jaylon.
CB: I don't see any team taking Jaylon Smith before the third round. It's just too much of a risk. I think he'll go in the fourth round, as a luxury pick to team already strong on defense like the Panthers, Broncos, Seahawks, or even the Bengals. Hopefully, Smith recovers and becomes the player he once was. He looked special before his injury.
JC: I think someone will snag him in the second round. Someone will see value with him there.
PG: I wouldn't take him until the 3rd or 4th round. You're absolutely right he's a special talent when healthy (probably a top 3 talent) but he literally needs to regrow a ligament in his knee before he can even think about playing football again. A team like the Seahawks or Broncos could take a gamble on him early but the Ravens don't have that luxury. They need 3-4 starters from this draft and Jaylon Smith will need to watch from the sidelines in 2016…if not longer. No thanks.
Q: What players in this draft are the most overrated and underrated.
PG: Sorry Cliff but for me the most overrated is CB Mackensie Alexander. I can't see drafting a guy in the 1st round that didn't record a single interception during his time at Clemson. Not a deal breaker, but there are other talented cornerbacks in this draft class I would take before him.
Underrated? How about the most underrated (or unheralded) position in football? Ryan Kelly from Alabama (6'4″, 311 lbs.) will be your center for the next decade. People laughed when the Cowboys took Travis Frederick a couple years ago and now they have the best offensive line in the game. Ravens fans have seen what a bad offensive line does to an offense. It ain't pretty.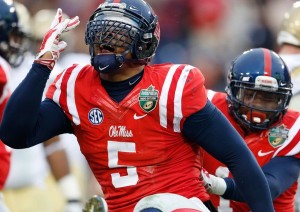 CB: No worries Phil. For most overrated, I'd vote for Ole Miss defensive tackle Robert Nkemdiche. He's talented, but I'm worried about him off the field, and he's inconsistent on tape. Nkemdiche has the ability to be a superb NFL player. But from a distance, I see too much Albert Haynesworth in him. The Ravens brought Nkemdiche in for a visit, but I think they should stay away from him.
For most underrated, I'd go with Wisconsin outside linebacker Joe Schobert. He's a three-down player who gives it his all every snap. With that stockpile of fourth-round picks, the Ravens could do worse than using one on Schobert, who might help their pass rush and reduce the number of snaps that Terrell Suggs and Elvis Dumervil need to play.
JC: Overrated? Pick a quarterback…I wouldn't take any of these guys with a top 10 pick.
Underrated- Ezekiel Elliott RB Ohio St…. He will be a superstar at this level, but RB's have been devalued because of the success of a lot of backups in the NFL. He may still be a top 10 pick but I think he is a top 5 player in this draft.
Tyler Boyd – WR PITT – I absolutely love the way he plays, big time playmaker.
Noah Spence – DE Eastern Kentucky… Explosive player, He has some off-field issues, which may cause him to slip in the draft.
KZ: OVER-RATED: William Jackson III, Houston is a great combine story but the tape shows an average player, also outside of the blazing 40 yard dash, his combine numbers were not great. He will go in round one, but buyer beware.
UNDER-RATED: Devontae Booker, RB, Utah is why the Ravens shouldn't take Elliott in round 1. Booker is a monster waiting to explode and he will be a late 2md to 3rd round pick.
Q: The Ravens turn in the card with the name of "this guy". Tell me which "this guy" would get you excited and which would trigger a big disappointment.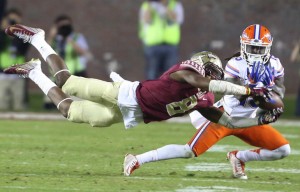 JC: If somehow Ramsey slipped to 6, I would be extremely excited… Would love to see Tyler Boyd show up here with the second round pick.
I'm never disappointed in anyone the Ravens pick; I know there is a method to their madness.
KZ: I am on record that I do not want Joey Bosa! He had a great sophomore year, then big 10 teams game planned for him and well 2015 wasn't a great year. 5 sacks…I can get a 5th rounder for that. I do not trust Ohio State front 7 guys and never will. John Simon anyone?
I will do cartwheels for Myles Jack or Jalen Ramsey. They are both game changers.
CB: The guy I'd be excited to see with the Ravens would be Arizona inside linebacker Scooby Wright. He's a playmaker who a non-stop motor, who could create more turnovers and help the pass rush with his blitzing. There are concerns about Wright's lack of size, but I think he has the instincts and quickness to excel. I'd consider Wright in the third round, and if he lasts until Round 4, I'd run to the podium for him.
The guy who would trigger disappointment would be Alabama running back Derrick Henry. I think the Ravens have enough running back depth, and I'm wary of recent Alabama backs.
PG: I really like Miles Killebrew, safety from Southern Utah. Tackling machine in the film I've watched. Could transition to linebacker. He's the type of defensive player we love here in Baltimore. Plus he has an awesome name.
While I think Laquan Treadwell is the top receiver in this draft class I can see why teams would value Corey Coleman, Baylor WR more. He has superstar ability and could be this year's Odell Beckham Jr. Coleman had 20 touchdowns in 2015…two more than Treadwell had his entire college career. He's not polished or a great route runner. He's just a touchdown machine and NFL teams value touchdowns last time I checked.