Hype Abounds Before The 2016 NFL Draft
Print this article
Bosa, Ramsey & Buckner: Worthy of Top 6 Pick?
Hype abounds before the 2016 NFL Draft and for a few top of the draft players, many are wondering if their performances will ever match the hype?
Thankfully the Ravens don't have a Top 10 pick often. When they do, with the exception of Travis Taylor, the Ravens get it right – particularly when they have a single digit pick, like say Jonathan Ogden or Peter Boulware or Jamal Lewis.
In the 2016 NFL Draft we expect Ozzie Newsome to select a player who will ultimately play at the level of these Ravens greats and thanks to insanely QB-needy teams like the Rams and Eagles, those chances have improved greatly.
Three players often pegged to the Ravens in mock drafts are Joey Bosa, Jalen Ramsey and DeForest Buckner. All are gifted athletes and if any becomes a Raven, he will undoubtedly help the team.
But will he help enough to justify the No. 6 pick in the draft?
Will he help like other single digit picks before him have?
It's interesting how the hype machine affects the public's perception of players, so much so that on draft day, when a less hyped player is picked before someone like Bosa, fans will wonder if some in NFL war rooms are smoking crack.
Dallas Cowboys center Travis Frederick comes to mind. Many thought that he was a good player but no one thought he was Round 1, Pick 31 good. We laughed at Jerry Jones but since that 2013 pick, Frederick has been to two Pro Bowls and has twice been nominated as a second-team All-Pro.
Not too shabby.
What teams want, what they need and how they stack their respective boards is their call, and those boards aren't, nor should they be, shaped by public perception. But they should be shaped in part by production at the collegiate level.
Joey Bosa is sometimes compared to Terrell Suggs yet Bosa had only 5 sacks in 2015 for Urban Meyer's Ohio State Buckeyes. Comparatively speaking Suggs had 24 sacks during his final season at Arizona State. In fact it took Bosa all of 37 collegiate games to register 26 sacks.
Jalen Ramsey is being touted as a versatile playmaker who is better suited to play safety as a pro, yet in 41 games as a Florida State Seminole, Ramsey had just 3 interceptions. Comparatively speaking Ed Reed had 21 picks in 45 games as a Miami Hurricane.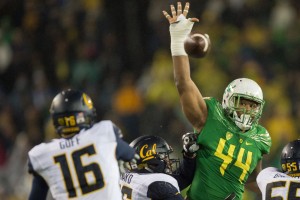 And then there's DeForest Buckner who in 53 games while donning the multiple uniform ensembles of the Oregon Ducks, had 18 sacks, 36 tackles for loss and 2 forced fumbles. The player he's most often compared to is Arizona Cardinals lineman Calais Campbell who in 36 games as a Miami Hurricane recorded 19 ½ sacks, 39 tackles for loss and 3 forced fumbles.
All three are likely to be solid pros but are they really deserving of such lofty draft status or are they simply products of media hype?
For the moment, we aren't sure but I'd rather find out on some other team's watch. Not that of the Baltimore Ravens.
Make it Myles Jack, Laremy Tunsil or Ezekiel Elliott for me, to go!