Ravens Disappoint in Response to Monroe
Print this article
Perhaps I'm reading from the wrong media outlets, but the big black eye placed on the face of the NFL this offseason isn't getting much coverage. We shouldn't be talking about Tom Brady's ongoing legal battle. We shouldn't be talking about the Ravens' transgressions against the CBA, either.
No, the biggest blow to the already diminishing reputation of the NFL this offseason over the last few months has been the string of events related to brain injury.
I love football. Even as we learn more about the harm that it poses to players, I find the game itself incredibly compelling. Yet, I struggle to participate with a business that, while lucrative for many players, may cost them their physical comfort, memory, and cognitive function in the future.
Each year, athletes become bigger, faster, and stronger. Modern medicine improves the ability of those athletes to thrust themselves into violent contact. Technology continues to refine our ability to view their feats and accomplishments in stunning detail.
But it also continues to refine our perception of the carnage it causes. It could limit our appetites for the sports of our modern-day gladiators.
Buffalo Bills GM Doug Whaley acknowledged the incongruity between football and the human body only last week . In a carefully written statement, he backtracked the following day. I don't question Whaley's love of football. I accept that he was not trying to indict football. He just wanted to emphasize that it is physically demanding.
I disagree, however, with his subsequent assertion that football has a bright future thanks to the measures taken by the league thus far to ensure the safety of its players. Football can continue to thrive, but I am uncertain that the so-called safety measures the league has taken are sufficient. Safety will require a real commitment to innovation.
The NFL has not adequately undertaken that responsibility. The trajectory of football could look quite similar to the tobacco industry. After years of rapidly increasing popularity, revelations of the negative consequences of cigarettes eroded sales.
Smoking is undeniably more fatal than football. I'm not arguing whether citizens should be allowed to make their own decisions about the health risks they take by playing football or smoking. I just see an industry facing a challenge, an organization which has to make a strategic decision to ensure its future profitability.
Tobacco still makes its money thanks to international expansion and aggressive price inflation. While the NFL is certainly experimenting with opportunities abroad, it does not sell to consumers in the same way cigarette manufacturers do. The NFL gets most of its revenue selling eyeballs to television networks. If it loses 50% viewership (roughly the equivalent decline from peak US cigarette consumption in 1981 to 2007 levels per the Department of Agriculture), it will not be able to extract a premium price from its customers.
So while cigarette companies can parade filtered and low-tar products before the public (that cost them little to nothing above traditional cigarettes, and don't actually decrease the health risks of smoking), the NFL can't just introduce a marginally better helmet or take away the kickoff and expect to remain successful in business.
I do not know precisely how the NFL can balance entertainment with an acceptable level of safety to sustain it as our national obsession. Maybe the league will need to look past short-term profits to invest in meaningful solutions for its players.
One of the places it can start, is research on medical marijuana.
I have not smoked weed. I worked in an organization that treats marijuana like any other controlled substance. It conducted frequent and unannounced urine tests with a zero tolerance policy. One positive test would result in immediate dismissal and a paperwork trail that could prevent future government benefits or employment. In that context, I am unequipped to comment on the effects, good, bad, humorous, or otherwise of marijuana.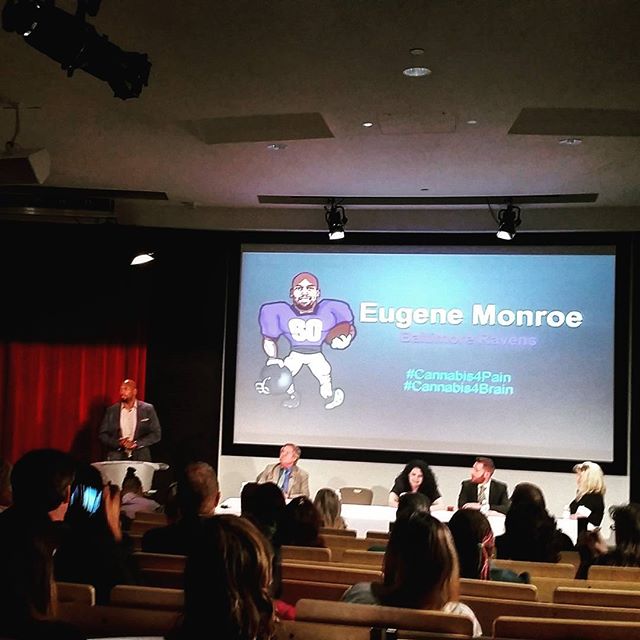 In that same organization, I witnessed devastating injuries and loss of limb that require the use of powerful opioids. The sorts of pain management regimens I observed had significant effects on patients. Some developed dangerous habit-forming reliance on those drugs. In the market for drugs, heroin is now cheaper than prescription pills. It has become increasingly the vice of choice for those addicted to painkillers. In that context, I feel keenly and painfully equipped to discuss the risks of such treatments.
I don't know whether marijuana is an adequate substitute for Percocet, Dilaudid, Toradol, or other strong NSAIDs. I am cautiously optimistic about its benefits for treating brain injuries. As with any investment, some of the NFL's research will end up as write-offs that lose millions and don't produce a safer game. But it will be costlier in the long run to avoid such opportunities.
In an articulate article for the Player's Tribune last week, Eugene Monroe explained how the treatment plans the league currently endorses plague the health of their recipients. The response from Baltimore Ravens media lacked any sort of solidarity. They not so subtly called out Monroe, saying it wasn't "a good look," for serving as a panelist at a UNLV conference on medical marijuana research. They chose to call out him for his public appearance for a cause that he clearly believes in. They decided not to point out several other presumed starters who were absent. And most of them were fully healthy.

Via the Ravens' site.
Coach Harbaugh was no less disappointing. For a man with a tremendous moral compass and a reputation for loving and listening to his players, he wasn't exactly the most supportive coach. "I promise you, he does not speak for the organization," Harbaugh said back in March.
As one of the Ravens' leaders, Coach Harbaugh cannot advocate for Monroe's cause. Marijuana is still illegal in the majority of states, is banned in the NFL, and has been ruled out by the commissioner. But he could show that he's on Monroe's side without advocating for his cause.
Monroe has been a liability in terms of playing time and health since he signed a significant contract with the team. But he's also one of the most upstanding Ravens. He is a dedicated family man, a reputed training warrior with a good work ethic, a sponsor for a Maryland-based youth athletics nonprofit, a supporter of military veterans (in word and deed), and a self-described nerd. He isn't recklessly calling for recreational drug use. He calls for the serious investigation of a potentially therapeutic tool.
This offseason, the Ravens devoted a lot of resources to improving their training, diet, and recovery protocols for players. So why are they averse to the input of one of their own about how he deals with the consequences of football?
When it comes to possible solutions that benefit players, I will borrow Harbaugh's own words on instant replay: "It is real simple. It is safer for the players and secondly, it allows us to get it right…. What do you mean we can't fix it? We can't fix it because we decide not to be able to fix it. If we can fix it, just fix it."
I couldn't agree more, Coach. It behooves the leaders and decision-makers in the NFL to explore any resources that will actually improve the game for the players. Any effort should be exerted toward ensuring that football stays around for all of us to enjoy. It won't happen overnight, but marijuana may or may not be part of the solution. Let's not distance ourselves from potential answers.
If we can fix it, just fix it.