Print this article
Adversity is a Way of Life For Ravens WR
He comes from a football family – an NFL family.
He shares a bond with his brothers, inspired by his Dad, a 10-year NFL vet.
The brothers shared a dream to follow in their Dad's footsteps and make it to the bigs.
Breshad Perriman always seemed to be that guy, that player with an abundance of talent who just couldn't quite put it all together yet. But it is there. You see the unique skills. He sees it too, but hasn't yet grasped the potential.
Like most determined journeys, Perriman's was met with adversity. As an adolescent he battled through Osgood-Schlatter ("OS") disease, a disorder involving painful inflammation of the lower front of the knee, where the large tendon (patellar tendon) attached to the lower portion of the kneecap (patella) attaches to the bone (tibia or shinbone) of the leg below.
It forced him to the sidelines and he was unable to compete during the two years leading up to high school.
Stability wasn't part of those formative high school years. Breshad went to three different high schools before he finally graduated. The instability and lack of familiarity couldn't have had a positive effect on his career as a student-athlete. To make matters worse Breshad suffered a season-ending ankle injury early in his senior season.
Add it up and despite his bloodlines, colleges didn't come calling in droves. Only two expressed interest, UCF and FIU.
But the potential remained.
During the 2015 NFL Draft, the Baltimore Ravens were lured by the promise of his physical attributes. They coveted a tall receiver who could make contested catches and take the top off a defense – one capable of unleashing the potential of Joe Flacco's bazooka right arm.
OTA's in 2015 confirmed the beliefs of the Ravens scouting department. He glided across the field and effortlessly blew by defenders. The apparent match made in heaven seemed to be just a training camp and preseason away from reality.
But reality for Breshad became a living hell.
On day 1 of training camp Perriman injured his right knee. The Ravens could not have handled the injury any worse from a public relations perspective and when all was said and done, the team, with their flawed brush, painted a poor picture of their No. 1 pick. It was as if a bruise ended his season and consequently fans and even some derelict members of the media labeled him as "soft".
But Perriman remained steadfast in his determination. He vowed to overcome another career obstacle. Months of grueling rehab were greeted with enthusiasm. His determination was strong and despite significant personal tragedies, the stroke suffered by his Dad and the death of a close friend (Tray Walker) each morning Breshad Tweeted words of hope.
Never let a situation define you.

— Breshad Perriman (@B_Perriman11) June 1, 2016
He was determined to finally tap into that vast potential. Teammates took notice and praised Breshad's play during recent OTA's.
But there would be another major obstacle, as adversity reared its ugly head yet again. This time in the form of an injury to his left knee. The news of the injury spread quickly and the words "soft" and "bust" were slandered about social media like a pinball.
Frustrated fans were venomous.
RIP Breshad

— lindsey ok (@lindseyyok) June 11, 2016
I can confirm that Perriman doesn't exist https://t.co/Zg6AIPcorP

— lindsey ok (@lindseyyok) June 11, 2016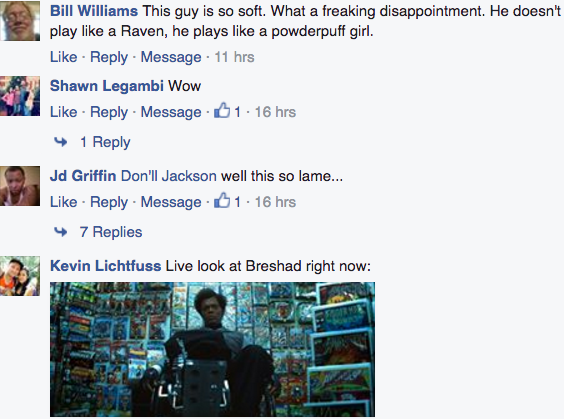 Many of these same fans will proclaim themselves as "diehard" and say that the Ravens are like family to them. Yet they treat a great, hard-working kid who has weathered so much adversity – one who if he didn't have bad luck, wouldn't have any luck at all, with disdain and scorn as if he intentionally tried to upset their apparently flawless lives.
"Cut him", "Get rid of the bum" echo in the halls of social media and on the airwaves of 105.7 The Fan.
Irrational knee-jerk responses serve little purpose. Patience and support are the responses of true fans. We only need to look across the parking lot from M&T Bank Stadium to Camden Yards and Manny Machado. Remember his two blown out knees?
Somehow I don't think this second injury will weaken Perriman's resolve. He's wired to absorb the vile verbal attacks. If the news this week from Dr. Andrews is bad and Breshad is out for yet another season, he'll go back to work and grind it out again in order to be back on the practice field in 2017.
Breshad Perriman won't stop until he makes it.
His words, not mine.
And when he does maybe the "diehard" fans will have learned a lesson.
But I wouldn't count on it.