Shining a Light on the Positives
Print this article
Growing up in the Bower household was a lot like growing up in most American households, I'd imagine – at least when it came to Sunday afternoons. We'd gather around the television watching the games until my mother hollered for me to go to bed.
"Oh there's just a few minutes left, let the boy stay up and watch," would come my father's reply.
Though, living in the Baltimore 'burbs, I didn't have a home team to cheer for, I fell in love with the game itself and all of its players. Once the Ravens came to town, I was a faithful watcher and rooted heavily for the team with which Mr. Modell so kindly graced us. By the time they won their first Super Bowl, the team had had truly stolen my heart. Sure, I loved the Orioles and watching the games with my family, but there was just something about football that captivated me.
Throughout my many life changes as the years rolled on from teenager to young adult, football Sunday was a constant. The game would always be on, no matter where I was. Whether it was at the volunteer fire station or at an Uncle's house, the folks around me and I lived and died with every play the Ravens made.
Rather than waning as adult responsibilities continued to pile up, my passion for all things purple instead continued to grow. I knew that I wanted to get more involved somehow, someway.
But how does a regular everyday fan make that happen?
Fortunately for me – and many others – we live in the world of social media.
The rise of Facebook went a long way in helping me get started. I made countless posts about the Ravens, sharing my opinions, pictures, and random tidbits of information about the team.
Fate intervened and I got my first break covering the team, recruited by a little website known as Football News Now. I started covering what I call "player positives" initiatives from our hometown Ravens and several other NFL teams. The players' personal stories, from the things they do to help the community to the adversity they have battled to get to where they are in their own lives, captured my imagination. It was an honor to help tell their tales.
After all, these players don't just shine on Sundays.
[Related: See all Player Positives posts here]
Fast forward two years, to when I met Russell Street Report (at the time Ravens 24×7) owner Tony Lombardi. Tony and I had several conversations over the span of a few months and he was kind enough to bring me on board. He was kind enough to allow me to continue giving my opinions on the team in addition to bringing the player positives angle to his site. I jumped at the opportunity to work for him and be a part of his knowledgeable team of writers.
During my time covering player positive initiatives I've had the pleasure of getting to know many players off the field. Two players who really captivated me with their efforts in the com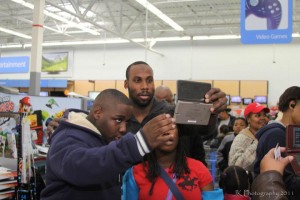 munity are former Ravens  Jameel McClain and Anquan Boldin. Both McClain and Boldin battled adversity growing up and throughout their careers, often putting others' needs before their own. They truly epitomize the term "player positive." From back-to-school shopping events for underprivileged youth to feeding the hungry and making sure families in need enjoy the holidays, they truly cared – and continue to do so. Both players still give back to Baltimore-area communities today.
There are plenty of places that fans can go read about the latest NFL player to be arrested or accused of domestic abuse or some other awful crime. That's only one side of the coin, though. Take it from me: the good that players do far outweighs the bad. I've made it my mission, through the player positives series at RSR, to bring this fact to light. Though a story about a player hosting an event for the homeless will never "go viral" like a video of a fight in a club will, these stories still need to be told.
Over the past few years, I've had the privilege of spending days at the Castle covering the team while continuing to shine a light on the wonderful things the players do in our community. The Russell Street Report has not only given me a platform to share my views and opinions but has afforded me some pretty cool experiences. From locker room interviews with players I watched over the years to training camp coverage to radio interview spots both locally and nationally, it's been a dream come true.
It's been an honor being part of such a great team at the Russell Street Report, Baltimore Magazine's 2015 Best Sports Blog.
As training camp hurtles towards us, I am looking forward to making some more great memories here in  the 2016 season. As always, I greatly appreciate the trust that Tony – and you, the readers – has put in me to be your eyes and ears in Owings Mills. Hopefully I'll be bringing much more good news than bad in the coming months.
Follow me on Twitter @sportguyRSR