2016 Positional Preview: Receivers & TEs
Print this article
For once, the receivers and tight ends don't seem to be a glaring weakness on the Ravens roster. For once, they are going to have to make some tough decisions and cut some guys who have upside and are actual "players" in this league. As of right now, I'm not sure how the roster breakdown is going to go for these two groups, but it is going to be interesting and I think a lot of fans are going to be frustrated as September rolls around.
Positional Review: Wide Receiver and Tight Ends
• Returning Players (WR): Steve Smith Sr., Kamar Aiken, Breshad Perriman, Dan Brown, Kaelin Clay, Jeremy Butler, Michael Campanaro, and Chris Matthews.
• Newcomers (WR): Mike Wallace, Keenan Reynolds, and Chris Moore.
• Returning Players (TE): Dennis Pitta, Nick Boyle, Crockett Gillmore, Maxx Williams, and Darren Waller.
• Newcomers (TE): Ben Watson.
2015 Recap
Aiken may have been considered just a special teams guy and a journeyman prior to last season, but not anymore. How could any fan consider him to be just another guy (a.k.a. JAG)? Going into 2015, Aiken was probably the 3rd or 4th receiver on the depth chart. He, like everyone else, was learning Marc Trestman's play calling and game plans and he had guys like Steve Smith Sr. and 1st rounder Breshad Perriman sitting in front of him.
While no one wants to see the injury bug hit a team like it did Baltimore last year, I can't help but think that maybe in some small sadistic way, it was a blessing in disguise because the team got to see what Aiken is capable of. With four different QB's throwing him the ball (Joe Flacco, Matt Schaub, Jimmy Clausen, and Ryan Mallett), Aiken produced 75 receptions, 944 yards, and five scores. Making Aiken's performance in 2015 that much more impressive is the fact that he had no one opposite of him after Week 7 when Senior went down with an Achilles injury.
[Related: 2016 Positional Preview – Running Backs]
Another bright spot from 2015 was how rookies Javorius Allen and Maxx Williams contributed in the passing game. Believe it or not, Allen was third on the team in receptions with 45. Williams had a slow start, but came on strong towards the end of the season and finished up with 32 receptions, 268 yards, and a TD.
Lastly, I really liked what I saw from Crockett Gillmore. I know he isn't as dynamic of an athlete as Williams or newcomer Ben Watson, but Gillmore has the size to be a mismatch in the red zone (6'6" 270-lbs), has very good hands, is a tenacious blocker, and as a former basketball player, is adept at high-pointing passes and boxing out defenders. I don't know that he'll ever be a 1,000-yard tight end (or even an 800-yard one), but I think he is steady and consistent and pretty versatile. Gillmore was 5th on the team last year in receptions (33), 3rd in receiving yards (412), and T-2nd in receiving touchdowns (4).
2016 Outlook
I think the biggest question surrounding this group is where Senior, Perriman, and Pitta are, physically, and as a result how much they will contritbute. Assuming Senior comes back ready to go for September, I can't see any way that he isn't a starter along with Aiken and Mike Wallace.
Speaking of Senior, if anyone can come back from that injury, he can. I just worry that he is going to try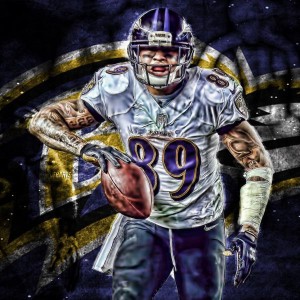 and push it too hard too quickly. The coaches and training staff are going to have to really keep an eye on him and make sure that he's not overdoing it out on the field. I think they'll keep him out of training camp for the most part and will work him into the game plan slowly. If all goes well, I fully expect Senior to be at the top of the rotation and the 39 receptions he needs to eclipse 1,000 career receptions is well within his grasp. In doing so, he will be in the Top-10 for career receptions with guys like Cris Carter, Andre Johnson, and Isaac Bruce.
Signing Wallace was a huge move – even if he doesn't put up big statistics, he provides a deep threat that keeps defenses honest and gives the other guys route lanes underneath. Some fans aren't real keen on this signing and I get why. He was mediocre in Minnesota and in Miami. However, neither of those two teams had a QB like Flacco with an arm to push the ball down the field and over the top of defenses. I don't know if Wallace will have the caliber of seasons that he did while in Pittsburgh (1,257 yards in 2010 and 1,193 yards in 2011), but I do think that he will be the 3rd receiver in the rotation with Aiken and Senior. Wallace could very well be the difference maker for the offense this year.
I feel terrible for Perriman. Getting injured is part of the game and the injuries he's dealt with thus far and the situation with his father are not his fault. Nor does a lack of conditioning or taking care of his body cause them. It's just a real shame. When he's on the field, you can see why the coaches and front office took him in the 1st round of the 2015 draft. He's tall and muscular with long arms and incredible top-end speed. This is a guy that has been clocked in the 4.2-second range while running a 40-yard dash and at 6'2" 215-220 lbs, that's incredible. I do think that he will contribute this year, but I think that it will come later in the season.
[Related: 2016 Positional Preview: Secondary]
Rookies Keenan Reynolds and Chris Moore are really intriguing as well. Moore doesn't have elite vertical speed, but he has that "my ball" mentality that a lot of elite big-play receivers do have. I went back and watched a few college games of his as well as some highlight reels and I came away pretty impressed. He absolutely torched Ohio State and many other college defenses in 2015 and it isn't like he had some All-American QB throwing him the ball or really any other star players around him. I don't anticipate Moore starting at any point in 2016, but I do think he'll be given some shots here and there.
Reynolds, on the other hand, has a much longer uphill battle than Moore does simply because he was a quarterback in an option-based offense at the Naval Academy. He's a great story and he's turned some heads already this summer, but I would be surprised if he contributed much outside of special teams this year. Still, I think he makes the roster. No way the Ravens go through all of the paperwork to get him eligible just to cut him – talk about a PR nightmare.
Unfortunately, I think this may be an end to the Michael Campanaro story with the Baltimore Ravens. When he is healthy and on the field, he is incredibly versatile and explosive. He really does play with little concern for his body. I just don't think the Ravens can afford to pass on someone like Reynolds in lieu of Campanaro. He just can't stay healthy. I suppose it is possible that the Ravens keep seven receivers, but with the possibility of keeping 4-5 tight ends, I'm not sure seven receivers is in the cards.
Regarding those potential 4-5 tight ends…
Dennis Pitta is a great story, but I'm still 50/50 on whether or not he is on the team come September. At this point, it is just a numbers game with roster space. Keeping Pitta means potentially parting ways with another guy who is younger, has more upside, and would get scooped up by another team (someone like linebacker Victor Ochi or safety Terrence Brooks). Pitta has always been a good route-runner with great hands, but who knows how he'll respond to getting hit? There is also that price tag that he is carrying around. I think it makes sense to see how he plays during preseason practices and games and maybe even see if they can find a trade partner, but I'm still not 100% sold that Pitta is a Raven in 2016 and that the Ravens are planning to carry five tight ends.
I think the starters will be Gillmore and Williams with Watson splitting a fair number of snaps with each. Gilmore has quickly become one of my favorite Ravens. He's mean, he's tough, he's a good blocker, and he's a consistent receiver. I think the three of them will make for a rather dynamic tight end trio that Trestman can use to attack all parts of the field. I also think Williams continues to improve from where he left off in 2015 and an off-season in the gym will do him some good. Keep in mind that Williams just turned 21. The sky is the limit for him.
Statistically, Watson is coming off of his best season as a pro (74 receptions, 825 yards, 6 scores). I'm hesitant to get excited about him with the Ravens though. Don't get me wrong; I like the guy. I think he's incredibly intelligent, he's a family man, he's active in the community, and he's a great locker room presence. I get it from a depth perspective. However, the big 2015 numbers came with the New Orleans Saints and an offense that has averaged 653 passes per season since 2011. Joe has only topped 600 passing attempts once in his career and that came in the dismal 2013 season when the Ravens had the worst running game in the league and were constantly playing from behind. The point is, Watson (at 36 years old) is not likely to replicate 2015 numbers in Baltimore.
Nick Boyle is suspended for 10 games and we all recently found out that Darren Waller is also facing a four-game suspension. Waller being suspended is definitely disappointing because he has reportedly taken to the position move very well (WR to TE) and spent the off-season adding some weight and developing better blocking technique. I don't like seeing any of our guys getting suspended, but this may actually be a blessing in disguise from a roster perspective. With Waller and Boyle out, it means they don't have to cut them right away and they can give Pitta a few more weeks to see if he can perform.
I'm hoping the Ravens keep Dan Brown on the practice squad. He showed nice hands last year and I think his size (6'5" 230-lbs) could make him a factor as a TE/WR hybrid like Waller. Kaelin Clay and Chris Matthews are more known for their special teams ability and I think they'll be given every opportunity to make the roster, but it will be difficult for them in a crowded market.
Lastly, Jeremy Butler is going to have a tough time making the final cuts. I like Butler. I think he's improved each year he has been with the Ravens and outside of Aiken, I think Butler was the best receiver on the team in 2015 after Senior went down with an injury. Butler is big (6'3" 220-lbs) and he's a decent route-runner. At this point, it is a numbers game and I'm not confident Butler has improved enough to make guys like Wallace, Senior, and Perriman expendable.
Who's In? Who's Out?
• Steve Smith Sr. – In, Starter
• Kamar Aiken – In, Starter
• Mike Wallace – In, Starter
• Crockett Gillmore – In, Starter
• Maxx Williams – In, Starter
• Breshad Perriman – In, Contributor
• Ben Watson – In, Contributor
• Dennis Pitta – In, Contributor
• Chris Moore – In, Contributor, Special Teams
• Keenan Reynolds – In, Special Teams
• Nick Boyle – Suspended for 10 games
• Darren Waller – Suspended for 4 games
• Michael Campanaro – Out
• Jeremy Butler – Out
• Kaelin Clay – Out
• Chris Matthews – Out
• Dan Brown – Out, Practice Squad