Ravens Make First Trip to MetLife
Print this article
Everyone remembers that the last time the Ravens fired their offensive coordinator in season, they went on to win the Super Bowl. What many don't remember is that the first game for the new OC (Jim Caldwell) was a disaster.
Remember this game?
Yup. That was Caldwell's first game.
We'll just go ahead and assume that Marty Mornhinweg's first game will go better than that though. Perhaps more like Jim Caldwell's SECOND game as OC.
In that game, the Ravens whooped the New York Giants at M&T Bank Stadium by a score of 33-14. That was the last time these two squads met. Here's to a similar result this time around.
Let's take a look at this week's stats, notes, quotes, and more in the CRAB BAG.
KNOW THY ENEMY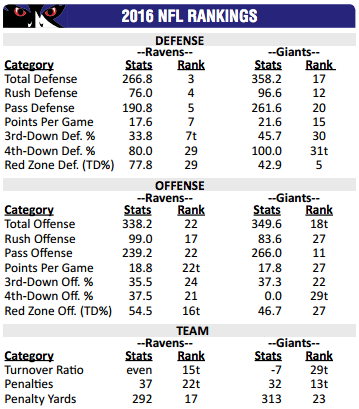 SERIES HISTORY
QUOTES OF THE WEEK
OLB Terrell Suggs on bouncing back from the Redskins loss:
"We are a family, so we are just going to go to work. We will let [the media] talk about how bad we stink, but we know there is still a lot of football to be played. In five games, we are at 3-2. It could be a lot worse, but we know we should be in a better place. We have 11 games left, and we are going to go to work."
Special teams coordinator/associate head coach Jerry Rosburg on veterans taking accountablity to fix areas that need improvement:
"We lean on our veterans a tremendous amount. I can convey a story to you about something that happened [last week] in practice. The question was asked much like you asked the question – 'What is going on?' One of our veterans said this: 'I have to play better.' That is exactly what you are looking for. You are looking for accountability and guys understanding that they are part of the whole, and they are going to do everything that they can to help us play better. Certainly, it wasn't all him, and he knew that, and we all knew that. His statement was, 'I have to play better.' We are going to be fine with attitudes like that."
John Harbaugh on the challenge of juggling the starting lineup on the offensive line and having a lot of young depth:
"You always want to have continuity, for sure. Continuity builds on itself, and that's what you want. We're blessed with some depth. We feel like we have some depth, especially this year, more than other years. Other teams have had the same problem. Washington, Oakland, the week before that, everybody has injuries in different spots. Sometimes it kind of gangs up on you in certain positions. You just have to deal with that."
John Harbaugh on DT Timmy Jernigan's play this season:
"He has flashed in the past. He does show up, then all of a sudden, you kind of wonder where he went in years past. This year, I see him making play after play after play. He has really eliminated the negative plays. Even if he is not in great position, if he gets in an awkward spot, he seems to fight his way out of it and hustle to the ball. I think his motor is running really high right now, and he is doing a lot of good things."
LB Zachary Orr, who has become a starting linebacker, on if being an undrafted player gives him an edge:
"Oh yeah, it definitely gave me an edge. When I got here, I couldn't have come into a better situation with so many undrafted guys on the team. Just hearing from those guys, those guys are motivated. You have a guy like Albert McClellan, and he is as motivated as ever, and he's been in the league for seven years. One thing he always told me, 'You'll always be undrafted.'
GETTING TO KNOW YOU ~ Q&A with Justin Tucker
What do you make of people who think you have an easy job?
"To borrow a line from Sean Landeta, he said, 'Everybody wants my job during the week, but you have to remember, to be one of 32 – you have to be really good.' Around here, guys have an appreciation for our special teams. If you asked Terrell Suggs, he'd probably say, 'Tuck, we hate you during the week. We look over at you on the sideline during practice while we're out here hitting each other, and you're over there just kicking the ball every once in a while. But when we get down to the last two minutes of the game, and we're down by two and need you, that's when we really appreciate you.' That's totally fair. The stress of a two-minute drill at the end of the game when you have to make the kick – when you have to perform – it can be pretty intense."
How would you define the clutch factor?
"I think you can compare it to any of the great closers in baseball. What do they all have in common? You have to have a high level of attention to detail. You have to be incredibly focused and relaxed at the same time. I think a lot of it is about balance, both mentally and physically. Getting in the right head space, sticking to a routine and trying to keep things simple – thinking of the action, not the consequence."
What is your pre-kick routine?
"Most kickers have their own routine. I take three steps back then two to the side. I will make the sign of the cross to, more than anything, just acknowledge that I'm thankful for the opportunity. I'm not necessarily asking for success or an outcome, but I offer up a 'thanks' – a little bit of gratitude for the opportunity."
Describe your NFL career under coach Jerry Rosburg.
"The player-coach relationship we have is really good, because we communicate. We're honest with each other – and that goes for everybody in the special teams meeting room. It's not a lecture; it's a discussion. There's input from veterans and sometimes from rookies. We talk things through. We have respect for everybody's roles. We all understand what our roles are and what we need to do to get ready for Sunday."
If you didn't play football and weren't an opera singer, what would you do?
"When I was in college, I had my real estate license. I got an opportunity to pick the brains of some of the top realtors in town. It was something that let me put a couple of extra bucks in my pocket while I was in school. I definitely enjoyed the process of navigating a residential sale. That's something I've considered in the offseason is jumping back into high-end luxury residential real estate. From throwing open houses and showing listings – I'm a big property nerd."
HEY, YOU LOOK FAMILIAR! ~ Key Connections
Giants defensive coordinator Steve Spagnuolo spent two seasons on the Ravens' coaching staff as senior defensive assistant (2013) and assistant head coach/secondary coach (2014).
Giants RB Bobby Rainey was signed by the Ravens as a rookie free agent in April 2013 and spent time in Baltimore before being waived in August of that year.
Giants QB Josh Johnson spent 2016 training camp with the Ravens before joining the Giants.
Ravens assistant special teams coach Chris Horton spent training camp as a safety with the Giants in 2012 before concluding his playing career.
Ravens WR/RS Devin Hester Sr. spent the final year of his stint in Chicago (2006-13) under Giants assistant special teams coach Dwayne Stukes, who served in the same role (2013-14).
Head coach John Harbaugh and Giants defensive coordinator Steve Spagnuolo both spent significant time on the Eagles' coaching staff holding a host of roles. Harbaugh was special teams coordinator (1998-2006) and secondary coach (2007), and Spagnuolo was defensive assistant/quality control coach (1999-2000), DBs coach (2001-03) and linebackers coach (2004-06). Several other Ravens coaches also spent time in Philadelphia, including offensive line coach Juan Castillo (1995-2012), secondary coach Leslie Frazier (1999 2002), offensive coordinator Marty Mornhinweg (2003-12), kicking consultant Randy Brown (2004-05) and coaching assistant/ opponent analysis Scott Cohen (2001-07).
In Ravens defensive coordinator Dean Pees' last year (2009) as the Patriots' defensive coordinator, he had the opportunity to work with Giants D-line coach Patrick Graham, who served as the defensive coaching assistant. Giants strength and conditioning coach Markus Paul also spent time with the Patriots in the same role, along with the then-linebackers coach Pees in the 2004 Super Bowl-winning season.
LAUGH OF THE WEEK AT EXPENSE OF RAVENS' OPPONENT