Ravens Defense Needs Few Adjustments
Print this article
I found myself thinking about an old Monty Python sketch (the Argument Clinic, where Michael Palin is disappointed to find only contradictions from John Cleese) when CBS posted their "2nd Half Adjustments" for both teams.  Under the Dolphins, the note simply said "Unacceptable on both sides", which is about as actionable as "getting killed."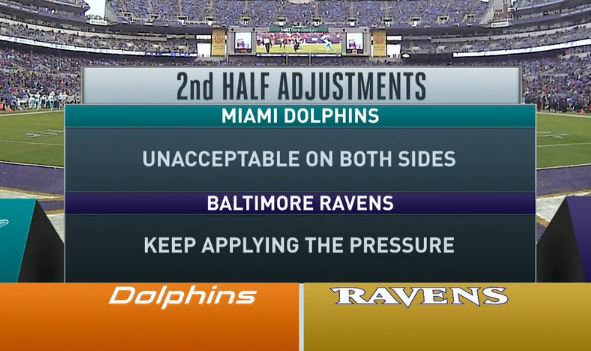 Normally, the broadcast team can bring some insight to hide a weakness, tactic to fuel comeback, or at worst highlight some young players for development in a one-sided game.  Since the Dolphins controlled their own fate in the Wild Card race, an appeal to a youth movement would have seemed inappropriate, but Rich Gannon didn't have anything else.
On Sunday, the Ravens defense needed little in the way of adjustment.  The Ravens rushed 4 men on 36 of 42 drop backs and had success doing so (see below).  The Dolphins sought to spread the field with 3 receivers and forced the Ravens to play nickel on 53 of 58 snaps.  The Dolphins ran the ball with some impact and had some success passing, but never enough to require adjustment from the Ravens.
Summarizing Ample Time and Space (ATS) by number of pass rushers:
Notes on the pass rush:
–The overall 38% ATS rate is outstanding for the Ravens defense, but is even better considering that consisted primarily of a 42% ATS rate allowed while rushing 4.
–The Ravens dropped multiple men from the line of scrimmage (LoS) on 5 occasions, but primarily rushed 4 or 5 from among 5 or 6 standing at the LoS.  They only blitzed a player from the slot or more than 1.5 yards from the LoS 1 time as I have it scored (Powers).
–The broadcast team mentioned how Pees likes to rest pass rushers so they remain fresh late in the game.  The Dolphins only ran 58 snaps and had no drive longer than 9 snaps, which greatly facilitated rest. However, Jernigan, Urban, Judon, and Za'Darius Smith never played more than 4 consecutive plays on 1 drive. Jernigan had another difficult game, with just 1 pressure, but the others each made a meaningful contribution in limited snaps (see individual notes below).
–Despite the lower ATS rate, the coverage was able to keep pace by allowing 24 fewer yards than expected for the opportunity set based on Flacco's 2010-15 results.
I'll do the notes by level of the defense this week.
Defensive Line
The same 5 defensive linemen have played every snap this season.
Versus the Dolphins, the line had just 111 aggregate snaps on the Dolphins' 58 meaningful plays from scrimmage (1.91 per play).  Did the Ravens simply choose to play fewer defensive linemen?  Not exactly.  The nickel typically includes 2 defensive linemen, but Pees sometimes deploys just 1 (Jernigan) with an extra linebacker (5 total) on many passing downs.  So effectively, had the Ravens played nickel every snap, they would have been capped at 2 DL per play.
One impact of Miami forcing the nickel is that Pierce (12 snaps) and Williams (28) were able to play together on just 9 snaps (7 pass, 2 run).  Pierce contributed 2 pressures and Williams 1.
Brent Urban had another game of highlights in just 11 snaps.  Here are my racing form notes (in all cases good and bad are included):
–(Q3, 13:58): Penetrated past LG Tunsil, but was unable to wrap up Ajayi in backfield, RM9
–(Q4, 12:49): Pushed past Tunsil outside to tackle Ajayi RM0
–(Q4, 11:54): Cleaned up with S-2 after Guy flushed pocket and Judon missed
–(Q4, 8:24): Bulled RT James for pressure and hand in face of Tannehill
–(Q4, 8:09): Initial contact staggered RG Bushrod backward for pressure
This last play is worth a review if no other.  Jermon Bushrod has been a good NFL lineman for most of his 10 seasons, but his reaction to the initial contact looks like he was uppercut with brass knuckles.  At some point I expect Pees will use Brent for both more snaps and more important snaps, because the results are too good to ignore.
The other lineman who delivered an exceptional effort was Lawrence Guy (27 snaps).  He received credit for touching down Tannehill on the aborted snap for his only tackle, but he had 2 pressures and a QH in 21 pass rush snaps, drew a holding flag on Tunsil (Q3, 10:53), and also drew the face mask on Tunsil (Q3, 1:35), each of which stalled drives.  One of his pressures was the initial flush on what would become Urban's cleanup sack (Q4, 11:34)
Linebackers
The situation at OLB did not become more clear despite the activation of Za'Darius Smith.  Smith played just 9 meaningful snaps.  On 8 pass rush snaps, he generated 1 pressure and had a QH on the play that would become Weddle's interception (Q3, 10:24).
Matt Judon (16 snaps) had a QH and a sack on 11 pass rush snaps.  He also missed tackling Tannehill on what would become Urban's cleanup sack.  I like the fact he was not fooled by the zone block left on his sack on the boot right (Q3, 5:56).  I'm sure he has seen that play many times in practice.  Judon also stretched Ajayi towards the sideline on his 4-yard loss (Q2, 12:10) which ended with Webb's push out of bounds.
Kamalei Correa was inactive for the second consecutive game.
Terrell Suggs (49 snaps) and Elvis Dumervil (37) played 84% and 63% of snaps respectively.  I thought a late rest was appropriate for each, but Suggs had pressure events on 3 of the last 4 snaps.  For the game, he had 3 pressures and 2 QHs in 34 pass snaps.
Albert McClellan's role was cut sharply.  He played just 15 snaps with the bulk coming as a standing inside defender on passing downs.  He played 11 of 15 snaps on 3rd down.  His disappearance on 1st down meant Dumervil and Judon split the bulk of those snaps opposite Suggs.  That is a significant tradeoff of run defense in the name of more pressure.  It's interesting Pees chose this game plan versus the Dolphins, but difficult to argue with the results.
C.J. Mosley had a difficult game.  Many will recall the initial contact to string out Ajayi's run for a loss of 4 (Q2, 12:10).  However, his stat-sheet includes just 3 tackles and a QH that remained only because his own offsides flag was declined when the play went for a gain of 26.  I have 2 negative coverage notes, including the 22-yard catch allowed to Sims to convert 3rd and 5 (Q3, 11:22).
Zach Orr had a number of splash plays against the run, but he missed 3 tackles as I scored it (Q1, 0:17 and Q2, 14:20 and Q3, 13:11). The Dolphins exploited him in man coverage of Williams (Q1, 1:58) on the outside for a pitch-and-catch conversion of 3rd and 4.  He's the Ravens' best gap filler against the run and makes other playmaking contributions, but he remains a coverage liability other teams are able to find regularly.
Secondary
The Ravens opened the game in the nickel, and played just 5 snaps with 4 DBs (the last came Q2, 13:16).  Despite the uniformity of package, Pees had to work through an injury to Tavon Young which sidelined him for 5 plays at the end of the first half.
Lardarius Webb returned to play safety exclusively (55 snaps).  He and Weddle both took off the final series.  His interception (Q2, 13:32) belongs on a special highlight reel of the Ravens greatest thefts.
Nice interception by @LWebb21 !! #RavensFlock was ON today – what a nice first experience on M&T Bank Stadium! #NFL @Ravens pic.twitter.com/jfJjSAA3bj

— Peter Reinholdt (@PrinsReinholdt) December 5, 2016
Ray Lewis' first career interception (plucked from between Ricky Dudley's legs in the franchise's first game) belongs with it as does Ray's heist of Eddie George in the 2000 playoffs at Tennessee.  Setting aside the strength and acrobatic nature of the catch/tap, it was good to see Webb take a near-perfect angle to the ball and arrive on time. He had a run tackle for -4 (Q2, 12:10) and I don't have any negative notes for him.
Eric Weddle continues to play well.  His interception is just the sort of opportunity the Ravens need to convert more often with their many PDs.  His other PD (Q4, 7:36) denied a 15-yard reception by Stills near the left sideline.
Jimmy Smith returned and generally had good position.  It appears he was called for an arm bar on the DPI (Q4, 11:56).  I have one note of him playing soft on a 17-yard completion (Q1, 1:17).  His stride-for-stride coverage of Carroo (Q3, 5:09) is what the Ravens can miss without him.  He's exceptional using the boundary for help and was squeezing Carroo along the sideline.
I only have 3 notes for Tavon Young:
–(Q1, 7:04):  Knocked away a ball intended for Landry 10 yards from the LoS on 3rd and 2.
–(Q2, 11:33):  Undercut Williams with a hard tackle for a gain of just 2 to deny 3rd and 12.  Left for 1 series with stinger from this play.
–(Q3, 7:35):  Made a careful low tackle on Sims by the right sideline for a gain of just 2
I will go through the coaches' video late tonight to see if I missed a pass to his assignment, but Tannehill's reluctance to throw to Young's side of the field with Jimmy Smith Back at RCB speaks volumes with regard to his progression.
Jerraud Powers had a mixed, but generally positive game.  Here are my racing form notes:
–(Q1, 9:06): Missed tackle of Ajayi near LoS on 19-yard run.
–(Q2, 13:32): Covered Parker on Webb's interception.  Never turns to find ball and is unable to make a play.
–(Q3, 10:24): Delivered PD popped up to Weddle for INT and 53-yard return.
–(Q3, 12:30): Diagnosed play, beat blockers, and undercut Ajayi on screen right for no gain.
–(Q4, 14:47): Allowed Miami's only TD on an 8-yard fade to Parker.  Coverage was OK, but the pass was perfect.
–(Q4, 7:27): Read Tannehill as he stared down Stills to undercut route for interception by right sideline.
Shareece Wright (13 snaps) entered to replace Young at LCB for 1 series.  He then replaced Jimmy Smith for the last 2 series.  He surrendered a 17-yard completion to Parker (Q2, 2:06) when playing soft.
Chris Lewis-Harris was inactive and the Ravens played the game with just 4 CBs.  It's good to have an experienced CB on the roster who the Ravens could turn to in a pinch, but I am concerned his healthy scratch may be a sign that he is not picking up the system as quickly as expected.
Matt Elam and Anthony Levine played the last series only (3 snaps).
Defensive stars of the game:
3rd: Lawrence Guy
2nd: Tavon Young
1st: Lardarius Webb