Ravens (7-5) at Patriots (10-2)
Print this article
The Ravens return to Foxboro for the first time since blowing two 14-point leads in the 2014 playoffs. Here's to a different outcome, and to the Ravens getting only their second-ever regular season win over the Patriots (the other was the Justin Tucker controversial field goal game in Baltimore in 2012).
Let's take a look at the stats, quotes, connections and more in our weekly CRAB BAG c/o Casa Mia's White Marsh.
KNOW THY ENEMY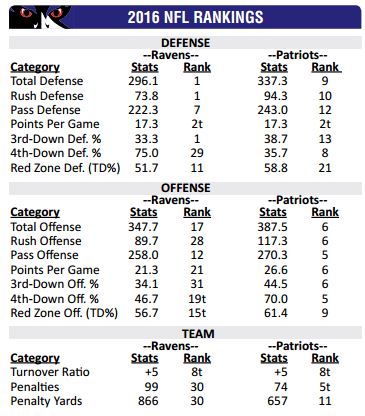 SERIES HISTORY
QUOTES OF THE WEEK
G Marshal Yanda on the Ravens' going 4-1 over the last five weeks:
"We all understand it is December football, and you have to win a lot of games down the stretch to become relevant. That playoff itch is definitely in the back of us, and bringing everybody along with us is as important as ever. … We never get too high or too low. We weren't down a month ago, and we're not too high right now. We just keep building on it, week by week. We have a heck of an opponent next week [in New England]; we understand that. We just keep going to work; we're going to keep working."
S Eric Weddle on the Ravens' playing "playoff football":
"I've been talking about it all season, that it's a process. This team is going to fight and scratch. We believe in each other, and we're going to continue to get better, or try to, as the season goes on. We played our best to date [against Miami], and we've got to play better next week. [The Dolphins win is a] huge, huge confidence builder and playoff football. We've been playing playoff football for the last four weeks, so it's nothing new to us."
QB Joe Flacco on the Dec. 4 Miami victory serving as a "breakout" game that provides confidence to the offense:
"I think it gives the guys a lot of confidence to see it and have done it. Now, we have to go up into a hostile place in New England that we really enjoy playing [at]. It's going to be another important game in December up there on a Monday night, and it's going to be a lot of fun. I'm looking forward to it, big time."
CB Jimmy Smith on the Ravens' defensive backfield:
"We're just trying to make sure when it's time to go, that we know where we're going – and that's to the playoffs. We feel like a No. 1 defense, and we know that defense wins championships. So when we go through these next four games, we know it's going to rely on us to carry us through and win these games."
Rookie OLB Matthew Judon on how the team came back from a four-game losing streak in October:
"We've always known what we had to do, and we know now that everything is still in front of us. It's our job to go take it. We were never shaken. We were never broken. And we never got down on each other. The offense never got down on us, and we never got down on the offense. So now, we've got to play all three phases and take them one-by-one. It's that time of year."
FANTASY OUTLOOK
Our friends at NUMBERFIRE give the Ravens just a 31.6% chance of winning tonight.
GETTING TO KNOW YOU ~ Q&A with Terrell Suggs
Where does the defense's never-settle attitude originate?
"I think we should always be striving for perfection. I've had the privilege of being around some gods – some football gods. I know we're capable of it, because I watched them do it. There's always something to improve on. As long as I'm here, I'm going to want perfection, especially on defense. If you win the Super Bowl, then yes, you were perfect. If not, you were not good at all."
 Where does your football passion come from?
"My dad told me – I was eight years old – he told me I was going to be a football player. I said, 'No, I'm going to be a basketball player.' But lo and behold, I became a football player. He prophesized it. I didn't really have a choice; my dad signed me up for football, and I had to go. He signed me up when I was eight for a league with 10-year-olds, and the rest is history."
What have you seen from rookie OLB Matthew Judon?
"I see a lot of myself, like a younger me. He's a very fun kid to be around, and he can play. The kid can play. The only thing he lacks right now is experience, and that was all of us in our rookie year."
How has your relationship with John Harbaugh evolved over the years?
"We have two strong personalities, and it works. At first, it was like he was John Harbaugh, and I was 'Sizzle.' You had your world, I had mine, and we're going to try to coexist. Now, we just click. I'm very grateful for him. Through time, we both matured, we learned a lot about each other and learned from each other. Most importantly, I trust him now. When he first got here, I didn't know if I could trust this new coach, but I trust him. I trust he will do what's best for the team, and not only that, what's best for me."
You have achieved almost every milestone possible for a defensive player. What is next?
"I feel like I'm in constant competition with my past. I feel like the 34-year-old 'Sizzle' has to outplay the 28- and the 29-yearold 'Sizzle.' He is truly my foe. I really am competing with him, and I want to be better than him, especially with my football IQ and things I know about the game now that I didn't know back then. I've had the pleasure of playing with a few Hall of Famers. I've had the pleasure of being in that elite company, and I want to be on the Ravens' Mount Rushmore, too."
You are in production of your third feature film. What's the update?
"I have to finish the script. I can't right now, because I'm in-season, and all I'm focused on is football. We have two scripts done and ready. They are both in the same comedy-drama realm about relationships, but I don't want to be seen as a one-trick pony. The next one is kind of an urban action flick. I call it an 'urban "Departed,"' if you will."
What is it about filmmaking that interests you?
"Creating. It's the imagination part of it. It's having something in your head and converting it to paper and then it coming to life. It's one of the most surreal things. It's very flattering to have your ideas realized like that. You picture it, but having it actually work out on film is amazing. I love film, not just sports."
HEY, YOU LOOK FAMILIAR ~ Key Connections
Baltimore general manager and executive vice president Ozzie Newsome began his front office career as a special assignment scout with the Browns in 1991, when Patriots head coach Bill Belichick was at Cleveland's helm. Two years later (1993), Belichick promoted Newsome to assistant to head coach/offense/pro personnel.
Ravens defensive coordinator Dean Pees spent six seasons (2004- 09) in New England, including his final four years as "D" coordinator.
Patriots head coach Bill Belichick's first NFL coaching job was with the Baltimore Colts in 1975 as a special assistant to then-head coach Ted Marchibroda. Baltimore finished 10-4 that season and was crowned AFC East Division champion.
Former Patriots special teams coach and current area scout Scott O'Brien coached the Browns' special teams from 1991-95 and made the move to Baltimore with the franchise in 1996, spending three seasons guiding the Ravens' special teams (1996-98).
Ravens WR Kamar Aiken spent time on New England's practice squad and active roster during the 2012-13 seasons.
Patriots offensive coordinator Josh McDaniels was the Broncos' head coach from 2009-10, when Ravens ILBs coach Don Martindale was Denver's LBs coach (2009) and defensive coordinator (2010), and OLB Elvis Dumervil posted his first 17-sack season in 2009.
SECOND-CHEAPEST RAVENS-PATS GAME THIS DECADE
One week after making history, Tom Brady will write the latest chapter in his storied rivalry with the Baltimore Ravens. And for fans making the trip to Foxboro on Monday, it will be the two teams' second cheapest meeting since at least 2010.
On TicketIQ, an event ticket search engine that pools tickets and data from over 90 percent of the secondary market, the average resale price for Ravens tickets against the Patriots is now $307 and the cheapest are available from $105 each. That is second cheapest only to a 2013 meeting at M&T Bank Stadium, where tickets owned a $220 average and $68 get-in price.
All eyes shift to Foxboro. The Ravens hope to keep first place in tact but will have to do so against a surging Patriots team on the road. For fans driving to the game, ParkWhiz.com offers the best rates on Gillette Stadium parking this week.
LAUGH OF THE WEEK AT EXPENSE OF RAVENS' OPPONENT