Print this article
You never quite knew what Ed Reed was about to do.
For 11 years in Baltimore, Reed kept defenses guessing. And, on his signature freestyle returns, sometimes his teammates were unsure of his next move as well.
The former Miami Hurricane was a lock to have a strong professional career. His talent, instinct, and work ethic set him apart. We knew he'd could be special, but we found out for sure once he got the ball in his hands.
In 2004, Reed's third pro season, he was named an All-Pro and the AP Defensive Player of the Year. He also set an NFL record for the longest interception returned for a touchdown in history, when he took a Jeff Garcia pass 106 yards to the house in Week 9 at M&T Bank Stadium against the Cleveland Browns (6:28 mark of the video below). Four years later, in John Harbaugh's first season as Ravens head coach, Baltimore happened to host the Eagles–the team from which Harbaugh was hired.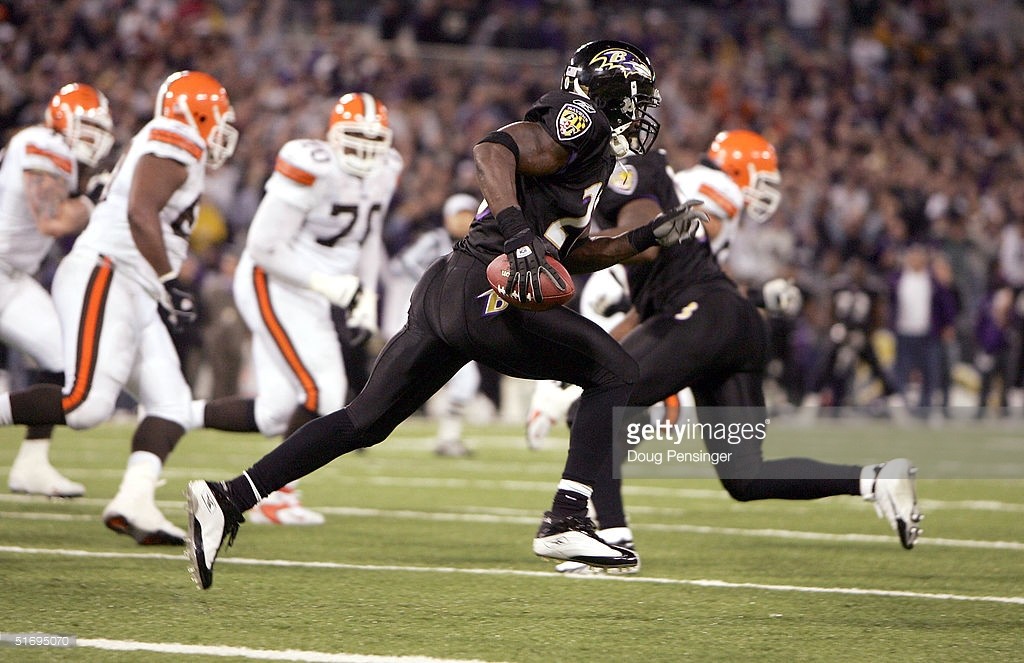 Reed was in the prime of his career, but was just coming off an 8-game stretch in which he hadn't recorded an interception.
Fortunately for him, Eagles quarterback Kevin Kolb was in a giving mood that late November afternoon.
Kolb actually began the game as a backup to Donovan McNabb, who was benched at halftime after throwing two interceptions. McNabb's second interception was to Reed, who in his true fashion, nearly turned it into points. With 2:53 remaining in the first half, Reed took McNabb's pass from the Philadelphia 49-yard line to the Philadelphia 6-yard line.
With the score Baltimore 3-Philadelphia 0, and time running out in the first half, that turnover was a spark the Ravens needed.
This game was a game of big plays. Baltimore forced five turnovers and had three receivers each make a reception of 20-plus yards. There were also three non-offensive scores–two of which were at least 100 yards.
After Daniel Wilcox cashed in Reed's 43-yard interception return with a 1-yard touchdown reception from Joe Flacco, Philadelphia's Quintin Demps returned the ensuing kickoff 100 yards for a touchdown. It was Philadelphia's first score of the day and cut Baltimore's lead to three points (10-7) right before halftime.
Late in the game, with 7:44 remaining and the ball on the Ravens' 1-yard line, Kolb and the Eagles were trailing 22-7. A touchdown would've resulted in a one-score game and given them a real shot at notching a sixth win before Thanksgiving–something they didn't do in the previous three seasons.
But Baltimore needed this win, too. Coming off of a 5-11 season, the Ravens were led by a rookie head coach and quarterback. Nothing was certain about their future, either.
Nothing except Reed making a historic, game-changing, career-defining play.
As Kolb dropped back, Reed darted in front of Eagles wide receiver Reggie Brown, picked the pass off, and raced 107 yards to the end zone. Not only was it his second interception of the game, but it was a record setting play as well. (7:14 mark of the video below).
That 107-yard interception returned for a touchdown still stands today as the longest return of its kind in NFL history. In classic Reed fashion, the second longest return of such was, you guessed it, his 106-yarder versus Cleveland four years prior. It was Reed's 40th career interception (playoffs included) and began a streak where he'd go on to make eight interceptions in Baltimore's final six games of the season.
The Ravens beat the Eagles that day, 36-7, in a game that was closer than the score would have you believe. If they would've lost the game, they very well could've missed out on what ended up being a stretch of five consecutive playoff appearances.
Reed finished his career with 64 interceptions, which ranks 7th all-time (4th-most since the NFL/AFL merger). He will surely be inducted into the Pro Football Hall of Fame in August 2019. One big reason he'll get that golden jacket is because of plays like the one he made against the Eagles in 2008. Reed's style was unique, fearless and special.
Baltimore will always be The City That Reeds…